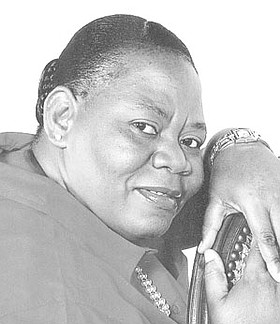 Cynthia Dorinda Stubbs
unknown - unknown
Funeral service for
Cynthia Dorinda Stubbs, 56
a resident of Lobster Avenue, Golden Gates #1, will be held at Church of God Convention Centre, Joe Farrington Road, on Saturday 8th April, 2017 at 11:00 a.m.  Officiating will be Bishop Arnold E. Josey, assisted by other Ministers of the Gospel. Interment follows in Lakeview Memorial Gardens, John F. Kennedy Drive.
She will forever be remembered and live in the hearts of her SON: Sergio Clarke, BROTHERS: Cyril Taylor, Jack, Duke, Jeffrey, Anthony and Aldo Stubbs. SISTERS: Viola Taylor­ Lightbourne, Carolyn Hanna, Celestine Adderley, Terry Walters, and Tamara Reckley.ADOPTED SISTERS: Curlene McQueen, W. Renea  McKay, Eulease Stuart Johnson, Christine James and Terell Stuart. BROTHERS-IN-LAW: Herbert Lightbourne, Shavonn Walters, and Dale Reckley.  SISTERS-IN-LAW:  Mary Taylor, Brenda, Marbalene and Erma Stubbs.STEPMOTHER: Minister Blanche Stubbs. ADOPTED MOTHER: Hannah Brice. AUNTS Gwendolyn Smith-Brice, Leona Curtis, Beverly Smith, Curlene Carter and Dorothy Brown. UNCLES-IN-LAW: Clevland Stuart and Hubert Grant. AUNTS-IN-LAW:  Sylvia and Gwenneth Smith. NEPHEWS AND NIECES:  Clyde and Lyn Taylor, Christophe Gibson, Anthea Poitier and Family, Anthony & Callin Capron, Devoughn, Duke Jr. Tashanae, Derrianna, Arlington, Arlingtonaeja, Jason, Talca, Joni, Oliver, D' Ante, Jae' Nel, Adrian, Leon III, Justin, Romeiro, Hewitt Jr., Jonah and Glendina Bertrand, Jeffrey and Dr. Nina Thompson, Jason and Rochelle Hanna, Perry and Chizelle Whyms, Keyo Smith, Terrinique, Dale Jr., Daziahand Cherish Reckley, Shiloh, Skylar and Summa Walters, Keva and Kalvin Adderley. Numerous Grand and Great Grand nephews and nieces. COUSINS AND THEIR FAMILIES: Henry , Kenneth and Shirley Grant, Bishop Chadwick James, Lindburgh&Laura, Ricardo & Carla Stuart and families, Gloria Butler &Family, Rosemary Deveaux, Gwennie Smith, Nelson Mcqueen, Janice, Kingsley, Jerome, Thomas, Tameka, Diana, Tennielle Smith, Francina Rolle, Ethlyn Nixon, Gregory, Kendal & Diana Barr, Ralph, Patrick, Anthony Paula, Wayne and Lynden Curtis ,Pamela Sturrup, Verna Lewis, Cleveland Micklewhyte & family, Lavern & Patrick Mcphee, Paulete Godet, Stephanie Edward, Andrea Francis, Bernadette Rolle, Bradley Russell, Archie Edgecombe, and AudrinPennerman, Children of the late Joel &Anita, John & Rita, Arthur & Sue, Lean, Rupert & Maryann Stubbs, Rosa & Charles Hepburn. Children of the late Richard, Elijah & Aurelia, Cyril & Patricia, Robert Brice and Velma Curry; OTHER RELATIVES AND FRIENDS; - Decendants of William Henry Smith and the entire Smith Clan of Farmers Hill, Exuma, Rev. Cedric Smith & Family, Decendants of the late Marinetta Strachan, and John & Evelyn Flowers. Quetell Williams &Family, Flossiemae Campbell & Family, The family of the Late Dennis Clarke, Linda Gibson & family, Christine Brown & family, David Rolle & family Lorriane Butler &family, Gladys, Lydia & Solomon Taylor and family.   The  Englerston friends, The membership of Commonwealth Baptist Church, Bishop Arnold & Vernita Josey & family, Donald & Vilta Duncombe, Domoniqua Bain & family, The membership of Palms of Victory Kingdom Ministries, Vision of Hope, The Bahamas Food Service, Members of the Improved, Benevolent, Protective Order of Elks of the World, Bahamas Hotel Catering &Allied Worker Union, The entire community of Lobster Ave. Golden Gates #1, the former & present children of Nanas' s Nursery and many more too numerous to mention.
 
Friends may pay their last respects at Demeritte's Funeral Home, Market Street from 12-6:00 p.m. on Friday & on Saturday at the church from 10:00 a.m. until service time.