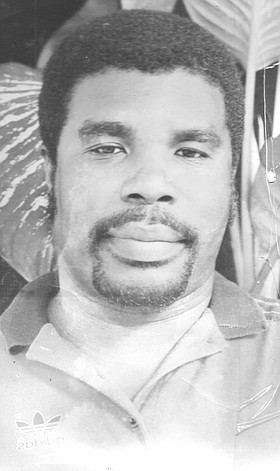 Hastings Wilfred Hutchinson
unknown - unknown
Funeral Service for Mr. Hastings Wilfred Hutchinson age 67 years, resident of Nicoll's Town Andros, will be held on Saturday April 15th 2017, at 10 am, at Powerhouse Deliverance Apostolic Global Ministries, Market & Fleming Street, officiating Apostle Julius Kemp J.P, assisted by Prophet Durand Johnson, Cremation will follow.
Left to cherish his memories are daughters, Minister Gilda Simms & Sanovia Hutchinson, sons, Homer, Dario, Antonio & Kevano Hutchinson, grandchildren, Denzel, Marco Jr., Lavan, Arthur Jr., Kevano Jr., Darrel & Sanajah, sister, Vendella Louise Hutchinson Bowe, uncles, Leon Hutchinson Jr., & John Wilson Sr., aunts, Ismae Smith, Rosa Wilson, Branhilda & Norma Hutchinson, Delcina Evans & Icelyn Fowler, nieces, Christina & Rodrese, nephews, Fontaine, Damone & Chavo, grand niece, Anaya Riley, grand nephews, Damone Jr., Byron McDonald & Giovanni Davis, grand niece-in-law, Valeska Riley, numerous family & friends, Clara Evans & Dr. Gertrude Holder, Christene (Shervin Burrows), Brenda (Paul Nesbit), Ivan (Cynthia Conyers), Thalia Conyers, Tommie Neely, Barbara (Rev. James Sweeting), Berris Barr, Bridgeth Roberts, Janice (Wilton Pickstock), Clement Hutchinson, Edison Watson, Dretha & Zina Smith, Simon Barr, Michael (Cynthia Colebrooke), Erskine (Luzera Woods), Cardinal Woods & Family, Davy, Elvie, Maxwell (Portia Woods), Harcourt, Majorie, Timothy, Althia & Basil Wallace & family, Edna (Henson Oliver), Irene (Willard Barr), Rosenell (Robert Evans), Ingrid (Perry Scott), Renae Barnett, Zera, Carlise & Livingstone Evans, Linneth Jones & family, Nathalie Ramsey & Family, Lavern Hepburn & Family, John, Queenie, Stanford, Neville & Nelson Hutchinson, Camille, Claudine, Cecile & Leslie Hutchinson, Carlton Bowleg & Family, Marvin, Ashwell, Debbie, Georgiemae, Rodina, Princess, Eleanor & Dellarese & Insp, Timothy Wilson, Dora (Wendell Evans), Mary (Mervin Fynes), Vanria (Gustavis Cox), Ricardo, Lavern, Patricia & Patrice Wilson, Penal (Anthony Woodside), Helen Tillach, John, Letitia & Sherrilyn Fowler, Maria (Urias Seymour), Melany, Jerome & Judson Henfield, Patricia, Tasha, Brent, Solomon Sr., & Jr., Dennis, Trevor, Jarreth, Barbara, Bronell, Leotha, Nicholon, Nekitha & Joyann Roberts, Sharmaine (Nelson Smith), Michelle (Drexel Rahming), Jane, Linda, Shanez, Jeffery, Henry (Tammie Wilson), Tencie, Karen, Phenice, Vernel, Erica, Van, Hope, Trevor Hutchinson, Caselina, Fredrick, Craig, Philip, Christopher, Shirley, Sherry & Shandrise Curry, Valarie Cunningham, Kimberly Pearson & Patricia Rolle, Cyril Peet & Family, Thomas Evans (QC), Harris, Milton, Derry, Maisie, Shonel & Tony Evans & family, Melissa Burrows, Reginald, Albertha & Nurse Nelia Dames, Bernard & Gloria Evans, Jennie Minus, James Smith & family, Leslie, Frances, Tyrone, Brian, Clarinda, Linda, Whitney & Larian Woodside, DeeAnne Christie & family, Angie McDonald & family, Berkley, Evelyn Missick & family, Big Boy, Arlington, Ellie, Adam, Martha, Tammy, Malcolm & Clarissa Evans, Kirk Wallace & family, Harold Fritzgerald, Rev. Garnet Campbell & family, Ministry of Works North Andros Staff, Government Clinic Nicoll's Town Staff, Storr, Rolle, Riley, Pratt, Treco, Rahming, Russell, Bowleg, Murphy & Knowles family & the entire Nicoll's Town & North Andros Community.
Relatives & friends may pay there last Riverside Funeral Chapel Market Street & Bimini Avenue on Friday from 10 am until 4 pm & at the church on Saturday from 8:30 am until service time.