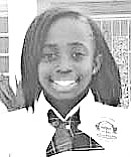 JASMINE SHAVONNE KEMP
unknown - unknown
Death Notice
JASMINE SHAVONNE KEMP, 14
of India Drive, Flamingo Gardens, died at the Princess Margaret Hospital on Friday, August 18th, 2017.
She is survived by her mother: Camille Rolle; father: Javon Kemp; sister: Jovonia Kemp; brothers: Anthony Hendfield Jr., Javon Kemp Jr. and Kenney Tilme Jr.; grandparents: Christopher and Sharon Rolle, Kenneth and Rosemary Duncombe; and other relatives and friends.
Arrangements for the funeral service are being finalized and details will be announced at a future date.