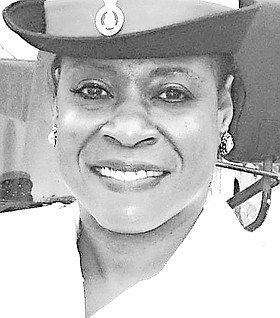 MICHELLE CLARKE-CAMPBELL
unknown - unknown
Funeral Service for
W/R P.C 900 MICHELLE CLARKE-CAMPBELL, 53
of Golden Gates #2, off Baillou Hill Road, will be held on Friday, August 25th, 2017 at 11:00 a.m. at Annex Baptist Church, Wullf Road. Officiating will be Rev. Willard Cunningham. Interment will follow in Lakeview Memorial Gardens & Mausoleums, John F. Kennedy Drive and Gladstone Road.
Loving memories will always be filled in the hearts of her loving Husband: Lenworth "Dennis" Campbell; Stepson: Dane Lenworth Campbell; Stepdaughter: Lashan Clarke; Sisters: Princess Storr, Rose-Marie Bain, Marva Cleare, Monique Sweeting, Marcia Neymour and Linda Roker; Brothers: Prince Clarke, Charles Rodgers and George Rodgers; Mother-in-law: Marjorie Brown; Father-in-law: Sydney Campbell; Sisters-in-law: Carolyn and Tawana Rodgers, and Marcia Loney, Sharline Campbell, Amaril Campbell-Moyston, and Katika Campbell of Jamaica; Brothers-in-law: Cedric Storr, Francis Bain, Anthony Cleare, Kevin Sweeting and Cleveland Neymour; Nieces: Ladeedra Ceasar of Orlando, Fl., Patrice Clarke of Boca Raton, Fl., Dana Lockhart, Sophie Parker, Lashann and Dara Clarke, Laurice Cash, Varel Davis, Veronique Gibson, Nadia Cambridge, Nia Thompson, Karissma Robinson, Sasha Bain, Alyssa, Marissa and Anthonyse "Cookie" Cleare, Emma Sweeting, Ashlee Neymour, Indera Clarke, Donella "Kelly" Rodgers, Janice Bowleg, Keisha Rodgers, Lisanda, Coramae, and Monique Taylor, Rose Richards, Sandra, Paula and Dedrie Rodgers, Cheryl Brown, Charmaine Rodgers and Charlise Rodgers, Deborah Dorsette; Nephews: Otis, Tamiko and Pedro Clarke Jr., George, Vacaro, Garrison, Prince Jr., and Lazaral Clarke, Cedric Jr. and Antoine Storr, Francesco and Lazal Bain, Travis Clarke, Seth Sweeting, Ashton Neymour, Dwayne Rodgers, Shervin, Kenwood, Glenroy and Justin Kerr, Kermit Strachan, Darin Rodgers, Jason and Edmond Rodgers, Marvin Richards, Carl Jr., Gregory, Darren and Perez Rodgers and Hartman Brown Jr., Andrew Dorsett; Aunt: Melva Bastian, Vincent, Frederick and Trevor Harris: Cousins: Whitney, Larry, Dennis, Delroy, Derrick, and Kenny Bastian, Brenda, Harriet of Fl.,Christine and Marilyn Bastian of Freeport, GB., Barbara Stewart of Pembroke Pines, Fl, Cora, Lynden, Ted, Theo, Paul, and Gerard Bastian, Rita King, John Green, Minister Priscilla Dean, Orman, Marie, James and John Bastian, Elvina Bastian, Lorraine Jones, Rev Ronald Bastian, Rev. Francinna Bethel, Judy Symonette, Ruthiemae, Essiemae and Kermit Bastian; A Host of other relatives and friends including Martina "Munchie" Barrymore of Jamaica (whom she cared for like her own daughter), the Rodgers family, numerous grand nieces and nephews, 14 godchildren including Melissa Williams, the Campbell family of Jamaica including Neville Brown, Mizpah Davis, Paula of Jamaica, Trevor Clarke and family, Mavis Pratt, Lillian Clarke, Doralyn Stuart, Karen McKinney and family, Holliday Thompson, Crystal Stewart, Erica Douglas, Sophia Rolle-Seymour, Charlene and Kelvin Rowe, Michaela Whylly, Michelle and Marley, Asst Sup. Fernander, Sgt. Green, staff of the Criminal Detective Unit of the Royal Bahamas Police Force, RBPF Police Reserve, staff of the East Street South Police Station, Glenva Evans and Don Hanna, Jermaine Kennedy, Maxine Brown, Camille Watkins, Danise Christie, Mr. Townsend, Steffanie and Clyde, Yvonne Moss, Ruby Morley and family, Danette Edgecombe and family, The Shirley Club family including, Audley Hanna, the Seymour family, the Annex Baptist Cathedral family, A. F. Adderley Class of 1981, Jeffery Gardiner and family, the community of Golden Gates #1, the Tigers Den Family, the Farmer's Market Crew, the Saint Mary High School Past Student Association, USA, the Switchboard Department of the Rand Memorial Hospital and others too numerous to mention.
Viewing will be held in the Irenic Suite at Restview Memorial Mortuary and Crematorium Ltd., Robinson and Soldier Road on Thursday from 10:00 a.m. to 6:00 p.m. and at the church on Friday from 9:30 a.m. until service time.