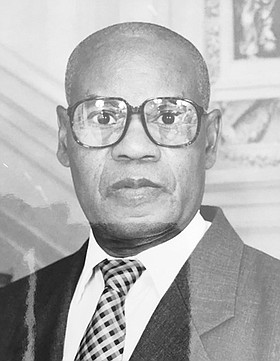 Benjamin McKenzie
unknown - unknown
Benjamin McKenzie age 75 years of Fox Dale formerly of Barritarrie will be held on Saturday December 9 2017 at Kemp Road Ministries at 11:00a.m. Officiating will be Rev. Dr. Ivan F. Butler assisted by Bishop Shawn McKenzie. Interment will follow in Lakeview Memorial Gardens, J. F. Kennedy Drive.
Left to cherished fond memories are:
Three (3) Sister: Idella Laing, Loletha Thurston&Adopted Sister Brenda Mckenzie
One (1) Brother: Anthony Mckenzie& Nancy
Sister- In- Law: Vernie Mckenzie
Brother- In – Law: Tyrone Thurston
Nieces: Pamela (John) Nixon, Camille "Kim" Pratt, Shemeka(Robert) Forbes, Crystal and Nathlie Mckenzie, Tyranique, Tylitha and Tylesha Thurston,Carla Stockdale
Nephews: Bishop Shawn and Vernika Mckenzie,Rev Sullivan and Crystal Mckenzie,Jeremy and Tiffany Laing, Brian Mckenzie
Grand Nieces & Nephews:Antonio & Neicy Murray, Latrell Pratt, Shawnique, Shawn Jr. Aaliah, Rashad Sully Jr and BritannyMckenzie, John Jr andJohneisha Nixon,Rayhan,Roman andShalow Forbes,Alexis and Jerry Jr. Laing, Ronell & Leanne, Malique Francis.
Cousins:Laurie,Dorothy,Ruthmae,Beryl,Caroline,Eleanor,Maggie, Linda,Brenda,Sis Eunal,McNeil,&Rose Mckenzie,Bessie,Jennifer,Patrice,John,Marvin,Rudolph,Randolph,Leslie,Freeman,Lavaughn,Agatha,Emma,Marina, Elder John,Perry, Preston, Grace,Wakley,Val,Rollin,Prince, Andrew,Dotlin,Vivian,Maurice, Roy, Walter,Thelma,Mackey,Vernice,Madelyn,Vernika, Ethyl,Irene,Maryanne and Phillip, Lisa, NellieMae Walkes,Edna, Estella, Harris,Allison,Ethel & Audley Minus,Audrey,Lilamae,Stanley, Nadine,Carla,Winnie,Ineka,Val
Other Relatives & Friend including:
Hughrie & Berthalee Lloyd& Family,Rev Hueton Lloyd & Family, Rev.Tina Mckenzie, Sis Cora & Villa Mckenzie & Family, Rosalie Wright,Ena Wright, Ben Mckenzie, Val & Lenox Brown, Ruth, Naomi, Andrew , Roland, Prince, Gloria Smith & Family, Ruthnell Davis, Jessie, Edna & Benjie Charlton, Mackey Rolle, Brenda Rolle, Susie & Hiram Rolle, Valerine Taylor & Family, Davis Family, Daniel Pratt, Sandilands Health Department,Sweeting Street Family,Kemp Road Ministries, Barraterre Community,Black Point Community.
Relatives and friends may pay their last respect at Evergreen Mortuary located on Collins Ave & 5th Terrace on Friday from 10:00a.m. – 6:00p.m. and again at the church on Saturday from 10:00a.m. until service time.