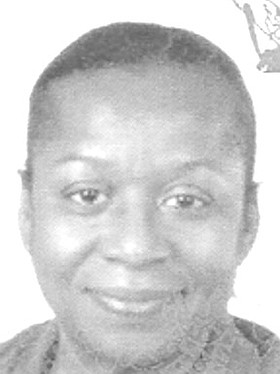 Dr. Joan Dorrell Vanderpool
unknown - unknown
Funeral Service for the late Dr. Joan Dorrell Vanderpool age 70 years of #4 Nina Cresent, Regency Park will be held on Friday, 29th December, 2017 at 10:00 a.m. at St Francis Xavier Cathedral, West Street. Officiating will be Fr. Glen Nixon assisted by other ministers of the clergy. Cremation was held.
Left to cherish her fond memories are her Daughter: Tarek Amira Vanderpool; Grandson: Khari Joshua Vanderpool; Sisters:Barbara Sweeting, Paula Styles, The Rev'd Beryl Higgs, Ingrid Bain (Anthony); Brothers: Dr. Cyril Vanderpool (Pauline), Dr. Maxwell Vanderpool, Barry Vanderpool & Ralph Vanderpool (Olga); Sister-in-law: Dr.Andrea Vanderpool; Nieces & Nephews: Dr. Kay Bain, Shabaka (Jan) & Gary Sweeting; Anna Griffin (Kirk), Larry, Maury, Gia, Brent (Monique) & Jean Vanderpool; Dwan Robison (Tracey), Leslie Vanderpool, Gregory Archer; Jay Styles (Jackie), Deborah P. Thompson; Shelly Jackson (Eric), Scott (Mairya) & Susan Vanderpool & Jeff Jeffers (Ros); Rory Higgs (Cam), Sandra Hall (Keith), Linda Swan (Deceased); Ralph Vanderpool, Vincent Vanderpool-Wallace, Michele Muhammad (Angell), Dwayne Vanderpool (Jackie); Renee Mott & Derek Vanderpool; Antonja, Antonique, Angel & Anthony Bain Jr.; Grandnephews & Nieces: Jamaal & Karlya Bain, Rashad Cook, Kyla Lee, Brahani, Makaeda Sweeting; Tymeka Smith (Aubrey Neville), Kirk (Sharmaine) & Alysia Griffin, Keysha & Larry Vanderpool Jr., Jacque, Jelone, Janee, Jasmine, Ericka, Arianna Vanderpool, Keysha Vanderpool, Kris & Johnathon Roberts; Anika Smith (Ryan), Brett Higgs, Chanda Swan, Brian Hall; Shenique Sisk (Nate), Jarvis, Jasmine, Javannah, Megan & Madison Styles, Keith II (Deleya) & Kyle Thompson; Jacob & Jonathon Robison; Malcolm & Omari; Sasha & Taiyo Vanderpool, Earl & Ryan Jeffers; Arianna & Aleks Vanderpool-Wallace; Sade & Ingel Muhammad; Brent Jr. & Bredden Vanderpool; Ariane, Janee, Shavanna & Nicholas Vanderpool; Great-Grandniece & Nephews: Kahmala, Kai, Cameron, Kaylee, Alerro, Liam, Issie, Israel, Kieran, Kyri, Kasia, Eva, Caleb, Faith, Jaya, Rayden, Robyn, Amira, Lazario; Cousins: Harry George, Ruby Major, Olga Roach, Delores Ifill and their families; Other Relatives and Friends including: Grace Plakaris, Shirley, Sylvia, Taffy, Christine & Brenda Vanderpool, Erica Williams, Earl & Anne Alfred, Dorothy & John Bowleg, Dr Agreta Eneas-Carey, Dr. Judson & Dr. Cleveland II Fritzi Eneas and Family, Christine Anderson of Canada, Claire & Livingstone (Bones) Hepburn, Ellen & Brian Serville, Dr. Andree Hanna, Dr. Nicole Adderley, Dr. Linda A. Davis Provost, Anne & Monty Brathwaite, Val & Tony Hamilton, Claudette Higgs, Robert Bain, Keith Thompson, Willamae Salkey, Delores Francis, Kathleen Dummett and The Legion of Mary Prayer Group, Deyane Russell, GHS Class of 1963, Dorothy Phillips, Kim Outten-Stubbs, The Hilltoppers Family of Hospital Lane West , Meeting, Delancy and South Streets, The Nicholls, Bartlett and Godet Families, The St. Francis Church Family and The Legion of Mary Prayer Group, Fr. Glen Nixon, Fr. Richard Cartwright, Fr. Simeon Roberts, The Host of Doctors and Medical Support Staff, Nurse Wring, Cheryl, Evelyn, Dianne Benson, Janet Samuels, University of The Bahamas Faculty and Staff, Ladies of Dance Laugh Relax (DLR), Tennis Club Winton, The Management & Staff of John Bull and a host of other family and friends too numerous to mention.
There will be no viewing.