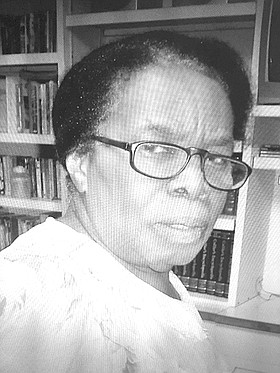 Orient "Jenniemae Stubbs" Miller
unknown - unknown
Funeral Service for Orient Miller, A.K.A Jenniemae Stubbs, age 87 of Sapphire Ridge Drive and formerly of Orange Creek, Cat Island who died on Sunday, December 17th, 2017 will be held on Saturday, December 30th, 2017 at 10 a.m. at Church of God of Prophecy, Shirley Street. Officiating will be Minister Philip D. Ferguson assisted by other Ministers of the Gospel. Cremation will follow.
She is survived by her 1 Daughter and Son-In-Law: Marsha (Dr. Tyrone) Bartlett; 1 Son: Eric Stubbs; 2 Brothers: Dr. Christopher and Roland Miller of Ontario, Canada; 4 Grand Children and In-Law: Tamu (Robert Sr.) Albury, Tempestt, Travis and Tanner Bartlett; 2 Great Grand Children: Tylah Sweeting and Robert Albury Jr.; 6 Sisters-In-Law: Paulamae, Lorna, Cathy and Rosita Miller, Hazel Adderley and Natalie Johnson; Numerous Nieces, Nephews and In-Laws: Yvonne (Malachi) Mortimer, Deborah (Fredlin) Delancy, Janet (Ian) Jennings, Evette (Gervais) Wellington, Marcia (Raphael) Soler, Marlene, Michelle Miller, Lisa and Christina Miller, Dexter (Sylvia) Miller and Benjamin (Anya) Miller, Bradley (Terria) Miller, Anthony (Melissa) Miller, Dwayne (Vanda) Miller, Wayne (Monique) Miller, Brian (Latoya) Miller, Mark (Sandria) Miller, Rodney (Jazz) Miller, Joel Miller, Jeffery and Calderon Miller, Children of the late Manfort Stubbs, Elmena Forbes, Maud Morley, Del Rolle, Mildred Bowe and Annie Bain, Children of Hazel Adderley and Natalie Johnson; to name a few: Deacon Ronald (Helen) Stubbs, Beccamae Stubbs, Fritz Stubbs, Allan Stubbs, Francis Johnson, Ruth Dean, Cyril, Princess and Pembrooke Stubbs and Virginia Ferguson; Numerous Grand Nieces, Nephews and In-Laws: Jackie (Floyd) Lewis, Graham Mckinney, Kivonne (Lavardo) Colby, Kierohn (Laquandia) Mortimer, Samuel and Daniel Jennings, Selena and Christian Martinez, Lizetta Clarke, Nathalia and Letarrio Miller, Dr. Dwayvania and Deandrea Miller, Matthew Virgill, Janre, Janique, Braniqua, Staurdell, Ramon, Branique Miller, Nikita (Ian) Braithwaite, Stacy Dickinson, Dexter Jr., Dwayne Jr., Wayne Jr., Brian Jr. Miller, Ashley (Ziette) Culmer, Matthew, Michael, Liam, Christopher, Dariel, Wanterro, Noah, Braniko, Mark Antonio Miller, Gizelle Wellington, Children of the late Henry Stubbs,Lashanderia Davis, Sindi Zeff, Fred Delancy, Jermaine Stubbs, Gayle Mckinney, Angela, Kalista, and Branae Miller, Patrice Wilson, Markiah and Ashauni; 3 Adopted Children: Sarah (Dr. Reginald Sr.) Carey, Christie (Wingsworth) Roberts and Tini Rigby; 1 God Daughter: Oralee Hanna; 1 God Sister: Emeline Seymour Lockhart; Numerous Cousins: Children of the late Alpheus and Phestus Miller including Breezetta Nixon family, Olga Wilson and Yvonne Cooper families, Wendy Jones, Betty Roberts and Ruth Kerr families, Children of the late Nenmiah Stubbs and Ettiene Bain, Hilda Smith and Eddinton Culmer of Eleuthera, Children of the late Mable Culmer Lafleur Smith and Burke Culmer, Families of the late Kirk Curtis Culmer, Herber and Raliegh Culmer, Pearl culmer Wright, Victoria Culmer Gibson, Children of the late Reginal Culmer of Cupids Cay and the late Delton Miller Family; And a host of other Relatives and Friends including: Dean, Fife, Munnings and Poitier Families from Cat Island, The Orange Creek Cat Island Community, Culmer Families from Savannah Sound, Alice Town, Hatchet Bay, Palmetto Point of Eleuthera, Care taker: Mersada Stewart, Valerie and Barry McInnes of Canada, Kim, Gina, Dr. Jonathon Bartlett, Hon. Marvin & Stacey Dames, Derek Roberts, Sonia Wilmore and Family, Inga Poitier, Cedric Poitier and Family, Pastor Philip Ferguson and the family of Minnie Street Church of God Of Prophecy, Bishop Nelson Ferguson and Family, Bishop Rudolph McKinney, Pastor Carlston and Sister Enid Arthur, Sisters Blanch Stubbs and Betty Williams, Sister Sharon Chase & Family, Sister Humes, Minister Neville Gray, Minister Peter Hanna, The Cunningham Family, Lea Armbrister and Family, The Holy Cross Church Family, The Sapphire Ridge Community, The Kemp Road Community, The L. W. Young School Family," The Golden Girls", Janice Roberts, Recido Thompson, Gregory and Eleanor Millar and a host of other relatives and friends.
(For those person who we may have overlooked due to our bereavement we are sorry, forgive us at this time of our grieving.)
Friends may pay their last respects at East Sunrise Mortuary, Baillou Hill Rd & Cordeaux Avenue from 10 a.m. to 6 p.m. on Friday and again on Saturday from 9 a.m. at the church until service time.