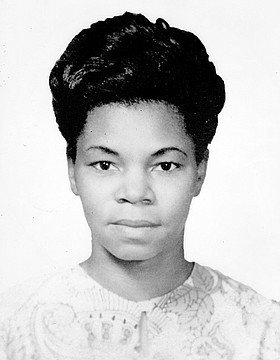 PHYLLIS JANE BULLARD
unknown - unknown
Funeral Service for DEACON PHYLLIS JANE BULLARD age 76 years of Chrysantium Avenue, Gardens Hills and formerly of Lovely Bay, Acklins who died on Monday, December 11th, 2017 will be held on Saturday, December 30th, at 11:00 am at The New Bethany Baptist Church, Key West Street. Officiating will be Bishop Victor Cooper, Jr. assisted by Other Ministers of The Gospel. Interment will be made in Woodlawn Gardens, Soldier Road.
She was predeceased by her Husband Charles Bullard Sr.
Left to cherish her precious memories are her Sons: Charles Jr. and Crispin Sr. Bullard; 6 Sisters: Alice Johnson, Vernita McKinney, Inez Toote, Leah Donawa, Joan Hanna, and Paula Gibson; 3 Brothers: Eleazor, Clyde, and Phillip Johnson. Daughter-in-law Jacklin Bullard; Grandchildren: Ravonne Whymns, Adrianna Minnis, Romiane, Crispin Jr., Rashan and Chelsea Bullard; Great Grandchildren: Travano & Antoni Whymns, Gregory and Greishad Deveaux, Cadyen Dorsett, Ramika and Jamari Bullard; Grand Sons-in-law Valentino Whymns and Gandhi Minnis; Nieces: Michelle, Sophia, Mona Lisa, Dominique, Tadzia, Vernice, Sharon, Hazel, Clarese, Donna, Nathalie, Kanellis, Jafarrah, Paris, Mikalya, Phillipa and Felisha; Nephews: Johnny, Adrian, Andre, Harrison, Emikel, Enrico, Wilfred, Don, Sherman, Dion, James, Trevor, Phillip Jr., Laron, Jermaine, Onyana and Johann. Numerous Grand Nieces and Nephews. Brothers-in-law: Victor McKinney, Michael Hanna, David, Chuck, Phillip and Jimmy Bullard; Sisters-in-law: Vivian Johnson, Gertrude and Ella Bullard, Angie Bowe and Earlene Johnson; Cousins: Bishop Elias Ferguson and Family, Labon Collie & Family, Judy Johnson & Family, Rev. Dr. Lockwood & Rev. Florence Deleveaux & Family, Michael & Barbara Deveaux & Family, the Johnson's Family, the Ferguson's Family, and the Collie's Family.
Other Relatives & Friends
Sis. Yvonne Clarke, Leah King, Constance Coakley, Stacy Burrows, Ms. Rolle (Red Cross), Mrs. Turnquest, Bishop Victor & Francis Cooper, New Bethany Baptist Church Family, Bishop Carrington Pinder & Family, Rev. Wellington & Dr. Sherry Collie & Family, Rev. Randolph Deleveaux & Family, Everette & Crystal Roach, Sandy Rolle, Vincent Roberts & Family, Allan, Leonardo Bullard, George Bullard & Family, Regla Bullard, Claudette Jackson, Lowell & Venis Taylor, Dr. Kendal Major, (former M.P.); Deborah Hanna & Family, the entire Special Care Baby Unit, the entire Nursing Staff of Female Surgical 11, The Lovely Bay Development Association, the entire communities of Lovely Bay & Hard Hill Acklins, and other relatives & friends too numerous to mention.
Viewing will be held on Thursday, December 28th from 1:00pm to 4:00pm, on Friday, December 29th from 10:30am to 3:00pm and on Saturday from 9:30am until service time at the church.