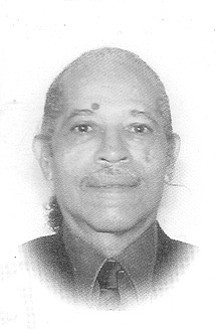 Clifton Alverares
unknown - unknown
Funeral Service for Clifton Alverares age 86 years and a resident of # 1 Silver Drive and formerly of Nassau will be held at 10:00 a.m. on Saturday 4th, February 2017 at the Pro-Cathedral of Christ the King, East Atlantic Drive and Pioneeer's Way, Freeport. Officiating will be Archdeacon Harry Bain. Interment will follow in the Grand Bahama Memorial Park #2, Frobisher Drive.
Left to cherish his memories are his sisters: Baby Johnson and Betty Cambridge; daughters: Georgina, Shantell, Alicia and Nadia; sons: Derrick, Billy, Grafton, Anthony (boo) and Cruz; grandsons and granddaughters: Marcello, Sabrina, Shawn,Toni Rolle of Nassau, Darren and Vanessa Savell, Lucrecetia and Darren Anderson, Sara, Dillan, Nubia, Jessica, Aisha, Anthony Jr., Star Baby, Julie daughter, Eliseo, Anne, Aya, AAlayah, Tylynn, Dillon Brent and Emmery Burrows; great grandchildren: Kayla, Connor, Christian, Sophie, kylie, Alaska, Amira, Shannan, Darren, Qyron and Santana; daughters in law: Julianne, Donna, Shawlene, and Joanne; son in law: Francious Burrows; nieces,  nephews, grand neices and grandnephews :Lorreen, Shirley-Mae, Patsy, Crystal, Bettys Children, linda, Dianne, Debbie, Sherol, Tracey, Jaquline, Chrystal, Dwanya, Lisa, Michelle, Cherry, Biba, Triska, Elkie, Latoya, Claudia, Janie, Shavon, Leslie, Decoda, Shandia, Bernadeth, Chrystal, Fazon,Paul, Sidney, Vincent(wincky), Felix, Thomas jr., Darren, Elkin, Devinche, Louie, Dominick, Franklyn(arkilo), Padie, Clifton, Quincy, Jovan, Sidney Jr., Shawn, Meiko, Trevor, Dell, Denaro, Joseph and Vincent Jr; host of other realatives and friends:The Families of- Ruth Demerite, Richard Demerite, Sidney Whitfield, Peter Whitfield, Winifred Lockhard, Sandi Lockhard, Widy Shouldice, Holly Lockhard, Poitier family of South Florida, Past Minister Kenneth Russell, The Late Sibble Basden, The Late Eliose Edwards, The Late Sir Cecil Wallace-Whitfield, The Late Lucile(Mama Lou) Adderly, The Late George Whitfield; special friends: The families Of-Geraldean Dean, Shelly Perez, Debrah Charloh, Aisha Armbrister, Petral Russell, Elder George Cooper, Pastor eddie Victor, Anna Cooper, Amanda(Mama Gold) Adderly, Dorethy Taylor, Jacy Whittaker, Chima Madu, Rocco Italiano, Alex Mueller, Keith Hendfield, Rashard Adderly, Blair Larramore, Gaynel Gaitor, Garry Cooper Jr., Cooper's Of Mader Town Ira Swaby, Janie basen, The Late Calvin Cooper, The Late Arnald Flowers, The Late BK Kemp Sr; special thanks: The Honorable Prime Minister of the Commonwealth of The Bahamas Perry Gladstone Christie, The administration, Members and lifelong Friends made of the Progressive Liberal Party, The Honorable minister of Tourism Obediah Wilchcombe, Honorable Minister for Grand Bahama Michael Darville,  family and Dear Friends of the Free national movement, Family and Dear Friends of the Democratic national Alliance, Staff and Team of the Public Hospitals Authority, Staff of The Bahamas Urban Renewal initiative, The city of Freeport Council, Staff of the Grand Bahama Red Cross, Family and Team Members and Partners of The Yellow Bird Show Club, Headly Forbes and  Forbes Charter, Churchill Tenner-Knowles and Five Wheels, Mary- Anne Culmer, G.B. Taxi Union, Yager Funeral Home, GB Memorial Park, ArchDecon Father Harry Bain and family, Swingers Junkanoo Group, The IFA Yoruba Corpus Worldwide,  illoustrious Grand Master Bro. Cyril Mckintosh Internation Free and Accepteed Modern Masons and Order of The Eastern Star INC. for the State of the Bahamas and its Council, Order of  Roscicrucians and kabbala Worldwide . To our family through paternity that has been detached through the course of time and circumstance we Love You. To all of our Dear Friends and Relatives who may not have been mentioned, we Love You more than you will ever imagine and hope to share more precious memories.
Relatives and Friends may pay their respects at Yager Funeral Home & Crematorium, Queens Highway, Freeport on Friday from 12:00 noon until 6:00 p.m. and at the church on Saturday from 9:00 a.m. until service time.