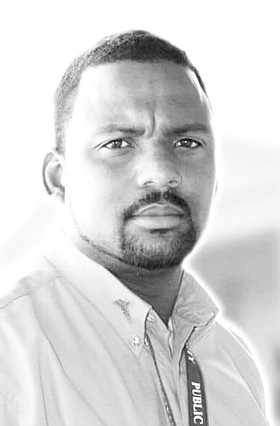 Derrex Anderson Rolle
unknown - unknown
Funeral Service for Derrex Anderson Rolle age 43 years and a resident of West Beach Drive, Freeport will be held at 10:00 a.m. on Saturday 25th, February, 2017 at Mary Star of the Sea Catholic Church. Officiating will be Fr. O.J. Ferguson and cremation will follow.
Left to cherish his memories are his children: Shanie, Trishton and Ah'mari Rolle parents: Wellington and Paulette Rolle; siblings: Okeaver Rolle-Gray, Antoine and Antonio Rolle; fiancé: Alicia Bain; brother-in-law: Warren Aston Gray; 11 aunts: Yvonne Issacs, Kaye Aranha, Teddie Woods, Harolene Walker, Christine Humes, Shirley Outten, Sandra Parker, Agatha Rolle, Nancy Rolle, Norma Murray and Terry Rolle; 13 uncles: Philip, Marcian, Rex and Paul Major, Wynton "Doc" Issacs, Willard Aranha, Paul Walker, Venable Rolle, Rudolph Rolle, Oswald Rolle, Theodore Murray, Philip Outten and Degarna Parker numerous cousins, nieces and nephews including: Martinez, Mario and Marquez Gray, Mekhi, Empress, Xavier, Antoine Jr., Jody, Jada, Antonia, Malachi, Antonio Jr. and Jaden Rolle; adopted mother: Kathy Baillou-Munnings; godmother: Dornel King; numerous cousins including: Tanya Sands, Wynton, Dale, Deron and Daryle Isaacs, Danielle McQueen Delano Aranaha, Phylicia Curry, Charlene and Allyson Major, Shalon Albury, Tamara Adderley, Michell Jones, Dr. Dellareece Isaacs, Alicia Fernander, Romel, Cardello, Rex Major, Dion James, Le Anne, Celesle and Miriam Major, GE Ann Aranha, Wendal, Wendy, Venable Jr., Melvin, Anthony, Gregory, Levar, Rudolph Jr., Andre, Myron, Deidre, Dominie and Deiondre Rolle, Rochelle Higgs, Patricia Rolle, Dr. Tamika Fynes, Phillippa and Picasso Outten, Theshard, Sahquille and Lacario Murray a host of other relatives and friends.
Relatives and friends may pay their respects at Yager Funeral Home & Crematorium, Queen's Highway on Friday from 12:00 noon until 6:00 p.m. and at the church on Saturday from 9:00 a.m. until service time.