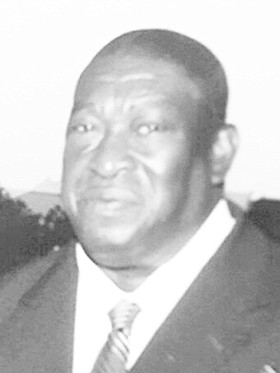 Edward Buchanan
unknown - unknown
The late Mr. Edward Buchanan age 68yrs, a resident of Faith Avenue and formerly of McCollough Corner East, will be held on Saturday 25th February 2017, 9.00a.m. at Saint Agnes Anglican Church, Baillou Hill Church. Officiating will be Canon Warren Rolle assisted by Rev'd. Fr. James Moultrie. Interment will follow in Saint Agnes Church Cemetery Nassau Street.
Those left to cherish his memory are his Wife: Leonie Hepburn Buchanan, Children: Everette, Omar, Kevin and Alexis Buchanan, Adopted Children: Joanne (Harrison) Williams, Densil Bullard, Cleveland, Vincent and Shawn Rolle, Vanda Sands, Treilon Stuart and Victor James Frazer, Grandchildren: Kanem, Ethan, Omarion, A'nayiah and Kevin Jr. (Champ), Adopted Grandchildren: Craig Buchanan (Vanessa), Brittany Williams and Mario Shane Brown, Brothers: Joseph, Ralph, and Everette (Dorothy) Buchanan, Sisters: Cynthia Rolle, Agnes McKenzie, Orlean Buchanan, Alfreda Russell (Randy), Kathleen Buchanan (Andrew), Daughter-in-Law: Anastasia Buchanan, Uncle: Edward Israel Clarke, Mother-in-Law: Firstena Hepburn, Nephews: Rev. Kenneth Lewis, Barry, Craig and Rev. Edward Buchanan, Chubby (Edward), Sherman, Lil Joe, Shawn, Lorenzo (Janet), Alfredo (Rochelle), Andrew Jr., Cordero, Tavari, William, John, Charles, Devonne, Dedrick and Jermaine, Nieces: Miriam (Emmanuel), Natasha, Melissa, Clyphene (Leevan), Carnetta, Adrianne (Joe), Divina (Kitty), Sherelle, Tanya, Mega, Julie, Olga, Janet, Dorothy, Renee, Charlene, Margo, Bobby, Erecia, Erica, Melissa, Angelique and Colleen, Numerous Grandnephews and Grand-nieces, Brothers-in-Law: Eric (Suzanne), William (Persis), George (Rose) and Michael Hepburn, Sisters-in-Law: Margaret Elizabeth, Brenda, Frances, Michelle and Cheryl Hepburn, Claudia Frazer and Donna Hepburn, Special Friends: William Sands, Bradford Wallace, Aaron Jonson, Charles Cox and the Boys in the Yard and a host of Other Relatives and Friends Including: Pearline Bullard, Rosabelle Bethel, Tessa McKenzie, Nadia Wilson, Catherine Buchanan, Kiesha Rolle, Gerald Higgs, The Knowles, Clarke, Cooper, Johnson families of Miami Florida, The Communities of McCollough Corner East and Mason's Addition, Father I Ranfurly Brown and congregation of St. Agnes Anglican Church especially the Chapel (10.30), Canon Sebastian Campbell and the congregation of St. Gregory's Anglican Church(especially Thursday mass), Father Stephen and St. Judes Church, The University of the Bahamas especially the purchasing dept., T.A. Thompson Jr., Royal Bahamas Police Force, Bahamas Depth of Corrections, One Family Junkanoo Group, The Junkanoo Commandos, Drs. Ena, Seville and Team, Grant Taylor, Hall Isaac, Laroda, The Staff of A&E, Dialysis Unit, Intensive Care Unit, Male Surgical Ward ll, Male Medical l and ll, The Staff of Children Ward past and present, Staff of Sweeting's Colonial Mourtary, Dr. James McCartney of South Beach Clinic and Families.

The body will repose at the Chapel of the Saints, Sweeting's Colonial Mortuary and Crematorium, #84 Blue Hill Rd. from 10.00 am on Friday until 5:00pm and from 8.00 am on Saturday at the church until service time.