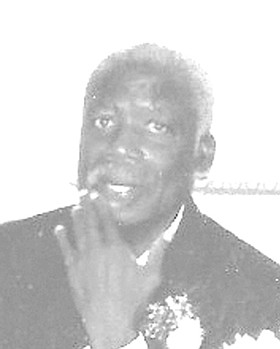 Fred Leon Paul
unknown - unknown
Funeral Service for Mr. Fred Leon Paul, age 75 years, of #92 Eastern Estates, will be held on Saturday, February 25th, 2017, 10:00 a.m., at St. Francis Xavier Cathedral, West Street. Officiating will be Fr. Glen C. Nixon. Interment will follow in Western Cemetery, Nassau Street.
Fred was predeceased by his son: Simone; grandchild: Dante; sister: Ruth Beckford; brother: Roland Paul; sister-in-law: Alvern Plakaris; brother-in-law: Monte Thompson; niece: Yvan.
Precious memories will forever linger in the hearts of his: Wife: Gweneth Paul, Daughter: Claudine Paul-Moxey, Sons: Mark, Paul, Theophilus Hepburn, Patrick and Andrew Green: Grandchildren: Doyle Burrows, Carlo (D'Andrea) Ramsey, Sheria, Shamaal and Makyle, Paul, Andrew Jr. Green and Cayden Moxey; Great-Grand- children: Caiya, Diorr and Cael Ramsey; Son-In-Law: Donovan Moxey; Sisters: Sybil Higgs Archer, Alice Cherenfant, & Olga Hinsey; Brother: Daniel Paul, Clement, Edward and Alfred; Sisters-In-Law: Vernice, Bethsheba & Dorothy Paul, Magnal, Velma and Hermane Thompson; Brothers In-law: Yvon Cherenfant, Anthony Archer and Anthony Plakaris; Numerous Nieces and Nephews: including, Anthony, Ajike, Adrian and Alexander Plakaris, Kailecia, Kirkwood, Tamica, and Shekeatha Thompson, Keith Thomas Cleare, Garth & Annemae Johnson, Alfreda and Steven Knowles, Patrice and Brian Evans, Denise Watson, Shena & Patrick Johnson, Tyrone and Ingrid Paul, Lynden and Shanique Paul, Corey and Aretha Paul: Felicia Galloway, Claudine Paul-Ferguson, Deborah Christie-Brown, Edward, Shirley, Chris, Jerome, Darnell, Navardo, Nicole, Arnette, Latoya and Shanna Paul: Sharon and Calan Weech, Pete and Sarah Higgs, Samuel and Janet Higgs, Delano and Marcia Higgs: Rev. David Anderson: Stuart and Felicia Cherenfant, Estelle and Alex Cherenfant: Darren, Nevardo, Christopher, Jamal, Ryan, Devon & Euvanka Paul, Latoya and Shanna Paul, Stephanie Morley (and Families). Other relatives and friends including: Gloria Sawyer, Wilbert, Johnny and Ben Pratt, Sonia Sophie Wallace & Family (care-giver), Doris Gibson and Family, Donna Sherman & Family, Rovilla Williamson & Family, Margaret McQueen & Family, Helen Stuart & Family, Helena Pennerman & Family, Joan Swaby & Family, Ann Thompson & Family, Prescola King & Family, Janice Johnson & Family, Lasardo & Malvese Moxey & Family, Peggy, Adrianne & Jackie Wells & Family, Michelle Lloyd & Family, Sandra Ferguson & Family, Elvira Hart & Family, Bernice Roker –Collie & Family, Catherine Davis-Woods & Family, Leon Sweeting, Janet Morrison & Family, Ann, Donna, Yasmin and Dwight Stubbs & Family, Edward Carey & Family, Victoria & Michelle Grant & Family, Dennis Dean & Family, Luann Chea & Family, Brenda & Aubrey Ferguson & Family, Eugene Culmer & Family, the Lamm Families, the Poitier Families St Francis Xavier Cathedral Church Family, Martin Street Family, the Domino Boys Under the Porch, Eastern Estates and Falcon Crest Communities.
Special thanks to: Drs. Beverton Moxey, Sheena Antonio-Collie, Mitzi Spencer-Prince, & Don Deveaux, the Elizabeth Estates Clinic, Nurse Coakley, and the Bahamas Health & Healing Medical Centre Family.
Relatives and friends may pay their respects at Cedar Crest Funeral Home and Crematorium Ltd, Robinson and Baillou Hill Roads, on Friday from 12:00 noon to 6:00 p.m., and at the church on Saturday, from 9:00 a.m. until service time.