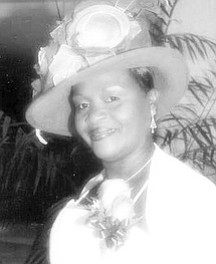 Shelia Rolle
unknown - unknown
Funeral Service for the late Shelia Rolle age 59 years of Pinewood Gardens will be held on Saturday December 7 2017 at Southland Church of God, Soldier Road. Officiating will be Bishop Charles Johnson, assisted by other ministers of the gospel. Interment will follow in Lakeview Memorial Gardens, J. F. Kennedy Drive.
Left to cherish fond memories are: Her Husband: Robert Rolle;
3 Sons: Kendrick, Andujar& Kellen Rolle Sr
2 Daughters: Olinkya Rolle McCoy &LeDellie Rolle
5 Grandsons: Keron, Kellen Jr, K'lyn, O'marion, &Kellon Rolle
6 Granddaughters: Zenae Rolle, Kennisha Rolle,Darria McCoy, DejuarArmbrister, Aniyah Rolle &Shakanta Murphy
3 Brothers: Leroy Neely Jr., Fredrick Neely & Roscoe Neely
3 Sisters: Shirley Neely Rolle, Deaconess Sandra Lightbourne& Beverley Neely
Son In Law: Dario McCoy
2 Daughters In Law: Karlester Rolle&Sameka Griffin
Uncle: Horace Sweeting of Atlanta Georgia
Aunt: Nancy Sweeting of Atlanta Georgia
2 Sisters in Law: Debbie Rolle &Christine Fernander
3 Brothers in law: Patrick Brown, Nigel Rolle & John Lightbourne
9 Nephews: Berkley Neely, Rico Neely, Leron Neely, Navar Neely, Chavas Strachan, David Rolle, Roskeno Neely, Patrick Neely Jr & Edwardo Neely
15 Nieces: Snovakia Watson, Laura Neely, Beverlee Neely, Shenell Ferguson, OvidiaNeilly, FredrickaNeilly, TekenyaLightbourne, Lawriska Roker, Lacruezia Neely, Roshanna Neely, Johnelle Neely, KaylisaPinder, Hugette Jean- Charles, Charmaine Neely & Rachael Lewis
Grandnephews: Khawan&Kalelin Ferguson, Edwardo, Denero, Joshua, Rico Jr, Caleb, Karmelo, Delano Neely, Zion Eugene, Winston Barr, Ramario Mackey
Grandnieces: Khadeshia&Synamone Neely, Destinique Ingraham,Donnique Roker, Alisha Thompson,Lashanna Martin, Alonzonique Lowe, Brandy & Rayne Miller, Azariah, Jaaziel, Zakiyah, Zuri,&Darrenika Neely.
Great Grand Nieces: Malaysia Ingraham &CynaeHuyler
Adopted Daughters: JaxieArmbristers, Tamika Neely, Conra&Lorn McCartney, Valarie Marshall & Tracey Atherley
Adopted Sons: Hon. Khaaliss Rolle & Anton Marshall
Adopted Grandchildren: Leasean Saunders, LornteMcCartney, Camryn Goodman, Enrico Anderson, 3924 Toriano Finely, Correctional Officer Donavan Rolle, Valdez, Sherman, Brazille& Blake Marshall
Cousins: Rosemary Higgs, Sylvia Grant, Caroline Gordon, Pamela Neely, Ethlyn, Eleanor, Jennifer, Sharon Gibson, Princess Pinder, Simeon & Preston Wallace, Jermaine Bannister, Lavonne Neely, Audnell Neely & Family, Wendell Neely & Family, Clement Neely & Family, Angela Neely Rolle & Family, Gloria Curtis & Family, The Entire Mackey, Leadon& Johnson Families
Special Friends: Rozena Taylor, Debbie Gardiner, Ruthmae Collie, Malatie Etienne, Katherine Grey, Sandra Lockhart, Eurice Dames, Violet Delancy, Henry Rolle, KayrellButler,RenoBraynen, Natalee Butler, Doramae Moultrie, Nicola Farrington, LindiannaRahmingAnnmarie Johnson Wellington Roker, Anite Hepburn, Kaykay Blanc, Roger Pinder
Host of other relatives and friends: New Solid Rock Church of God family, Sandilands Rehabilition Center Family, Detox Unit Family, National Insurance Family, KTH Physiotherapy Family, Dr. Theophilis& Family, Aquinas Class of 1975Family, The Entire Rolle Family, The Wilson Tract Family, The McCoy -Poitier Family, RIU Family, Department of Inland Revenue Family, Ocean Club Security Family, Dudley Pratt & Family, Rosalie Farrington, Pinewood Community Center Family, Andre Williams & Family, Lermon& Clarice Rolle, Dr. Bodah, Carmen Jones, Lucy, Janet Farrington and Family, Don Williams and family, Davina Thompson, Cecil Cummings, Paula Hart, "Clarky"Eldora Rolle, Oscar Miller, Pasty Roker ,Mardge Delaney, Vera Knowles, Joe Romer and familyand a host of other friends and relative too numerous to mention.
Relatives and friends may their last respect at Evergreen Mortuary located on Collins Ave & 5th Terrace on Friday from 10:00a.m. – 6:00p.m. and again on Saturday at the church from 10:00a.m. until service time.