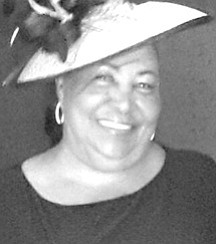 Jeanita Rolle
unknown - unknown
Funeral Service for Jeanita Rolle age 72 years and a resident of # 52 Bruce Avenue and formerly of Haiti will be held at 1:30 p.m. on Saturday 28th, January 2017 at the Pro-Cathedral of Christ the King, East Atlantic Drive and Pioneeer's Way, Freeport. Officiating will be Archdeacon Harry Bain. Interment will follow in the Grand Bahama Memorial Park #2, Frobisher Drive.
Cherished memories are held by one daughter: Yvette Ingraham; son-in-law: Fredrick Ingraham; sisters: Lucy Savigne, Christine Tanelus, Jetta Deuverce, Lurainne Pelaige, Ivrose Mcphee and Denise Savigne; brother: Bovain Savigne; grandchildren: Pearline, Fredricka and Kendrick Ingraham, great grandchildren: Camryn Burrows, Jerome and Jahrin Ingraham; brother-in-laws: Volvick Deuverce and Sariles Tanelus; nephews-in-law: Wilner Mariselle, Leonardo Douglas Jr. and Edison Tate; nieces: Samantha Marseille, Sandra Stubbs, Christanne, Denithe, Vanessa, Jenny, Aloude, Sandra and Myrtha Savigne, Katie Pierre, Gladys McPhee, Alourde Bazile-Marseille, Brenda Deuverce, Garline Gasteau, Kiesha Pelaige, Katrina Menard, Magna Luberus, Carmelle Racine, Rachel Dorce, Maryanne Russell, Sidonia Alime, Michelle Pelage, roselaure Osias, Venette Alime and Jilmene Metelus; grandnieces: Shania Tate, Kaylee Chisolm, Shania Colia and Sabrina Telcy, Jasmine Ligasey, Jeda and Nia Mesamour, Gabriel Douglas, Judeline Smith, Felicia O'Bryant, Martene Metayer, Laila Bethel and Kianna Pelaige; nephews: Wilbert and Willy Savigne, Lester Deuverce, Jessy Ligasey, Luthianos McPhee Sr., Stanley and Jeff Marseille, Blaise Dumas, Pierre, Hilary and Dicken Telcey, James and Steve Mesamour, Mackenson George, Gerald Babier, Jonathan Stubbs, Sosthene Racine, Ralphael Dorce, Edwich medar layens Bazile and Velier Pelage, grandnephews: Branden and Kayden Tate, Travis Joseph and Luthianos McPhee Jr., Malik Telcey, Jessy Jr. and Krish Ligasey, Pierre Telcey Jr., Isaiah Mesamour, Leonardo Douglas Jr. and Joshua Mesamour great grandnephew: Royal Williams Jr., great grandnieces: Shovania Smith and Ivanique Moss; couins: Osner and Jonel Francois, Marieange Racine, Richard pelage, Marycam Osias and Nancy Antione; godchild: Jean Pierre; special friends: Carmen Gager, Patrick Johns, Pauline Burrows-Gardiner, John Pierre, Venus Miller, Alan Gager, Kia, Nurse Allen, Harden Cashmere, Jennifer Wallace, Aisha Stuart, Cecilee Burrows, Linda Outten, Natasha McPhee, Imacula Roger, Tavero Rolle, Wisle, Ernese and Jean Jackson, Denise Woodside, Carola Rolle, Imacela Jones, Esther Sands, Linda Israel, Eddy Similus, Rosetta Phillip, Jahman Thompson, Mr. and Mrs. Michael, Gerald Delin, Inese Hepburn, Jerome and Ellen Duncombe, Daddy Joe, Pauline Pierre, Sheneka Richardson, Sherelle and Christine Pierre, Keisha Claudette and Raymond Morley, Carlton Johnson, Wesley, Celicia and Tasha Julmise other relatives and friends including family in Haiti, USA, Canada, Grand Central Staff, Rand Memorial Hospital Nurses and Doctors, Beautiful Beginning Staff, Credit union Staff and Members of Hope Church Nazarene.
Relatives and friends may pay their respects at Yager Funeral Home & Crematorium on Friday from 12:00 noon until 6:00 p.m. and at the church on Saturday from 12:30 p.m. until service time.