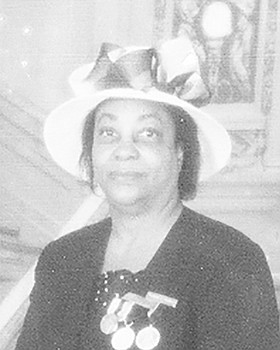 Theresa Candace Knowles
unknown - unknown
Funeral service for Theresa Candace Knowles, 66 yrs., a resident of Imperial Park, Seabreeze, will be held at Centreville Seventh-day Adventist Church, 5 Terrace, Collins Ave., on Sunday 18th June, 2017 at 11:00 a.m.  Officiating will be Pastor Peter Joseph, Pastor Paul Scavella & Elder Harrison Moxey II.  Interment follows in Woodlawn Gardens, Soldier Road.
Left to cherish her memories are her husband: David Jabus Knowles; children: Daviette Powell, Davida Knowles, Brandon Russell, Dana Knowles, David Knowles II & Davard Knowles; son-in-law: Alexia Powell; grandchildren: De'Vante Knowles, Ne'Talia Knowles, Nathan Knowles, Alexia Powell, Danaj Seymour, Deejah Knowles and Nathaniel Knowles Jr.; brother: Wellington Wright; brother & sisters-in-law: Ervin Knowles, Sidney & Marget Forbes, Cedric & Ruby Johnson, Leroy & Vernice Adderley, Phillip Knowles, Sabrina Wright, Joy Wright, Hazel Wright; adopted children: Raymond & Julia Meadows; nieces: Stacey, Claudinea, Samuel and Ann Wright, Jesha Wright, Sharon Meadows, Roselee Scott, Rebecca Scott, Janice Meadows, Carlena Sands, Phillippa, Teanelle & Phicicia Knowles, Rowena Johnson, Kendrell, Shanell, Sharese, Lashayne Johnson; nephews: Randy, Warren & Darren Meadows, Dereck Scott, Owen & Sidney Jr. Forbes, Cedric Jr., Terrence & Ashley Johnson, Keno Evans, Deno & Moses Adderley, Westly, Wayne Wright; cousins: Laverne, Wisnah & Claudine, Peggy and Phillip;aunts & uncles-in-law: Willis & Nora Knowles, Alice Knowles, Margarett Small, Edwin Knowles, Rubyann Knowles, Miriam Knowles, Gloria Allen & Dorothy Knowles; numerous grand nieces & nephews; cousins: Deaconess Henrietta McFall-Walcott, Phillip & Andy Ingraham of Miami, Fl, Laverne Armbrister, Peggy, Phillip, Pauline, Carl, Gary and Eric Knowles, Wisnah Armbrister, Claudine Knowles, Natalie, Vernette, Cherry Knowles, Barbara Lundy-Johnson, Caroline, Debbie, Antonette, Violet Ellis and Betty Simms; close relatives & friends: Joanne Webb, Denise Deveaux, Amanda Smith, Rudolph & Veronica Cooper, Mrs. Charlton, Meloney Roker, Rodney & Charlie King, Aca Mackey, Thelma Carey, Hugh Poitier, Mr. & Mrs. Virgill, Mr. & Mrs. Leslie Knowles, Mr. & Mrs. Randy Forbes, Mr. & Mrs. Clayton Forbes, Mr. & Mrs. Harrison Moxey, Mr. & Mrs. Pauline Armbristerm the staff of ICU at Princess Margaret Hospital, Vonette & Theofanas Cochinamogulos, Vanessa & Juan Bethel, Class of 1993 Bahamas Academy, Brian Christie, Joan Brown-Smith, Brian Foresight, Joan Scott, Nathaniel Knowles, Christie Bain, Class of 1970 Aquanis College, Bahamas Customs, Centreville Seventh Day Adventist church, Mechelle Hanna-Knowles, Kendra Carter, Elder & Mrs. Yvonne Cherifont, Mr. & Mrs. Oral Gibson, Niko Davis and others too numerous to mention.
Friends may pay their last respects at Demeritte's Funeral Home, Market Street, from 9-5:00 p.m. on Saturday & on Sunday at the church from 10:00 a.m. until service time.