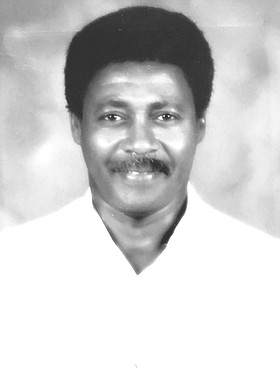 John Manessah Curry
unknown - unknown
Funeral Service for John Manessah Curry aged 60 of Ernest Street who died on February 5th, 2017 will be held Saturday 11 a.m. at Southside Christian Ministries, #1 Dignity Gardens, Carmichael Road. Officiating will be Apostle Dr. C. Clifford Smith and Other Ministers of the Gospel. Cremation will follow.

He survived by his Wife: Cassandra Curry; Children: Fikisha, Keno, Kenton, Christa and Kajannah Curry; 1 Sister: Norma Farrington; 5 Brothers: Sidney, Sonny, Ulysses, Police Superintendent, Noel Curry of Freeport, Grand Bahama and Police Corporal #1532, Moses Curry; 1 Aunt: Daisy Ingraham of Freeport, Grand Bahama; Grandchildren: Navado and Tyler Neilly, Shakena and Tahj Curry, Terranique , Kentileah, Kenton Jr., Kendal and Kenneth Farrington, J'Mea and J'Mya Hamilton, Shawn Paul Jr.; Nieces: Kathleen Sealy, Tanya Curry-Knowles, Tina and Kim Curry, Sharmine Curry-Strachan, Chakera, Moiesha, Roshitta, Rashanna, Christy, Christine, Meagan, Nicole and Aretha Curry, Leeann and Deeann Lewis of Tallahassee, Fla.; Nephews: Emmette Jr., Marcian and Renaldo Farrington, Deangelo and Rashad Curry Kerry Louis of Florida, Paul, Philip, Michael and Patrick Sealy; Other relatives and friends including: Mother-in-law: Thelma Rolle; Daughter-in-law: Ferasean Curry; Brothers-in-law: Pastor Marvin (Karen) Fowler of Savannah, Georgia, Vincent Johnson, Cranston Rolle and Emmette Farrington Sr., of Hatchet Bay, Eleuthera; Sister-in-law: Angela, Joeann, Catherine and Rosita Curry of Freeport, Grand Bahama and Ivy Curry; Cousins: Lewis and Shirley McPhee, Doreen Strachan, Miriam Bain, Sharon Thompson of Freeport, Grand Bahama, Doris Rolle, Eleanor Burns, Margaret Adderley, Marilyn Miller, Leroy, Livingston and James McPhee, Enamae Rolle, Patricia Peterson, Evette, Shawn Paul, Jamal Knowles and Kenneth Farrington Jr., The One and Only Ocean Club Security Department, Shea, Royal Towers Public Area, Housekeeping, the entire Curry Family of Exuma, Nassau and the Pond Community of Ernest Street.
Friends may pay their last respect at East Sunrise Mortuary, #183 Baillou Hill & Cordeaux Avenue from 10 a.m. to 6 p.m. on Friday and again at the church on Saturday from 10 a.m. until service time.