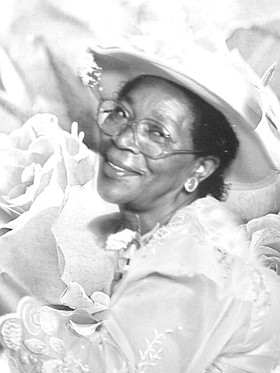 Muriel Storr
unknown - unknown
Funeral Service for Muriel Storr aged 82 of Nicholl's Town, Andros who died on Monday, March 3rd, 2017 will be held on Saturday 11 a.m. at St. Margaret's Anglican Church, Nicholl's Town, Andros. Officiating will be The Rev'd Fr, Jude Edomwonyi. Interment will follow in Nicholl's Town Public Cemetery.
She survived by her 3 Sons: Jethro, Clea, & Lynden Storr; 6 Daughters: Freda, Lorna & Melva Storr, Francis Johnson, Angie Miller & Gil Higgs; 2 Brothers: Bertrum & Robert Murphy; Adopted Daughters: Irene Rolle & Ellen Campbell & Shandy Evans; Adopted Son: Stephen Thurston; Brothers & Sisters-in-law: George Deleaveaux, Clementina, Cliffton, Brenett, Pamala & Catherine Storr; 3 Sons-in-law: Doral Miller, Oneil Johnson & Pastor Cassel Higgs; 2 Daughters-in-law: Basiemae & Louise Storr; Grandchildren: Link, Kadra, Latoya, Kissie, Jessica, Calvin, Angelique, Kahilandonis, Stevana, Shenique, Kayneil, Rashnae, Elga, Shannon, Phillipa, Apryl, Tanya, Frisco, Cordero, Onasco, Olando, Harshanie, Ray, Dorinda, Doral Jr., Lynden Jr., Lyndrick , Lynika, Lyndavion, Lyndrinique, Darren, Damon, Dominique, Tamica, Priniscia, Davana, Philisha, Shekira, Alexandra, Kozar, Cynara, Deastie, Pauljamah; Numerous Great-Grandchildren Including: Raquel, Bechanal, Inario, Salayah, Owenae, Ovaya, Roasha, Cordae, Valentio, Kiera, Samyah, Gervais, Jamerre, Olando Jr., Onasco Jr., Tyrese, Davonya, Diamond, Katrina, Keymell, Vanika, Donavon, Kobe, Kovan, Lyniah, Raynell, Ray Jr., Madison, Reagan, Alex, Torie, Maraj, Karen, Shondrea, Elrdinito, Ricardo, Alexio, Mcgreg Jr., Mariah, Xavier, Kozar Jr., Antonique, Brook, Byronique, Tavante, Annie, Rakeem, Tamia, Jereke, Troy, Shaquan, Jahiem, Deante and Erin; God Child: Sharmaine Roberts; Numerous Nieces and Nephews and a host of other relatives and friends Including: Kenneth, Terrance, Daniel, Charles, Angie, Hilareka, Hilrey, Neil, Gregory, Lionel, Mike, Austin, Rennet, Andy, Alexander, Elva, Betsada, Ulah, Ivy, Dora, Freda, Gina, Nesha, Erica, Faye, Wendella, Maybelliene, Anastasia, Tanya, Deidre, Jewel, Shantel, Augustine, Jimmy, Harry, Benji, Craig, Ginger, Gart, Shervin, Don, Atter, Albert, Iris, Irene, Albert, Alween, Levya, James, Constance, Sally, Madliene, May, Lance, Janet, Paula, Stephanie, Bee Adderly & family, Helen Lord & family, Olive Pickstock & family, Shelly & Daisy Bowleg & Family, Clyde Bowleg & family, Sidney Scott & family, Majorie Russell & family, Rosa Wilson & family, James Smith & family, Clara Evans & family, Lorene Rolle & family, Stephen Sturrup & family, Fowler & family, Alphonso Smith & family, Vanria Rahming & family, Charles Bowleg & family, Monica Evans & family, Arimenita Summner & family, Murphy Family of South Mastic Point, Barbara Sweeting & family, Ivan Ferguson (Family Island Administrator), Roslin, Dorothy Walkes & family, Merlene Miller & family, Ellen Campbell, Stella Hunter, Deann Christie, Bernard Evans & family, Sharmaine Smith, Ben Thurston, Keith Treco, Cassey Curry & family, Catherine Sweeting, Constance & Mae Evans, Malcolm Evans, Mikey Sands, The Ministry of Education (Security Department), The entire Staff of BAMSI, the Staff of Paradise Club & Marina, C.O.G.O.P Pinewood, the Murphy Town Community (the Corpit), The entire Staff of the Nicholl's Town Clinic, Nicholl's Town Community & many others too numerous to mention.
Friends may pay their last respect at East Sunrise Mortuary, #183 Baillou Hill & Cordeaux Avenue from 12 noon to 5 p.m. on Thursday and Church in Nicoll's Town from 2 p.m. on Friday until service time on Saturday.