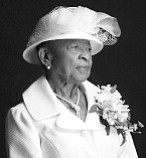 Louise Bloneva Richardson
unknown - unknown
Funeral Service for Louise Bloneva Richardson, aged 87years of Westridge Estates, and formerly of Ragged Island, will be held on Saturday 20th May 2017, 8:45 a.m. at Our Lady's Catholic Church, Deveaux Street. Fr William Qiuiamjot assisted by Deacon Maxwell Johnson will officiate. Interment will follow in Lakeview Memorial Gardens & Mausoleums, John F. Kennedy Drive.
Predeceased by: Earl Wilson (father); Pearl Wilson (step mother); Ethel "Diah" Wallace (mother); Clifford (husband); Clifford and Dexter (sons); Lindwood Wilson (brother); Lily Alcock (sister), Xen "Mutly" Taylor (beloved family pet)
Survived by: DAUGHTERS: Pamela and Rose Richardson; Angela Taylor (Allen);GRANDCHILDREN: Keisha Richardson; Miguel & Devon Culmer; Darren Richardson (Mejoishi); Justin and Jamie Taylor; ADOPTED SON: Edward Colebrooke; GREAT GRAND CHILDREN: Justice Dean; Monesha & Shanice Culmer; D'Nijah & Nyla Richardson; Torriana Taylor; BROTHER: Granville Panza ; COUSINS: Earl, Marie, LaVerne Vaughn (Philadelphia); AUNT: Berva Wallace; NEICES: Joy Bosfield; Ann & Merilyn Panza; Sharon Capron ; Patricia Murphy; Sheila & Theresa Alcock ; NEPHEWS: John Taylor, Alfredo Burrows, Raymond Alcock, Patrick Smith; Patrick Panza; Rev. Frederick Cartwright ; Others Relatives and Friends: Clara Cox; Rose Newton; Erma Smith; Rev. Neil and Patrice Ellis; Dorothy,Arthur, Sharon, Julian, Santonya Taylor; Bertram Knowles; Dr. DuaneSands; Dr. Magnus; Dr. Franklin Walkine; Dorainey, Jason, Jasleen & Willamae Salkey; Gentell Forbes; Zelda Evans; Omar Messia; Sampson Jones, Craig Ritchie; Eric Fowler, Milton Culmer; Anthony & Keva McKinney; Ernestine Sands, Kenneth Bethel,Arnold Heastie, Karen Adderley, Godfrey Turnquest,Thalmage Forbes, Ernst Burrows, Adam Fox, Deyontalay Bastian, Theresa Major, Nharelle Armbrister Tamara Thompson, Crystal Musgrove, Darian Smith, Iris Hudson, Jackie Dean, Mr & Mrs Shane Gibson, Garth Reckley, Tedra Culmer, Benny Dieudonne, Naomi Stubbs, Julius Salomon, Katherine Stewart-Marsh & Family, Indira Gibson, Frank Williams and Family, Kino McCartney, Monsignor Simeon Roberts, Father Noelle, La Familia Crew, St. Thomas Church Family, The family of the late James Wallace, The family of the late John Wallace, The family of the late Phillip Wallace, The family of the late Harriette Munroe and the Bridgewater family, The Comfort Suites Family, Colina Insurance Ltd, Open MRI, Westridge Community, The entire Ragged Island community,Our Lady's Church Mother's Club and Auxiliary, Paradise Fisheries; Clement Maycock & Family, Maryjane Moxey &Family , Malisa Richardson & Family, Anthony Richardson & Family, Golden Gates Teamshane Family.
Louise, Vesa, Mummy, Mom, Ma, Shorty, Richie, Auntie, Granny Vesa,
I know heaven must be a beautiful place right now, because it has you in it!
Friends may pay their last respects at Bethel Brothers Morticians #34 Nassau Street, on Friday from 10:00 a.m. to 6:00 p.m. and at the church on Saturday from 7:45 a.m. until service time.