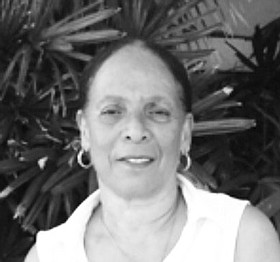 Janice Valeria Bartlett
unknown - unknown
Funeral Service for the late Janice Valeria Bartlett age 68 years of Marathon Estates will be held on Saturday, 11th November, 2017 at 9:00 a.m. at St Barnabas Anglican Church, Wulff Road. Officiating will be Canon Basil Tynes assisted by other ministers of the clergy. Interment will follow in Woodlawn Gardens, Soldier Road.
Left to cherish her memories are her loving daughter: Tanya Manette Bartlett; Her grandson: Kenol Seraphin; sisters: Dulcena Johnson, Deann Moss, Marcia Bartlett; brothers: Darryl, Robert, Keith and Dwight Bartlett; sisters in law: Ingrid, Valencia and Jacy Bartlett; brothers in law: Dr. Calsey Jahnson; nieces: Darrel Clayton, Alysia & Apryl Moss, Gena Roker, Erica, April, Darleen and Drew Bartlett; nephews: Darryl II, Darryn, Robert Jr, Rammone (Christina), Ashton, Gerald III and Sherard Sr Bartlett; grandnieces: Shenicka and Ashley Moxey, Charisma and Trinitee Roker, Azara, Erin, Lauren, Zoe and Angelina Bartlett; grandnephews: Anthony and Aaron Roker, Shannon Moxey, Andreas and Liam Clayton, Shmarzio, Sherard Jr., Connor, and Kahri Bartlett; great grandnephew: Rafael Jordan; other family and close friends: Ms. Maria Campbell, Mrs. Margo Munnings, Kenol Seraphin and Family, Mrs. Beryl Barnett and family, Mr. Floyd Moxey and Family, Mr. Fletcher Cooper and Family, Mr. Bill Cooper and Family, Zelma Worrell and Family, Mr. Wellington Pinder and Family, Mr. and Mrs. Wilfred Horton and Family, Ms. Clarice Cooper and Family, Luis Hanchell and family, Stephen Johnson and family, Addilee Johnson and Family, Mr. Alton Major and Family, Ms. Vanria Robinson and Family, Mr. Keith Mason and family, Mrs. Mae Ellen Pratt and Family, Mr. and Mrs. Dave Bastian, Ms. Sarah Smith, Father Basil Tynes and Family, Rev. T.G. Morrison, Rev. Anthony Sampson, Mrs. Sarah Smith, Mr. and Mrs. Dave Bastian, Rev. Raymond Neely and Family, the Robinson Family of Eight Mile Rock Grand Bahama, The Gordon Family of Beaumont Texas, The Passport Office, Precious, Bouncer and a host of other relatives and friends.
Friends may pay their last respects at Bethel Brothers Morticians #44 Nassau Street on Friday from 10:00 a.m. to 6:00 p.m. and at the church on Saturday from 8:00 a.m. until service time.