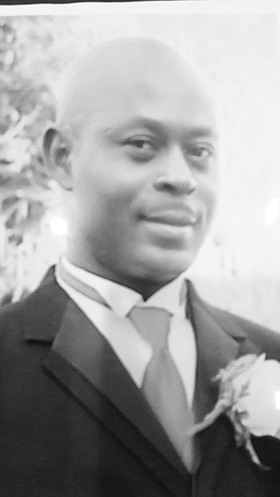 Keith James Neely Sr
unknown - unknown
Funeral Service for Keith James Neely Sr. age 49 of Hanna rd, who died at his residence Wednesday November 8th, will be held 11:00 a.m. Saturday November 25th, 2017 at St. Francis Xavier Cathedral West Hill Street. Officiating will be Father Glen C. Nixon and interment will follow in The Western Cemetery Nassau Street
Left to cherish his memories are:
Wife: Gloria Hortense Bryan Neely,
Children: Karen Neely Farrington, Moya Johnson, Delvin, Shaquille, Kerissha, Keislrun and Keontae Neell;.
Grandchildren: Aran, Lakeithra, Zion, Amya, Armani and Delvin jr.
Brothers; Patrick, D'Angelo, David, Derick and Perry Neely.
Sisters; Paula and Barbara Neely, Michaela Cargill and Denise Kerr
Son-In- Law: Renardo Farringtott
Daughters -in-Law : Lakeis h a, Judith and B rnnae
Step Mother: Aneta Neely
Mother -in -Law.' Cynthia Walker
Sisters-in -Law: Jackie, Debbie and Melonie.
Nieces and nephews: June, Rhonda, Shanique, Braneka, Gregory, Derrick jr., Durell, Nadiq, Danuneka, and Rodgernae. Nyla Ker, Astreya Clarke, Danuneka Cargill, Roolgenae Neely
Aunts: Albertha Hall, Hestermae(Morris) Clarke, Iris(Carl) Deveaux, Evelyn Theresa(Dewitt) McKlnney and Carolyn Johnson
Uncle: Anthony Johnson
Cousins: Claudine(Dorlan) Collie, Samantha Hamilton, Maurice, Ian(Clarice), Billy(Shanell), Silbert(Aisha) Clarke; Wayne, Brian, Franklyn , Mark Neely,Carla and Carlyn Deveaux, Sheimel McKinney (Russell)Sean), Albert(Latish) Mckinney, Shantaire McKlnney (Francis)(Duval), Anthony Bethel, Shavan, Shavaha(Nashira) and Kelsie Johnson. Children ogf the late Doris Hall. Dorlan jr. D'Raien, Daniel and D'Leana Collie, Naila and Najah Hamilton, Kwanzaa, Koa, Keann, Ashley, Haylee, Sanaa and Sai Clarke. Ciara, andZiontae Deveaux, Asia Rahming, Vashanique and Aaliyah Johnson, Syntyche Mckinney, MarcoFerguson, Michael Colbey, Touraj Curtis, Seth and Amayra Russell.
Other Relatives and friends including: Community Hardware management and Staff, The Hospital Lane Crew, Paradise Island Beach CIub Staff, Friends and neigbors from Acklins Street the Grove, C.C SWeeting Class of 1985.
Predeceased by.' His parents; James Neely and Maxine Hall, Grandparents:
Gerald and Corrine Johnson James and Annie Neely. Children: Keith jr, and
Keithra Neely. Siblings: Steve, Michael and Pedro Hall.
May His Soul Rest in Peace.
Relatives and friends may pay their last respects at THE CHAPEL OF MEMORIES THE NEW COMMONWEALTH FUNERAL HOME INDEPENDENCE DRIVE Friday from 11:00 am- 6:00 pm and on Saturday at the church from 10 am to service time.