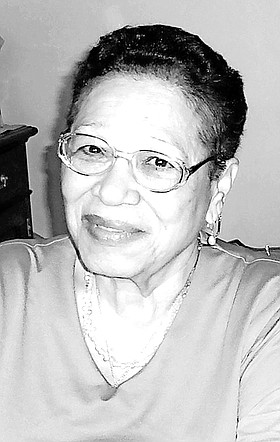 Carolyn Ethel Davis
unknown - unknown
Funeral Service For
Carolyn Ethel Davis,78
of Harmony Hill, Nassau, The Bahamas, who died peacefully at her residence, on Sunday, 1st October, 2017, will be held at St. Anselm's Roman Catholic Church, Bernard Road, Nassau, on Friday, 6th October, 2017 at 11:00 a.m.
Father Noel Clarke and Father Jude Muokwe, MSP will officate and interment will follow in St. Anselm's Cemetery, Bernard Road, Nassau.
Mrs. Davis was predeceased by her mother, Ada Louise Carroll Slanina and son, Kevin Anthony Carroll Johnson.
She is survived by her husband, Ambrose Davis; son, Stephen Davis and special friend, Samantha Lockhart; grandsons, Kevin Anthony Carroll Johnson Jr. and Fletcher Johnson; granddaughters, Shicara Johnson; daughter-in-law, Sadaiska Johnson; sisters-in-law, Marjorie Davis, Elma Davis, Dorothy Philips (Oscar), Constance Joseph(Kenneth), Brenda Davis-Faroque (Akhter), Joan Pinto (Allan); brothers-in-law, Lawerence Davis (Linda), Dr. Anthony Davis (Ella), Francis Davis (Gemma); cousins, Dorothy Symonette, Yvonne McGrath, Norma Neilly (Elliot), Donna Wallace, Joy Wells, Everette Buddy Carroll (Colleen),Yvette Christophilis, Terrence Christophilis, Barbara Harris (Brian), Lilly Pinder, Angella Carroll, Michelle Roberts, Natasha Andrews, Alan, Symonette, Ron Symonette, Dominique Russell, Maria Rolle, Bill Lunn, Anthony Lunn, Audrey Francis, Agnes Cavallo, Philip Cavallo, Erika Williams, Ryan Baldwin, Sherard Ali, Michael McGrath, Gayle Colebroke, Walter Neilly, Carson Neilly, Shantell Jovin, Devaughn Wallace, Dereck Carroll, Paula Carroll, Lisa Carroll, Clinton Adderley, George Adderley.
Other relative and friends including Hyacinth Grant and family, Yvonne Mortimore and family, Peggy Pinder, Agnes Ferguson and family, Gwen McDeigan and family, Arlene Davis, Delores Davis and family, Dr, Gilbert Davis and family, Sidney Robins and family, Tappy Davis and family, Sisters of Saint Martin's Monastery, Fr. Jude and Parish of St. Bede's Church Dr. Magnus Ekedede, Dr. Iferenta and staff of Wound Care Doctor's Hospital,Dr. Sands, Dr.Agreta Carey, Dr. Stephen, Dr. Sharon Thompson and family Allan Major and family, Tony and Wendy Craig, The Harmony Hill family, Eric Cartwright and family, Paolo Garzaroli and family, Kirk Bullard and family and All Season Florist, Kim Cartwright and Kim's Klassy Kuts, Idamae Williams, Shirley Clarke, Jeff Major and family, SAC "The Big Red Machine" Miles, Thor, Sinbad, Mya, Girlie Gir and Mocha and many other family and friends, too numerous to mention.
In lieu of flowers donations may be made to The Saint Vincent DePaul Society at St. Bede's Roman Catholic Church.
Arrangements by Kemp's Funeral Home Limited.