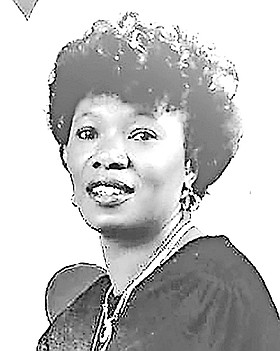 Daisy Louise Bullard
unknown - unknown
Funeral Service for
Evangelist Daisy Louise Bullard, 72
of Killdeer Drive, Monastery Park who died on Wednesday, September 20th, 2017 will be held on Saturday, October 7th, at 10:00 a.m. at Mount Tabor Church, Willow Tree Avenue, Pinewood Gardens.. Officiating will be Bishop Neil C. Ellis, assisted by 1st assistant, Pastor Delton Ellis and other ministers of the Gospel. Cremation Will Follow.
The memories of a loving, devoted and caring wife will forever remain in the heart of her Husband of 55 years: Alfred Arnold Bullard; Daughter: Danita Bullard-Adderley; Sons: Glen, Arnold, Terry and Devito Bullard; Son-in-law: Patrick Adderley; Daughter-in-law: Wanda Bullard; Grandchildren: Gleno, Janero, Rodger, Oleah, Keyarnold, Terria, Terrianna, Shakera, Bianca, Rico, Yanka, Delnika, Danishka and Asia; Several Great grandchildren; Aunt: Maria Ferguson; Adopted Daughters: Necka Wells and Stephanie Clarke; Sisters-in-law: Margaret Styles, Becky Smith, Virginia English, Faye Hanna, Josephine Bastian, Gloria, and Paula & Lydia Bullard; Brothers-in-law: Charles, Wilfred & Horace Bullard, Gabriel Styles, Berk Smith, Philip English, and James Bastian; Cousins: Bishop Walter & Minister Minalee Hanchell, Rev. Dr. Wesley & Minister Marsha Thompson & family, Ellison & Ethel Jackson of Miami, Fla., Anthony & Dale Woodside, Adalee & Michael Wisseh, Arlene Newbold, Susan Thompson, Louise Ferguson, Ruth Julien, Ian & Michelle Rolle, Keith Ferguson, Lula Strachan, Yvonne Greene of Douglasville, Ga; Eunice, Denver, Livingston and Benjamin Dames & family, Terricita Dorcien, Lynette Taylor, Michael & Eulease Munroe & family, Patricia Edgecombe, Carolyn Major, Locksley, Cleo, Allan, Patrick, Henry, Clifford, Cynthia & Yvonne McDonald, Noel Forbes, The Family of the late Sam & Harriet Jones, The Family of the late Maude McPhee, The Family of the late George Brown and The Family of the late Prince Woodside; Nieces & Nephews: Regina, Vaughn, Warren, Welden, Trina, Ronnie, Ramont, Ricky & Randy Bullard, Philip Styles, Andrew, Arnette, Lorraine, Jason, William, and Joseph & Chris Styles, Anthia Curry, Mark English, Patrick & Jerry Jackson, Debbie Tucker, Ron & Denise Adderley, Dr. Vincent, Jeff, Ken, Dustin & Timothy Forbes, Faye Hanna & family; Many other Relatives including but not exclusive of: Ernest Bowe & Family, Leroy & Rita Bowe, Joseph & Rosie Bowe, Sugar Kid & Shirley Bowe, Lionel Dorsett, James, Leroy, Theophilus, Patsy & Elaine Storr, Carmetta Romer, Dr. Kenworth & Shira Newbold, Lacarvin & Jean Newbold, Damion & Sedia Taylor, Anthony Woodside, Jr., Julian & Antoinette Blair, Antonice & Desiree Woodside, Antoinette Turnquest, Makedo Wisseh, Morris & Felicia Bryant, Bishop Tejado & Dr. Victoria Hanchell, Marvin & Dr. Tamalia Gibson, Damon Hanchell, Abinique & Matthian Thompson, Susan Bain, Okoyie, Claytino & Laura Delaney, Gary, Jasmine, Theola, Garron, Alleia, Joshua & Garreth Edgecombe, Garonique Nairn, Ian Rolle, Ben & Brenda Hudson, Michael & Aaron Jackson and Agatha Minus, and the entire Thompson, McDonald, Dames, Bullard, Bowe & Taylor families; Caring & loving Neighbors: Marsha Missick, Mr. & Mrs. Genie Johnson, Florence Fornof, Judy & Audra Tynes & family; Friends: Carolyn Hanna, Officer Russell-RBDF, Bernard Munroe, Percy Roberts, Edwin & Ann Lightbourne, Tanya & Randy Gibbs, Cora & Pam Gibson, Marcian & Beverley Cooper, Neville & Angela Moss, Donnella Ferguson, Mrs. Bethel & Mrs. Smith-Great Commission Ministries Soup Kitchen, Rev. Dr. Etienne Bowleg & family, Deacon Perez Albury, Deacon Hermis Laing, Bishop Neil & Patrice Ellis, Minister Luella Pratt, Evangelist Rosemarie Burke, Elders Joy & John Munnings, Deacon Kenneth Clarke, Mother Sybil Johnson, Pastor Reginald & Elder Andrea Cox, Minister Helena Bethel-Lower Bogue, Eleuthera; Luke Petit-TSA Miami Fla; David McGrath of Tampa, Fla; Keith McCartney & family, Mable Farquharson & family, Former Prime Minister-The Rt. Hon. Hubert & Mrs. Delores Ingraham, Prime Minister-The Hon. Dr. Hubert & Mrs. Patricia Minnis, The Hon. Frank Watson, The Hon. Brensil Rolle, The Hon. Shornell Ferguson, Harold Watson, Mr. & Mrs. Joshua Sears, Warren Rolle & family, Anthony Myers, Randy Butler, Arnold Sweeting, Richard Ryan, Ola Fowler, Cynthia Braynen, Diane Scates & staff of United Shipping, Barry Newbold, Edward Fitzgerald, Dr. Downes & Staff-Doctor's Hospital, Dr. Conville Brown-Bahamas Heart Center, Nursing Sister Lauralee Kemp-PMH, The Church Family of Mount Tabor Church, Minister of National Security-The Hon. Marvin Dames, Commissioner of Police-Ellison Greenslade, Actg. Commissioner of Police-Anthony Ferguson and the Executive Team, present and former members of The Royal Bahamas Police Force.
Viewing will be held at Clarke's Funeral Home & Crematorium on East West Highway on Friday, October 6th from 11:00am to 6:00pm and on Saturday from 9:00am at the church until service time.