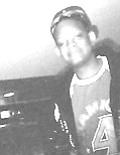 Jenson "Luggie" Michael Taylor
unknown - unknown
Funeral Service
FOR
The Late
Jenson Michael "Luggie" Taylor
Age: 42yrs
Died on March 28th, 2018
Of #44A Fritz Lane. Service will be held on Saturday 21st, April 2018 at 10:00 a.m. at Mt. Pleasant Green Baptist Church East & Quakoo Street. Officiating will be Reverend Dr. Wesley L. Thompson Assisted by Reverend Garth Thompson. Interment will follow in Woodlawn Gardens Nassau, Bahamas.
Left to Cherish his wonderful memories are his:
Two Brothers: Bertram Taylor & Alphonso Leadon; Four Sisters: Naomi Taylor, Christine Nixon, Janet Smith & Veronica Dean; Three Brothers-In-law; Douglas Nixon, Dawson Smith, & Leroy Dean; One Sister-In-law; Alison Taylor; Nephews; Rico & Kino Taylor, Samuel & Anthony Johnson, Warren Ferguson, Christopher A. Dawson Smith, Alphonso Leadon, Rashid & Kaydon Dean; Nieces;  Crystal Linden, Jasmine Taylor, Sherell Brown, Philencia Nixon, Cheishan, Christae, Dawcia & Daxia Smith, Maria Hield, Sherise Taylor, & Desarea Bain; Grand Nephews: Andre Linden III, Pedro Hield Jr., Mario Hield, Dexter Wilson, Anthon & Shaquille Taylor, Antone, Tonio, & Tiano Johnson, & Seth Brown; Grand Nieces: Simone & Grace Brown; Shaniah Balfour, Tatiana, Janiyah & Azariah Deal, Kylie Smith, Andriana, Naomi, Natliee, Krystal & Kristan Linden, Rachae & Destinee Petty, Sheria, Roasha & Kailyn Dean, Marisa Hield & Shakia Mckenzie; Cousins: Alkeisha, Ernique, Alex Pierre- Louis, Ashly Mackey, Gregory Curtis, Rikia & Sophia Bastian, Linda Mitchell, Yvonne Behrens, Daverro & Kendal Smith, Kenya Johnson, Shavon Evans, Raymond, Roderick & Brian Mackey, Valcari Mackey and A host of other relatives & friends. Special Thanks to: St. Anne's School, Male Medical at P.M.H., Judicial Staff, The produce Exchange, BahamasAir, Checkers Café " Mackey St. Staff", Sabrina Roberts, Ruben Stuart, Edward Frazier, Andrew Armbrister, Sidney Campbell, Carolyn Lopez, Cecil Davis, Patrica Farrington, Marjorie Evans, Joyclyn Johnson, Ernestine Rahming, Saval Higgs, Shantell Dean, Janet Charles, Mr. Geoffrey, Randy Forbes, Millie Stubbs & Family. The body of Jesus Christ (TBOJC) Kingdom Outreach & all the Fritz Lane family.
 
Friends may pay their last respects in the Jasper Suite at Rock Of Ages Funeral Chapel Wulff Road and Pinedale Nassau Bahamas on Friday 20th April, 2018 from 10am-5:30pm and on Saturday at the church from 9:00 a.m. until service time.