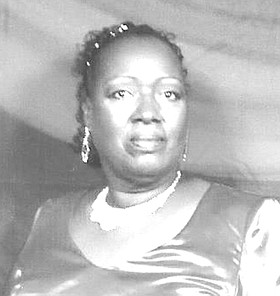 Mother Letisha Delores Clarke-Cooper
unknown - unknown
Funeral Service for Mother Letisha Delores Clarke-Cooper, age 69 of Pinewood Gardens and formerly of Richmond Hill, Exuma, will be held on Saturday, December 15st, 2018 at 10a.m. at The Church of God of Prophecy, East Street Tabernacle, East Street and Sunlight Cottage. Officiating will be Pastor Timothy Johnson, assisted by Pastor Randolph Curtis, Minister Denver Dames and Minister Miriam Curtis. Interment will follow in Woodlawn Gardens, Solider Road.
Left to cherish her fond memories is her Husband: Nehemiah Cooper;12 Step-Children : Gertrude Reid, Kayla Jean, Shanva Curry, Keisha & Alex Wilson, Lyvade, Alonzo & Deborah, Reo & Tenecia, Enzil, Carlin & Philippa-Anastacia, Kaylyn & Latica, Renaldo, and Jeremico & Kendra Cooper; 28 Step-Grand children; 7 Step-Great Grand children;1 Aunt: Eloise Mackey; 3 Sisters: Augusta McNeil, Jeroline Clarke and Iona Harris;1 Brother: Ashley Clarke; 1 Adopted Sister: Francina Thompson; 5 Brothers-In-Law: Samuel Basden, Churchill McNeil, Keith Harris, Salathiel and Thomas; 5 Sisters-In-Law: Christine Clarke, Morlie Kemp, Victoria Rolle, Majorie, Catherine and Lerlene Cooper; Nieces & Nephews including: Renae Lyttle, Jestina Cunningham, Cherice Forbes, Nateica Basden, Chantell Holbert, Lashanda McNeil, Ashleia Clarke, Deon Holbert, Shanton Basden, Dorlyn Johnson, Brenden McNeil and Dale Lyttle; Grand nieces and nephews: Jasmar & Nora Basden, Y'esha & Huey Cox Sr., Jeffery & Jenia Atherley, Kalicia & Katia Cunningham, Chantonique Minnis, Chardaye & Dereon Holbert, Kadin Kemp and Nicholas Johnson; Great grand niece and nephew: Harmony & Huey Cox Jr; Godchildren: Garren Ferguson, Susan Clarke, Carveon Nottage and Kenya McKenzie-Ferguson; And a host of other relatives and friends including: Louise Smith, Portia Clarke, Shellie Nottage, Raquel & Gregory Thompson, Mable, Sylvia Georgina, Sabaleta, & Miriam Rolle, Beatrice Brown, Joycelyn Bolden, Michelle & Charlene Rolle, Lenard & Livingston Rolle, Albert, Andrew, & Roger Ambrister, Min. Jennifer & Sheldon Newton, Avery & Min. Patricia Rolle, Franklyn & Marina Rolle, Theresa Butler, Brendalee & Renaldo Minus, Brian & Sherrline Rolle, Gregory & Bloneva Mackey, Ruben Mackey, Simon & Sharina Rolle, Rev. Mechelle & Kenneth Rolle, Wendell & Pamela Rolle, Anthony & Sabrina Rolle, Laurence, Kevin, Patrice, Ruth, Christine & Lorene Rolle, Evelyn Munroe, Barbara & Sidney Higgs, Janet & Petrel Clarke, Joycelyn & Greg Treco, Florence White, Idell Duncombe, Magnola & Jared Curry, Angela, Cressel & Dorothy Clarke, Deidre Cargill, Timothy & Ermalee Clarke & family, Fredamae Forbes & family, Mavis Douglas & family, Linda Bain & Family, Elizabeth Bullard & family of Mt. Thompson, Exuma, Marion Clarke of Stuart Manor, Exuma, Lahenzar & Ruby Curtis of Grand Bahama, Gertude Clarke & family, Bishop Hartman L. Rolle, Rev. Leslie & Patrice Curtis, Bishop Rudolph V Bowe & Family, Min. Denver Dames & Family, Michael Munroe & Family, Patricia Lewis & Family, Idell Newbold & family, Rebecca Munnings & Family, Christine Robinson & Family, Minerva Edwards & Family, the children of Ed & Fred White, Pastor Timothy Johnson & family, Pastor Randy Curtis & family, Bishop Elgarnet Rahming & family, Bishop Brice H. Thompson & family, Bishop Hulan Hanna & family, Bishop Sterling Moss & family, Bishop Franklyn Ferguson & family, Bishop Carrington Pinder & family, Pastor A. Leroy Maycock & family, The Maycock Family, Elizabeth Curtis & family, Bishop Christopher Ferguson & family of the Forest Exuma, Emery Symonette & family, Bob Miller & family, Min. Kaye Rolle & family, Elorn Arnett & family, Violet Gray, Neville Gray & family, Pastor Leroy Maycock & family, Pastor Paulette Johnson, Vernice Bodie, Eurice Ferguson & family, Annie & Delton Ellis, Delores Moss, Nora McClain, Helen Stevens & family, Janice & Karen Williams, Lucy Longley of Eleuthera, Samantha Rolle, Shirlene Dames, Ethelyn Smith & family of Little Creek, South Andros, The Church of God of Prophecy Baillou Hill Road family, St. John's Native Baptist Church family and many others too numerous to mention.
The body will repose in the Blessed Redeemer Chapel at Ferguson's Funeral Directors, 7th Terrace Collins Avenue, on Friday from 10:00 a.m. -5:00 p.m. and at the church on Saturday from 9:00 a.m. until service time.