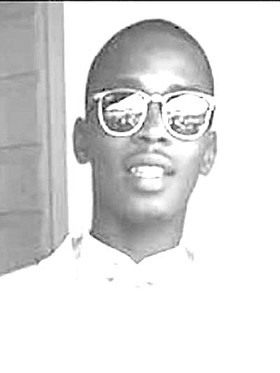 Stantavio Stanley Ramsey
unknown - unknown
Celebration Service in Recognition, Acknowledgement, Appreciation, of The Legacy and Many Profound Memories of the Late Stantavio Stanley Ramsey age 19 of Watlin Street service will be held on Saturday December 15th, 2018 at 11:00am at First Baptist Church, Market Street South. Officiating will be Rev. Diana Francis assisted by other Ministers of the Gospel. Interment will follow in the Old Trail Cemetery, Abundant Life Road.
Mr. Ramsey is survived by his SON: Mineiko Stantavio Ky'ro Ramsey; FATHER: Stanley Ramsey; STEP MOTHER: Chantel Arnette; STEP FATHER: Craig Knight; SISTERS: Samantha McKenzie, Darrell, Standeika Ramsey; BROTHERS: Giovanni, Jamaal, D'rann Barr, Romero Lord; SPECIAL FRIEND: Shacara Derinique McPhee; Nephews: Czar Neymour, Malik Ramsey, Akeem, Shano and Giovanni Barr, Lemorne Williams; NIECES: Romeia Lord, Blue Ivy and Latavia Barr; AUNTS: Janet, Melanie, Madeleine, Monique and Viola Joseph, Gloria Garland, S heila Lord, Anishka, and Lashanda Mader; UNCLES: Masline, Bona, Evince and David Joseph, Fred and George Garland, Lavardo and Timothy Lord, Anthon, Altarez and Altaran Rolle; COUSINS: Robynn, Aaliyah, Kyle, Kylethia, Daniel, Deangelo, Leontes, Roy, Anthon jr, Keisha, Seth, Labri, Malaya, Leon, Theodore, Shawny, D'ann, Samantha, Sidney, Crystal, Tarsha, Laverne, Gabriel, Lashantai, Yellow, Poogey, Pebbles; Other Relatives and Friends including: Javon, Jaron, Javvano, Boosie, Kizzy, Hatched, Rugga, Toya, Papi, Justin, Kibla, Shontavia Lockhart, Terran Barr and Family, Ozzie Neymour and Family, Derek McPhee and Family, Ragged Island Street Family, Bimini Avenue Family, Kemp Road Family, Sutton Street Family, The Staff at Compass Point Beach Resort, and Lil Africa Family.
Relatives and friends may pay their last respects at FOR THE BEST….SERENITY FUNERAL HOME AND CREMATORIUM #153 BAILLOU HILL ROAD (DIRECTLY OPPOSITE B.E.C) ON FRIDAY FROM 12:00NOON to 5:00PM AND AT THE CHURCH ON SUNDAY FROM 9:30AM UNTIL SERVICE TIME.
"WHERE THE NAME IS SERVICE AND YOUR LOVED ONE IS OURS."