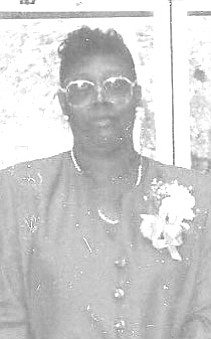 Betty Jane Sweeting
unknown - unknown
Funeral Service for the late Betty Jane Sweeting age 78 years of Bar 20 Corner will be held on Saturday June 23rd, 2018 at 11:00 a.m. at The Kingdom Hall of Jehovah's Witnesses, Dolphin Drive and Edmond Street. Officiating will be Brother Max Dean. Interment will follow in Lakeview Memorial Gardens, John F. Kennedy Drive.
She is predeceased by her parents: Olive and Walter Barr Sr; brothers: Walter Jr., Reginald, and Andrew Barr; nephews: Donnie, Garrette, and Kevin Barr;
Left to cherish her memories are her Husband: Kenneth Sweeting; Children: Carolyn (Casper) Conliffe, Donna (Cecil) Barr-Burrell, Marina Barr, and Stephen (Andrea) Sweeting Sr.; Brothers: Alfred Raymond and Donald Barr; One and Only Sister: Annamae Flowers; Grandchildren: Andre (Shernel), Adrian, Antoinne, and Destiny Conliffe, Jamal Barr, Javaughn, Nadia Latoya, and Lilla Jonelle Smith, Celicia Georgette and Cecil Burrell, Irwinique Storr, Stevanna, Shakae, Stephen Jr., Stevante, and Sasha Sweeting, and Samtavion Young; Great-grandchildren: Andria Conliffe, Jada Williams, Lyle and Tyler Smith, Taelynn Darling, Shakino Brown, Azario, and Kazaria Pinder; Nieces: Jill and Danielle Flowers; Natisha Barr, Margaret Barr-Marsh, Juanita Barr-Clark, Shakera Barr; Nephews: Dion, Cassius, Marco, Keith and Carlos Barr, Garette, and Derek Jr. Flowers, Alfred Jr. and Eric Barr, Jermaine, Damien, and D'Angelo Barr; Numerous Grand-nieces & nephews including Jodi Flowers, Gabrielle Small, Summer Flowers, Yolanda Barr-Miller, Keshanti, Khaliah, Niquita, and Keithra Barr; Janae' Barr, Giamara Burnside, Ashley & Cierra Barr, Deidre, Hannah, & Olivia Barr, Andron & Armand Williams, Rashad Rolle, Rajeive & Marco Barr Jr., Quentin Bethel, Keith Jr., Kevin Jr. & Carlos Barr Jr., & Jaimie Flowers; D'mari & Donnie Barr III; Sisters In-law: Gweneth Barr, Jacklyn Ferguson, and Viola Mae Sweeting; Brothers In-Laws: David, Donald, Bertram, and Joseph Sweeting; Numerous nieces and nephews-in-law; Cousins: Families of the late Obadiah and Raymond Barr, and the Barr family of the United States of America, Nellie Mae, Jimmy, Chris & Trenese, the late Benjamin and Joseph Barr, the late Matilda Nixon, the late Catherine Bridgewater, Deloris, Elaine and Sonia Thompson & Family; Numerous close friends and relatives including: the Barr, Ferguson, McKinney and Thompson family, Mrs. Sylvia Johnson & Family, Mr. Lionel Symonette & Family, Mr. I. Maxwell Storr Jr., Leonard Adderley & Family, Sharlene Roberts & Family, Stephanie Riley & Family, Brother Max Dean & Family, Brother Lionel Perpall, Brother Taino Bullard & Family, Brother Vance McKenzie, Brothers Thomas, Knowles & Thompson, Sisters Beverly McKenzie & Family, Eleanor Pinder & Family, Emily Williams & Family, and Grace Rolle & Family, the Montague Congregation, all of the Congregations of Jehovah's Witnesses in the Bahamas, Carol Barnette & Family, friends from Navios Corporation, the Clarke Lane community, the Barr 20 community, the director and staff of the Department of Social Services including Heath Services, Staff of the Protocol Division and Ministry of Foreign Affairs locally and abroad, and Atlantis Hotel including the Security department, Nurse Gayle Duncombe & Family, Dr. Percival & Mrs. Lillian McNeil , Dr. Tecora Cartwright Munnings & Family, Esthermae Dorsett & Family, Dorothy Roberts & Family, Nurse Jennifer Sands, Nurse Andrea Nottage, Venetta Flowers, Princess Rahming, Miss Roxbury & Family, the Moultrie Family, Mrs. Brenda Samuels, Mrs. Silome Gibson, the Colebrooke family, Andrew Conliffe & the entire Conliffe Family, the Cunningham Family, Joanne Brookins, Larry Josey, Christon Pierre & Family, Anthony Collie & Family, Betty Baillou, Charlestina Davis, Michael Tynes, the Kemp Road community, and many others too numerous to mention
Friends may pay their last respects at Bethel Brothers Morticians #44 Nassau Street on Friday from 10:00 a.m. to 6:00 p.m. and at the church on Saturday from 10:00 a.m. until service time.