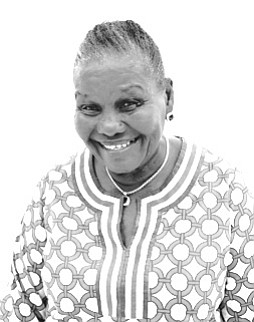 Cynthia Louise Rolle nee Buchanan
unknown - unknown
Funeral Service for the late Cynthia Louise Rolle nee Buchanan age 87 years of Coral Road, Cable Beach will be held on Friday June 22th, 2018 at 11:00 a.m. at Our Lady's of the Holy Soul Roman Catholic Church, Deveaux Street. Officiating will be Fr. Glenn Nixon assisted by other ministers of the Clergy. Interment will follow in Lakeview memorial Gardens, John F. Kennedy Drive.
Left to cherish the memory of Cynthia Louise Buchanan Rolle are her children: Olga & Alonzo Butler, Janet Lewis, Kenneth & Lynette Lewis, Dorothy & Frank Hanna, Barry & Claudette Rolle, Andrea Rolle, Sharlene & Henry Starnes, Renee & Everette Armbrister, Margot & Basil Barnett, Craig & Pamela Rolle, Cheryl & Julius Terrell adopted sons: Lawerence & Bloneva Rolle, Jimmy Rolle grandchildren: LaTanya Devaney, Tio & Tara Devaney, Gina Mullen, Dina & Victor Roberts, Diedre & Darvin Cartwright, Stacy Davis, Kenya, Zia & Keenan Lewis, Frank & Jessica Hanna, Nicola Smith, Devon Rolle, Robin Russell, Teran Bethel, Morgan Barnett, Basil & Sabina Barnett, Mia & Jaron Harvey, Craig Rolle, Julius Terrell & Raven Rolle great-grandchildren: Jaylin, Tristan, T'arrh, Aiden, Aaron, Hailee, Johnathan, Cassidy, Camden, Yohanan, Nathan, Travon, Jonaah and Basil sisters: Norma Stubbs, Betty Charlton, Roslyn Armbrister, Agnes McKenzie, Alfreda Russell, Orlean & Kathleen Buchanan brothers: Ernest Pinnock, Joseph Jr, Ralph & Everette Buchanan nieces and nephews: Joeann, June, Brenda, Eunecka, Sharon, Yvonne, Hope, Vernice, Nicola, Eloise, Sherry, Sabria, Sharanda, Desmona, Trivia, Michelle, Ernestine, Philip, Roland, Johnny, Mark, Dino, Jarrette, Sgt 2562 Gino Stubbs, Sgt 1647 Charles Charlton, Orthnell, Ernest Jr, Leon, Alfred, Joeann, Marie, Carnette, Adriana, Lorenzo, Melissa, Natasha, Alfredo, Clyphane, Pauline, Esther, Davina, Andrew, Omar, Everette, Kevin, Alexis, Julie, Julian, Joseph, Shawn, Elizabeth, Sharell, Tanya, Edward & Sherman cousins: Katie, Ben and David Thurston, Jackie Dean, John, Charles & Joseph Fines, Brenda Taylor, Brenelda Bodie,  Janet King, Margaret Jones and Sandra Johnson sisters- inlaws: Mercianna & Rosetta Bodie; numerous other relatives and friends including: Alfreda Gaitor-Cox, Constance Missick, Daisy McPhee, Christine Higgs, David, Clarence & Maureen Wallace, Horward Rolle, Winston Gaitor, Tanya Maycock, Shenique Maycock, Alonzo Butler Jr., Sabrina Martin, Lesley Albury & Family, Dale & Avon Bethel, Ella Lewis, Andrea Missick & Family, The Lewis Family, Mel Roker & Family, Anna Smith, Veldez Brown & Family, Roslyn Rolle, Patricia Whitfield, Valdrine Williams, Elaine Williams, Sandea Miller, Rolen Goffe, The Our Lady of the Holy Souls Roman Catholic Church Family especially members of the Choir and Ladies Auxiliary, Leonie Buchanan, Dorothy Buchanan, Pastor John C Wallace, Elsie Looney, Dr. Delton Farquharson, Patricia Ferguson, Ingrid Simon, Judy, Major, Daphany Richerson, Philip Durham, Barry Bethel and Family, Beryl Barnett & Family, Denise Sawyer, Eulease Johnson, Shirley Nelson, The Staff of Bahamas Medical & Surgical Supplies Limited including; Brenton, T'Shera, Tamika & Phylicia, Jewel Terrell and Family, Heather Hazarian, The Freedom Farm Baseball Moms including A Forbes, Bailey Memorial Gardens, Star of David Memorial Gardens of North Lauderdale, Fl. caregivers: Dr. Indira Grimes, Quality Nursing Care Service especially; Jennifer, Nyoka, Deandrea, Nancy, Haysalah, Terianna, Micheala, Brickel, Philippa, Angela & Tamara, Terrell Major and Enrique of Major Changes Rehab, Doctors & Nurses of Doctors Hospital's ER & ICU and others too numerous to mention.
Friends may pay their last respects at Bethel Brothers Morticians #44 Nassau Street on Thursday from 10:00 a.m. to 6:00 p.m. and at the church on Friday from 10:00 a.m. until service time.