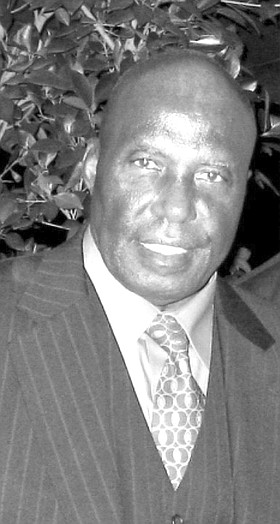 ULRICK "Chief" WILLIAM FOX
unknown - unknown
ULRICK WILLIAM FOX affectionately called "Chief", age 78 years of Johnson Road in Nassau, Bahamas passed away at the Princess Margaret Hospital on Sunday June 10, 2018. 
The Funeral Service will be held at Faith Temple Ministries International, College Garden Road/Pine Barren Road, off Prince Charles Drive, on Saturday, June 23rd at 11:00 a.m‬. Officiating will be Bishop Carlos Thompson. Cremation will follow.
Ulrick is predeceased by: Father: Edward Fox and Mother: Alice (Turnquest) Fox; Brothers: Roosevelt, Paul, Michael and Maurice Fox; and Sister: Dorothy Morley.
He will be sadly missed by Dianne Fox; Children: Ulrich Jr. , Aaron, Jeanene, and Sarah Fox;  Grandchildren: Kyle and Sasha Fox, Aariah Fox, Aslan and Shema Fox Darville; Step-grandchild: Solomon Darville; Brother: Colin Fox (Marilyn); Sisters: Brenda Lamm (James), Florinda Storr, Beryl Edgecombe (Wendell); Adopted Sister: Cora Gibson and family; Nephews: Marcus, Lynden and Donahue Mackey, Noel, Carlos and Dyanza Lamm, William Fox, Thomas Edgecombe, Garrett Fox, Paul Jr., Paul Marvie Jr, and Evan Fox, Frank and William Morley, Maurice Fox Jr., Elcott Fox; Nieces: Aretha Paul, Natasha Cunningham, Yolande Edgecombe, Sheryl Collins, Lutricia Campbell, Laurice Fox, Philipa and Nicki Morley, Jennifer Rolle, Monique and Fontella Fox - Rolle, Chantel and Paula Fox- Mackey, Sharnel Bethel, Claresa Seymour, Beth Carey; Cousins: Trevor and Don Turnquest, Roy, Arlington, Louie, Robert Adams, and all his other Fox and Turnquest Cousins; GodChild: Tara Cooper-Burnside and family; Friends: Eugene and Dolores Cooper, Hadeeth and Kim Welcome and family, Dr. Marcus and Kathleen Cooper and family, Carl and Paulette Haven and family, Brent Darville, Lionel and Joanne Fox and family, Reggy Moxey, The Faith Temple Ministries Family, former employees of Holiday Ice Ltd. and many other relatives and friends.
Thank You To: Dr. Delton Farquharson and his team, with special thanks to Dr. Ashton Ferguson, Dr. Marcus Cooper and Dr. Christine Chin. To Angels Elite Nursing Service, Serenity Home Care, Physical Therapist Michelle Roach, Myrlene Noreus and the Nursing staff at Princess Margaret Hospital.
The family offers sincere apologizes for any names inadvertently omitted and thank everyone for their condolences, calls, prayers, and visitations in the past and during this time.
Family and friends may pay their last respects at Bethel Brothers Morticians, Nassau Street on Friday June 22nd, 2018 from 10:00 a.m. to 6:00 p.m. and at the church on Saturday June 23rd 2018 at 10:00 a.m ‬until service time.
In lieu of flowers, memorial contributions may be made to "Hands For Hunger" (www.handsforhunger.org) in Nassau, Bahamas.