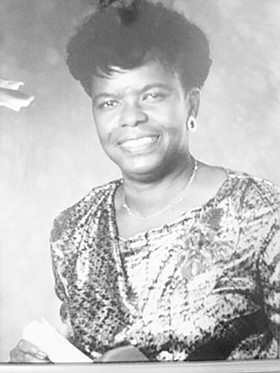 Brenda Louise Pinder
unknown - unknown
Funeral service for
Matriarch Brenda Louise Pinder, 78
a resident of Angel Rd., Eastwood Subdivision & formerly of Fresh Creek, Andros, will be held at Holy Cross Anglican Church, Highbury Park, on Saturday, March 10, 2018 at 11:00 a.m. Officiating will be The Rev'd Canon Norman D. Lightbourne, assisted by The Rev'd Deacon Eric A. Miller. Cremation follows.
Brenda leaves behind to love, cherish and remember her: Son:  Gregory Jones Sr.; Grandchildren:  Gregory Jr., Travers, Kharah, Tyler, Jaden & Nubia Jones. Great Granddaughter: Kailey Cheryl Jones. Brother: Rev. Dr.  Stanley G. Ferguson. Sisters-in-Law: Seadrid Ferguson, Irene Ferguson,  and Mavis Moore. Nieces: Cassie Thompson, Faythe, Taylor and Jasmine Ferguson, Julie Gullion, Brenda Jones, Shanria Coakley, Kendea Smith, Venessa Walkes, Yvette Glinton, Quetell Demeritte, Racquel Knowles, Shantelle Newton, & Stanya Ferguson. Nephews: Orien & Alex Ferguson,  Shervin Coakley, Brent Johnson, Kishno Jones, Stanley Jr. & Brian Ferguson, Michael & Ricardo Thompson, Rev. Terrance Morrison. Aunts: Edna Cleare of Miami, Fl. and Violet Clare of Fresh Creek, Andros. Cousins: Lillian Prioleau & family, Columbia, (S.C.) Ethel Claridge & family, Mary McCartney & family, Randolph Jr. Bennettsville, (S.C.) Dr. Frederick Clare, (N.Y.) Henry, Columbia,( S.C.) Paul, and Clarence Clare, Myrtle McCartney & family, Bertrum Armaly Jr. & family, Annette Armaly (Florida) Nelson Armaly & family, Betty Bethel & family, Norman & Samuel Armaly, Eleanor Cooper & family, Lillian Roberts, Karen Millerton, Shelbry Cleare (Florida),  Vaneria Turner, Gloria Parks & family, Atlanta (GA.) Ellen Cobbb, Miami, Ella-Marie  Grady, Fort Meyers, Patricia Watson, Atlanta (GA.) Albert Ferguson, Stafford Jr. and Avery Nairn,  Annette Waltress, (Florida),Thomas Jr. (Florida) Florence, Carlton,  Alphonso, Jerrick, Steven & Colin Clare, Sheila McSweeney, Marilyn Colebrooke, David Jr., Perry, Douglas, Wayne, Dr. Charles, Don, Charlene, Leverne Cleare, & Yolanda Bain. Other Family and Friends: Carl & Tressie Lynch & family, Children of the late Naomi Taylor, Delores Mortimer & family, Ori Ferguson, Cheryl Kirz, Orien Musgrove, Lillian Smith, Christine (Beautician), The Holy Cross Choir family, The Holy Cross ACW sisters, Canon Norman Lightbourne & family, Members of the Holy Cross Bible Study & Prayer Group, The Holy Cross Exercise Group family, Miller Sweeting & family Rosemary Thompson, Dr. Nelson & Mrs. Debra Clarke, long time friend Pat Rolle, Zelma Dean, Patrick & Eula Edwards, The Bowleg Family, Sheila Simon,  Leana Munroe, Mae , Bloneva, Victoria, Edgar & Flloyd McPhee, Faith Knowles,Tony & Marilyn Dean, Annamae Knowles, Oswald & Marie Knowles & family, Warren Morrison, The Braynen family, Family of the late Alice Rolle & Jamaal Ferguson, Doris Bridgewater & family, Rochelle & Huel Ritchardson & family, the Quakoo Street family, & New Free Community Holiness Baptist Church family & other family and friends too numerous to mention.
Friends may pay their last respects at Demeritte's Funeral Home, Market Street, from 12-6:00 p.m. on Friday & on Saturday at the church from 10a.m until service time.