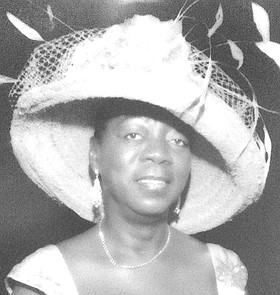 Gertrude "Liz" Elizabeth Newton
unknown - unknown
Funeral Service for the late Gertrude Elizabeth Newton "Liz" age 64 years of 3rd Street The Grove & Coconut Grove will be held on Saturday May 12th 2018 at Living Waters, Warren Street, Oakes field, Nassau Bahamas, at 10:00a.m. Officiating will be Apostle Raymond Wells assisted by other ministers. Interment will follow in Lakeview Memorial Gardens and Mausoleums, John F. Kennedy Drive, Nassau Bahamas.
She was pre-deceased her Parents: Carl and Myrtle Newton (Predeceased)
Sons: Trevor Williams, Robert Kelly Jr., Dwayne Kemp
Daughter: Alana Kemp-Lloyd
Grandsons: Tiano Williams, Dwayne Jr. and Deywan Lloyd.
Grand-daughters: Makeeba Walker, Calista and Riley Kemp
Great-Granddaughter: Kianna Dean
Brothers: Anthony Newton (predeceased), Clifford Newton
Sisters: Althea Newton (predeceased), Vanera Newton
Daughter in Law: Josanne Campbell Kemp
Son in law: Dwayne Lloyd Sr.
Aunts: Hilda (predeceased), Roselda, and Ethlyn Woodside
Uncles: Nelson and Bernard Woodside (pre-deceased), Phil Newton
Nieces and Nephews: Terrance Sweeting (pre-deceased), Michelle Sealy (pre-deceased), Linda Heastie-Masekenuba (pre-deceased) and Donald Masekenuba, Drs. Stacy and Reginald Booker, Debra Alcime-Morgan Ed.D and Alvin Morgan of Huntsville Alabama, Priest Willis and Lady Sandra Stubbs, Larry and Carolyn Alcime, Shirley and Dion Kerr Sr., Kevin and Sophie Alcime, Dianne, Dario and Shakera Smith, Alvin Sweeting, Reba, Carlson and Sabina Newton.
Grand-nieces and Grand-Nephews: Tiffany and Marcus Pinder, Sife and WaynetteCardron, Lathera, Willisa, Robyn, Aleece, P'lar, Coren, Larry Jr. Kevin Jr., Ashton, K'Dyn, Tafari, Marcus Jr. Maikai, Mckayla, Aliyah, Kenya, Kyle, Shandera, Dion Jr. Deangelo, Bryce, Brandon, Brad, Joshua, Michael, Caleb.
Cousins other relatives and friends: The Hinson's, Woodside's, Newton's, Kemp's, Heastie, Hanna, Tynes, Masekenuba's, Whyms', Ford's Newbold's, Robinson's, Ao's, Lloyd's.
Liz Darville, Carmita Christie, Billy Dorsette,Ethelmae Moss, Michelle Munroe, Pandora Mackey, Linda Curtis, Dianna Knowles, Delvin Major, Rose Panza, Kermit Smith, Ruthmae, Clara, Carlita, Jillian, Brenda, Marcellus,
The Grove, Windsor Lane andBlue Hill Heights/Pride EstatesCommunity, TheAquinas College classes of '72, '04 & '05. The Bahamas Met Office dept. The Bahamas Civil Aviation Dept. The Kidney Centre, P.M.H., Living Waters Kingdom Ministries, The Management & Staff of Melia, Albany, Tap & Eat 242.
The Hon. Glenys Hanna-Martin, Sen. TheHon.Jamal Moss. The Hon. Cynthia "Mother" Pratt.
Drs. Leon & Laura Dupuch, Pastor Ambassador Devon & Atty. Yolanda Rolle, Supt. Robert Lloyd & Dr. Jenny Lloyd & Family.
Special Thanks to Dr. Brittany Benjamin, Dr. Ilsa Grant, Dr. Wesley Francis, Dr. Delton Farquharson, Nurse Ferguson, Nurse Grant, Nurse Glinton.
Relatives and friends may pay their last respect at Evergreen Mortuary located on Collins Ave & 5th Terrace on Friday from 10:00a.m. – 6:00p.m. and again on Saturday from 9:00a.m. until service time.