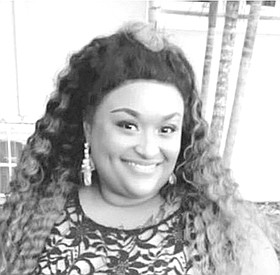 Tabitha "Tabby" Suzette Wilson-Burrows
unknown - unknown
Funeral service for the late Tabitha Suzette Wilson-Burrows affectionately called "Tabby" age 44 years of Golden Isles off Carmichael Road will be held on Saturday, October 6th, 2018 at 11:00 a.m. at New Covenant Baptist Church, East West Highway. Officiating will be Rev. Trajean Jadorette assisted by other Ministers of the Gospel. Interment will follow in Lakeview Memorial Gardens, John F. Kennedy Drive and Gladstone Road.
Precious memories will remain in the hearts of her father: Leroy Wilson; step mother: Cheryl Wilson; daughters: Chauntez Moxey-Turnquest, Dwanique Smith, Rikara Newbold and Toni Burrows; grandchildren: Jazarra, Ric'Kayden, Shiloh and Deja'hailey; adopted daughter: Dwaisha Harris; fiancé: Domonic Edgecombe; sisters: Sophia Mackey and Inga Deveaux; brothers: Keion Justin and Elton Gibson; sons-in-law: Samuel Smith Jr. and Kristopher Turnquest; nieces: Macardia Fawkes and Keja Seymour; nephews: Matthew Capron, Javante Mackey and K. Dominic Seymour; aunts: Bettymae Wilson and Sherene Brown; uncle: Alexander Wilson; close friends: Treva Thompson, Leander, Branell, Claudamae, Neka and Shanae; cousins: Charrise Campbell, Samantha, Ureka and Bradly Collie, Azaria Bethel, Deon Rolle, Deontae Rolle, Devontae, Philisty, Deasmine and Trania Rolle, Angel, Jasheed, Ej, Renaldoash, Shelly, Deandra, Deanda, Lakeisha, Genester, Ashley, Nakaya, Larnardo, Nathaniel, Keo, Winifred, Avron, Andrea, Bordrea, Davanna, Shadora, Jermanie, Terry, Tony, Prince, Travis, Mario, Ricardo, Uriah, Henry, Freddy, Alexander Jr., Glendis McPhee and Family; numerous relatives and friends including: Mr. and Mrs. Samuel Smith, Mr. and Mrs. Turnquest, Marsha, Irene McQueen, Amari McPhee, Shadane Strachan, Claudesha, Polly, Ernestine Butler, Jason Curry, Peter Jr., Keisha Brown and Family, Llus, Dawn, Sherry, Beverly Pratt and Family, Indera, Netty, Kara, Loralee and Dino, Patricia Moxey and Family, Mary Campbell and Family, Louise Harris, Mr. and Mrs. Andrew Dorsette, Carla Pratt and Family, Strachan's Ally Family, Cess Bar Family, Latayah Johnson and Family, Teeks, Kimberly Harris, Maryann Lindsay, Sirnell and Brittany Noel and others too numerous to mention.
THERE WILL BE NO VIEWING. Persons wishing to sign the book of condolences may do so at Restview Memorial Mortuary and Crematorium Ltd., Robinson and Soldier Roads on Friday from 10:00 am to 5:00 pm. and at the church on Saturday from 9:30 a.m. until service concludes.