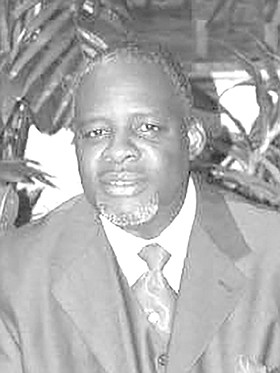 Anthony "Boshang" William Cooper
unknown - unknown
Funeral Service for Anthony William "Boshang" Cooper age 52 of Eneas Street, Bain Town who died on October 1, 2018 will be held on Friday October 12, 2018 at 11:00 a.m. at Bahamas Harvest Church, Prince Charles Drive. Officiating will be Pastor Mario Moxey assisted by Other Ministers. Interment will follow in Lakeview Memorial Gardens, John F. Kennedy Drive.
Left To Cherish His Loving Memories Are: His Brothers: Alden Cooper, Jeffrey Cooper, Bradley Cash, Pastor Stephen Brown, Andre Cooper, Retired Pc 601 Michael (Boshang) Cooper; Sisters: Brendalee Brown & Valetra Veronica Nesbitt; Brother In Law: William Neely Sr.; Sisters In Law: Patricia (Pat) Cooper, Florence Cooper, Vonchelle Cooper & Pandora Brown; Nephews: Shane Seymour, William Neely Jr (Bj), Phillip Seymour Sr (Phil), Jeffrey Cooper Jr (Lil Jeff), Enero Cooper, Dexter Cooper, Divonne Cooper, Mckello Cooper (Kielo), Daniel Cooper (Danny), Marquis Cooper, Michael Cooper Jr, Minaj Cooper,Stephen Brown Jr(Sj), Darren Storr, Bradley Cash Jr (Bj), Alden Cooper Jr, Terrance Cooper, Romeo Cooper, Nolan Cooper, Reginald Nairn, Vernard Watson, Edward Williams (Bread); Nieces: Damaris (Jessie) Cooper Watson, Valangel (Angel) Cooper Williams, Chantiqua(Tweety)Cooper, Georgette (Georgie) Cooper, Courtney Stubbs, Jeffernique Cooper, Andranique (Nikki) Cooper, Adrianna Seymour (Denise), Lenora Neely Nairn, Monique Cooper, Charmaine Seymour, Bradea Cash, Joya Cash, Pakell Williams Ida Cooper, Cheryl Cooper, Aniskha Cooper, Dwana Cooper, Shannon Cooper, Vernishka Cash & Latoya Outten Neely; Care Giver & Friend: Aunt Joan Lockhart – Culmer; Aunt: Catherine Cooper; Grand Nephews & Nieces: Valentino Woodside (Maki), Nario & Teshan Williams (Cailyn), Veroniqua & Dimaggio Watson, Aaliyah, Jeffrey 3 & Jayden Cooper, Enero Jr & Katlyn Cooper, Sheena & Jamie Hunt, Deondre Seymour, Reginald Jr & Rajon Nairn, Brittney, Kasha, Selena, Brianna & Adrian Seymour, Christina & Christopher Butler, William Neely Jr, Phillip Jr & Christopher Seymour; Great Grand Nephews & Nieces: Ludejah Gibson, Jeada & Jeanna Davis, Phil'leah & Philicia Seymour, Kevera Moncur Jr, Dale, Terrance Jr. Cooper; Numerous Cousins Including: Jimmy Mcdonald, Keith Cooper, Craig Cooper, Clint Cooper, William (Billy) Cooper, Joseph (Sid)Cooper, Harcourt Cooper, 586 Alfred Munnings (Monk)Franklyn Fisher, Calvin Fisher, Tony Eulin, Mitzie Rolle, Kim & Shelly Cooper, Min. Debbie Lewis, Linda Munnings – Frances, Frances Fisher, Carol Fisher- Kemp, Esther Fisher, Judy Fisher- Cash,Ashley, Shantianica, Joenisha Cooper, Endasha Rolle, Selena Rolle, Jimenita Swain, Charliene Davis, Limette Cooper, Sherry, Shenique Fisher, Danesha Pyfrom, Lydianna Sewel, Antionette, Jacinta, Leona, Inez, Chantell,Rasha & Regis Cooper, William Cooper Jr, Devaron Cooper, Hartley Hanna, Terrance & Justin Mcdonald, Preston Rolle, Julian Davis, Bramdon & Charles Fisher, Craig Gibson, Ryan, Romell & Rhema Lewis, James Brown, Renardo, Ramon, Rahem Munnings, Terrance Joseph; Adopted Brothers: Krishna Woods, Jerry, Ret. Sr. Customs Officer Albert, Edward, Fr. Whitfield, Victor, Maurice (Bro Lou) And Ret.Sgt. James Hutcheson, Garfield Forbes, Jayson Stuart, Byron Bastian & Clinton Rolle; Adopted Sisters: Pam Wilson, Sharmine Stuart, Vanessa Stuart, Cindyann Stuart, Castina Rolle, Sandra Stubbs, Theresa Cooper, Adassa Cooper; Adopted Sons: Tony Stuart, Denero Stuart, Codero Rolle; Adopted Nephews: Decaldo Whylly, Dave Seymour Jr, Felton Rolle, Cadwell Rolle, Dana Nesbitt, Tristen Gaitor; Adopted Nieces: Danielle Stuart, Brinae Butler, Byronique Bastian, Ellyneice Nottage, Rochelle Stuart, Shaconya Forbes, Micholette Hart, Christa Nesbitt, Destini Nesbitt; Adopted Aunts: Susan Seymour, Eldora Stuart, Edithmae Stuart, Cudymae Stuart; God Children: Gardina Forbes, Byronette Bastian, Camryn Rolle; Numerous Relatives & Friends Including: Adrian Fox, Nurse Camille Spence & John Spence,The Gordon Family, The Hutcheson Family, Derick ( Big Mac) & Lynn Culmer, Cyprianna Saunders & Family, Deborah, Judy, Ruddean & Shannon Nesbitt,The Woods Family, Sis. Daisy Armbrister & Family, Janet Rolle & Family, Latoya Cargill & Family, Eula, Fanny, Necky, Mary, Sid & Family, Sammy & Whitfield Mackey, Brent Stubbs, Noel (Blood) Gibbs, The Bain Town Community, The Eneas Lane Family, Kennedy Sub Division Family, Yvonne Halloway & Family, The Atlantis Family,The Management & Staff Of Melia, The Bimini Bay Family, Dr Juliette Dorsett & Urgent Care Family, Bridgette Seymour & Family, Arthur & George Johnson, Vinccent (Shakey) Shakespare, Michael ( Plummer) Cleare,The Bahams Harvest Family, Pastor Mario & Ericka Moxey, Elder Ursula & David Rolle, Vernon ( Boy) Wilkerson, Stephen Curtis, Anthony Pratt, Mario Stevenson, Craig Bain, Michail Nairn, Kevin Rigby, Glenroy Williams, Shean Cartwright, Arvin Wallace, Bradley Saunders, David Brown, Charles Colebrooke, Oral Jones, Robert Pratt, Shirle, Sam Bethel, Philip Ferguson, Clyde Forbes, Vincent Mckenzie, Joe Knowles, Reggie Smith, Marsha Sweeting, Patrick Rahming, Thomas Pratt, Gregory Stubbs,Staff Of The Original Café Martinique,Staff Of Th Entire Atlantis Food & Beverage Department, God Squad, Mr. King & Family.
Viewing will be held in the Legacy Suite of Vaughn O. Jones Memorial Center, Mt. Royal Ave. and Talbot Street on Thursday (TODAY) from 12:00 noon to 5:00 p.m. and on Friday at the Church from 10:00 a.m. to service time.