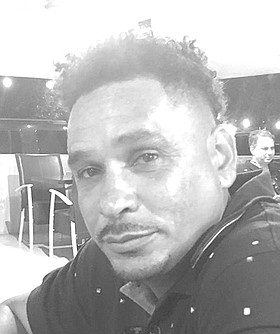 Marcel "Mice" Erick Turnquest
unknown - unknown
Funeral Service for Marcel Erick "Mice" Turnquest, age 42 of Mortimer's, Long Island will be held on Saturday 13th October, 2018 at 10:00 a.m. at St. John's Anglican Church, Buckley's, Long Island.  Officiating will be Fr. Lynden Douglas assisted by Cathecist Baltron Major.  Interment will follow in the Holy Family Anglican Church Cemetery, Mortimer's, Long Island.   
Left to cherish his memories: Wife: Nicole Turnquest; Daughter: Nyeemah Turnquest; Mother: Thelma Turnquest; Sisters: Helen Turnquest (Patrick) Ingraham, Pauline Turnquest, and Myrtle (Larry) Lafleur; Brothers: Burket (Shirley), Dwight "Elsworth", Anthony and Craig Turnquest; Mother and Father-in-law: Blanche and Donald Watson; Brothers-in-law: Keith (Kishma), Deon and Donald (Simone) Watson Jr.; Sister-in-law: Vernita Turnquest; Uncle: Godfrey (Kay) Chriswell; Aunts: Shirley Papageorge, Beverly Chriswell; Nieces: Sherry, Dawnyell, Burcurdette, Burkies, Bernadette, Brittany, Shayana,Teakoah, Nicolette, Kandi, Gabriel, Dwightte, Abigail, Daveigh, Antonya Turnquest, Patrice Robinson, Karen Turnquest (Ricardo) Rahming, Ree, Lorraine, Larrimina, Lafleur; Nephews: Becket "William", Burket Jr., Sammy, Chad, Elsworth Jr., Quinton, Shavaldo, and Kenron Turnquest, Patrick (Kyra), Peron Robinson, Larry and Candy Lafleur; 12 Grand Nephews and 11 Grand Nieces: Numerous Cousins including: Ida and Deron Isaacs, Adrian (Marsha) Chriswell, Shelley Chriswell (Dave) Bartley, Fenton, Clark, Antonio, Cranston, Nicholas Criswell, Derek and Paula Carroll, Antoinette, Donnie, Glenn, Morris, Lawrence, Delbert, and Barry Lightbourne, Marjorie Gilbert, Mae, Renee, Dena, Arnett and Dianne Lightbourne, Soula (Kwady) Lightbourne, Tanya Treco, Patricia (Quincy) Lockhart, Aly and Alexis Isaacs, Rachael, Maria, Charles, Anastasia and Dianna Papageorge, Helen, Zena and Khaled  Zahran, Visna Bowe-Mackay, Joan Bowe-McKay, Nigel and Kenneth Bowe, Thisbe Mackay, Melvern and Roy Davis, Una, Randy and Uranda Curtis; God-Children: Sofiya, Jamia, Kendalee, Cianne, and Mama; Other Relatives and Close Friends including: The entire Long Island Boyz Family, David, Heather and Madison Cartwright, Don Ferguson and Family, Rubin Joseph, Carlton, Mario, Wayne, Ian, Iron, Heidi, Brent, Blair, Danny Burrows, Luciano and Crew of Jamaica, Yellow Productions, The Constantakis Family, Monica, Kendal "Hunky", Toni and Ryan Seymour, Brad McPhee and Family, Delton, Georgie Fox Jr. and Family, Rodney and Margo, Jerry Treco, Captain Moss, Henry Mui, Darlane Maycock, Christian Adderley, The St. Peters Parish of Long Island and Father Lynden Douglas, The Anglican Church Community especially The Anglican Church of The Epiphany and Father Budhu, The Anglican Church Women and Council, Veronica Bain, Loretta Butler-Turner and Family, Glendon Rolle and Family, The Hon. Peter Turnquest-Deputy Prime Minister and the entire Turnquest Descendants Family, Mr. Adrian Gibson, MP for Long Island, The Hon. Phillip "Brave" Davis Leader of Her Majesty's Opposition, Sen. The Hon. Fred Mitchell, Mr. Elsworth Johnson, MP and the Yamacraw Constituency especially Winton Meadows, David and Sheila Banister, Monique Morley, Jonathan Cartwright, Omar Daley, Queen B, Tennille Bullard and The Southern Air Crew, Alice, Dellerece and Karen, The entire Watson, Turnquest, Ingraham, Pyfrom, Deveaux, Bowe, Curry, Lloyd, Nixon, Lightbourne, Adderley, Cartwright, and Carroll Families, The entire Kemp Road and Williams Lane Communities, The Communities of George Town, Roker's Point and Harts, Exuma, Long Island Communities especially Dunmore's, Morrisville and Mortimer's, Aliv, Island Luck, BFS, Burns House, Sands Staff and many other relatives and friends too numerous to mention. 
Viewing will be held in the Legacy Suite of Vaughn O. Jones Memorial Center, Mt. Royal Ave. & Talbot St., on Thursday (TODAY) from 12 noon to 5:00 p.m and at St. John's Anglican Church, Buckley's, Long Island on Friday from 5:00 p.m. until 8:00 p.m and on Saturday from 8:00 a.m until service time.
Arrangements by Vaughn O. Jones Memorial Center, Mt. Royal Ave. & Talbot St. Nassau N.P. Bahamas.