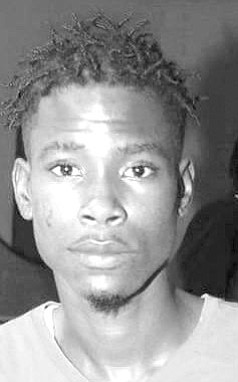 Karo Mallory Bullard
unknown - unknown
Funeral Service for Karo Mallory Bullard, age 24 of Nassau Village who died on Friday, October 5th, 2018 will be held on Saturday, October 20th, 2018 at 10 a.m. at The New Mount Zion Missionary Baptist Church, Baillou Hill Road. Officiating will be Pastor Talbot Collie assisted by Pastor Byron Butler. Interment will follow in Southern Cemetery, Spikenard & Cowpen Roads.
He is survived by his Mother: Cora Grant; Father: Mallory Bullard Sr.; Grandmother: Velma Adderley; Great Grandmother: Emily Belle Reckley Smith; Adopted Mother: Shantell "Tiny" Nottage-Hunt; Brothers: Shamal, Shantario & Mallory Jr. & Marlin Darling; Sisters: Kharin Archer (Cora), Malrinique, Myesha & Mia Stuart, Shawntoll Prichard, Makeva Bullard & Ashanique Cash; Nieces & Nephews: Shamiah, Keiara, Tajhanique, Kamari & Onyekanna; Aunts & (In-Laws): Eria Grant, Monique Miller (Adrian), Phyllis Thompson (Errington), Myrtle Pratt, Sylvia Stubbs, Elaine, Pamela & Evangelist Anatole Bullard & Shaniqua Ferguson; Uncles: James Grant, Ricco & Antonio Knowles, Minister Livingston G. Bullard, Carl Rahming, Harrison, Paul, George, Gerald, Victor, Silas & Craig Bullard & Harris Smith; Grand Uncles & Aunts: Douglas & Kelly Adderley (Beatrice), Kipling Smith, Retired Chief Superintendent 709 Prince Smith, Peter McPhee, Rosemary McPhee, Agnes, Francina, Lotti Veri & Ruth Smith; Step Sister: Shandera Hunt; Cousins: Aasia & Ashley Scott, Sydney Smith, Denise & Errol Ferguson (Kentel), Kyle & Ethan Thompson, Teranique Symonette, Trenique Sweeting, Kadijah & Hope Grant, Cecil Grant Jr, Kendra Collie (Pastor Talbot Collie), Sherceil Williams, Brandon Adderley, Jason McIntosh (Carrie), Rontel & Naomi Ulber (Atlanta), Ruthmae Adderley, Brian & Bryinda Lloyd (RuNyque & Jaydian), Bethsheva, Kelvanno, Cordero, Kenrick & K'Vante Walkes, Vernicka Lopez (Bartholomew Pinder Jr.), Travayne Ferguson, DNero & Jayden Newton, Nevaeh Thompson, Antonia & Antonique Knowles, Livingston Bullard Jr., Giana, Gabriel, Stephone, Gardiesha, Felicia, Garvinvique, Natazia & Phillip Bullard; And a host of other Relatives and Friends Including: Solomon Lord, Solomon Cash, Oscar B, Oralee & Arthur Saunders, Anatacia Knowles, Tasha, Juanita, Carla & Arthur Saunders Jr., Vargo, Terrell, Kissa, Miaya, Deon 'Dunglez', Shanell Morrison, Junior, Renaldo Adderley, Dion Miller, Pastor Robert Butler & Redemption Gospel Ministry, Minister Suzanne Butler, Ms. Sabrina Martin & Family, Phillipa Morley & Family, Nottage Family, Cash Family, Albury Family, John Bull Group of Companies, Charmaine Rolle, Godfrey "Gully" Thompson, Anthony Taylor, DKcruma, Nicole Lewis, Marcia, Durant, Marcus, Carlisha, Anastasia, Margo, Albrenique, Albrea, Dianna Knowles, Lauritz, Louise Minnis, Roseline Hanna, Lamont Bain,Quintero, Robin, Robert Jr., Smiley, Tony, Morvin & Marvin Heastie, Mazie Cox, Kelneiqua Burrows, Ashley Burrows, Stacia, Shaniqua, Jamie, Mannie, Ryan, Chester, Ms. Weezey, Pinky, Claytonia, Javon, Joshua, Lamar & Nardo Hanna, Teo, Rodger, Irvin, Lamont, Valentino Sands, Sheryl Joey, Gaza Man, Big Mike, Rashad Bain, Cameron Pinder, Corey, Claudette Paul, Selecta Gallis, Kenny, Shad, Jay, Louie, Cj, Candi and The Entire Nassau Village Community.
Friends may pay their last respects at East Sunrise Mortuary, Baillou Hill Rd. & Cordeaux Avenue from 10 a.m. to 6 p.m. on Friday and again from 9 a.m. at the church until service time.