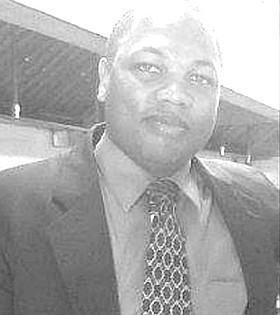 PC 2760 Taiwan Alexander King
unknown - unknown
Full Military Service for PC 2760 Taiwan Alexander King, 35 yrs., a resident of Lincoln & Blenticim Road Stapledon Gardens & formerly of West End, Grand Bahama, will be held at Believers Bible Ministries, Carmichael Road, on Friday, April 12, 2019 at 11:00 a.m. Officiating will be Pastor Lynden Young, assisted by Fr. Stephen E. R. Davies & other Ministers.  Interment follows in Lakeview Memorial Gardens, John F. Kennedy Drive.
His memories will forever linger in the hearts of his loving Family;
Pre-deceased by Grand-Parents:  Nigel and Ella Jones
Left to cherish his memories are his:
Mother:   Elizabeth Sweeting
Father:  Alexander King
Adopted Son:  D'Andre McClure
Brothers:  Theo Sweeting, Christopher (Dellaresse), Michael, Mark (Barbara), Stephen (Shelly) and Scott (Marissa) King
Sisters:  Tamanika (Coy) Wilkinson, Althea (Steven) Adderley, Lydia (Bryan) Williams, Latoya (Arisnord) Zephy and Alexcia King
Nephews:  Aaron Wilkinson, Kaiden, Tahj, Mark Jr., Scotty Jr., Stephen Jr., Shemar, Xavain and Devon
Nieces:  Tatyanna Wilkinson, Bethany, Cliffanek, Kianna, Nestaesa, Brynae, Alissa, Tatianna, Scottisha, Shadeajah, Amarri, Diandra and D'Ondrea
Uncles:  Inspector Mario Sweeting of the RBPF, Erskine and Emile Sweeting, Christopher McQueen Sr.,  Nichollas Rolle, Percy, Prince and William King
Aunts:  Colleen, Caroline and Nyoka Sweeting, Judy Sweeting-Russell, Princess (William) Clarke, Vernita (Douglas) Saunders, Gelita (Roderick) Perpall, Ellen (Charles) Rolle and Grace (Derick) Hall
Cousins:  Drexon and Tammie Thompson, Latoya Miller, Leading Woman Marine Anika Hart of the RBDF, Kizzy Curtis, Neslie Jr. and Lorenzo Miller, Marine Seaman Doni Sweeting of the RBDF, Cyril Riley, Christopher Jr., Christal and Tori McQueen,  Kiaerra Munnings, Layla and Omari Sweeting, Johnania Gardiner, Grekeem Cartwright, Rashad Sweeting, Christina Curtis, Sirnario Miller, Randell Jr. Zachery and Zavier Sweeting,  Timothea Sherman, Vandyke Adderley III  and Ra'Niyah Burrows
Grand-Aunts:  Mabel Williams of Miami, Florida, Leonie Lockhart, Minister Ivy Poitier, Anna Bethel, Mildred, Sylvia and Donna Hamilton
 Grand-Uncle: Oliver Hamilton
Godparents:  Cherry Carey-Heild, Louise Armbrister –Walker and Errol Carey
Special Friend:  D'Andrea McClure
Other Relatives and Friends Including:  Philip William, Jimmy Lee, Timothy Armbrister and The Armbrister Family, Cardio Heild, Karnis Williams, Corrine Burrows-Laing and Family, Prince Mondesir, Kenneth Christie, Sheena Tynes, Jerome Higgs, The Hon. Marvin Dames Minister of National Security, Mr. Anthony Ferguson Commissioner of Police and the entire Royal Bahamas Police Force Family, The Bastian Family, The Moss Island Abaco Crew, Judith Cunningham and Family, Gabriel Cunningham and Family, The Entire West End Crew and a host of other relatives and friends too numerous to mention.
Friends may pay their last respects at Paul Farquharson Center, East Street Headquarters, on Thursday from 12-5:00 p.m. & a t the church from 10:00 a.m. until service time.