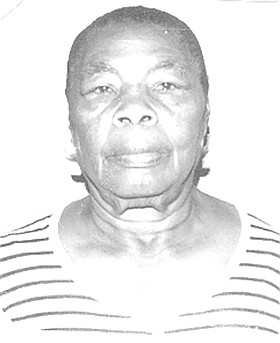 Vera Mae Bowe Davis
unknown - unknown
Funeral service for
Vera Mae Bowe Davis, 86
a resident of Plantol Street & formerly of The Forrest, Exuma, will be held at Salem Union Baptist Church, Taylor Street, on Friday, April 12, 2018 at 11:00 a.m. Officiating will be Rev. Heuter Rolle, assisted by Rev.  Dr. Edris Bowe.  Interment follows in Southern Cemetery, Cowpen & Spikenard Roads.
The Radiance of this "Gem" will always shine in the hearts of her Foster Children: Tiffany & Mannix Barton; Brother: Nigel Rolle; Sister: Martha Ferguson; Grandchildren: Maxwell Daniels 111, Manesha & Mantayo Barton; Brother & Sisters-in-Law: Sophia Davis-Rolle, Arnold & Mavis Jackson, Marguerite Jackson, Loretta Jackson and their families; Aunts: Visna Bowe- Mackey, Joanne Bowe; Uncles: Nigel and Kenneth Bowe; Niece: Paulamae Brooks and Agatha Bowe; Godchildren: Clarence Ferguson, Glendamae Knowles; Adopted Niece & Nephew: Eurena Rolle, Edmond Lewis (Eddie J) & Henry Ferguson; Other Relatives & Friends: Tensey Ferguson, Lovie Clark, Francina Ferguson, Almaida Bowe, Benjamin Ferguson, Ms. Beryl Marshall, Marian Williams, Edamae Bowe, Jenny, Denise Rolle, Olga & Jasmine Deveaux & Family, Leanna Miller, Anthony & Olive Brown, Maxwell Daniels Jr. & Family, Edward & Barbara Barton & Family, Cressel & Eulamae Morley, Garland & Avanell Whyms & Family, Shawn & Madonna Evans & Family, Jacquelyn & Blanche Sears & Family, Winnifred Newbold & Family, Rupert Ferguson & Family, Doris Ferguson & Family, Gladstone Ferguson & Family, Nathan & Leadoris Ferguson Family, Alberta Bullard & Family, Debbie Carter & Family, Lora Hinsey & Family, Patrick & Genesta Jackson & Family, Ethel McPhee & Family, Mornette Thompson, Lithera Reckley, Mr.& Mrs. Livingston Huyler and Family, William Bowe & Family, Marion Williams, Maurice, Ettamae Bowe, Lizzianne Ferguson, Families of the late Eglon Bowe, Prudence Ferguson, Lillian Bowe, the late Maxwell and Eugene Bowe, the late Charles Bowe, the late Stafford & Iva Bowe, the late Sylvia Newbold, the late Madelene Ward, the late Lillian Ward, the late Kathleen Nixon, the late Ismae & Jerome Ferguson, McIntosh Family (Abaco), Mrs. Nera Spence, Lawrence Pearce, Culinary Team Hyatt, Jermaine Coakley, Nurse Marshall, Doctors & nurses at the Female Medical 2 Ward Princess Margaret Hospital, Rev. Dr. Charles Saunders, Rev. Dr. Edris Bowe, Rev Garth Rolle, Rev. Heuter Rolle & Sis Prescola & the entire Salem Baptist Church Family, Vernie Rolle, Rev. Dr. Diana Francis & First Baptist Church Family, Chrystal Moultrie & Bahamas Red Cross, Gloria Marshall & family, Little & Great Exuma community especially Forest, Exuma, Plantol Street Family. Apologies for any names that were not mentioned
Friends may pay their last respects at Demeritte's Funeral Home, Market Street from 1-6:00 p.m. on Thursday & on Friday at the church from 10:00 a.m. until service time.