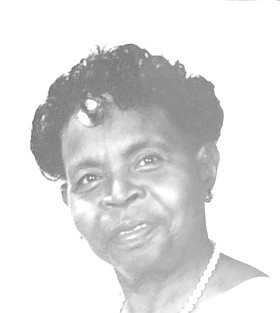 Irma Iris Sandilands
unknown - unknown
Funeral services for the late Irma Iris Sandilands, aged 97, of Poitier Avenue, Boyd Subdivision will be held on Thursday, April 25, 2019 at 10:30 a.m. at St. Joseph's Church, Boyd Road. Officiating will be Monsignor. Alfred Culmer Interment will follow in Woodlawn Gardens.
Her legacy will live on in the hearts of her nieces and nephews: Edward and Michele Fields, Michael and Lisa Fields, Janice and Wendell Graham, Camille Fields, Dr. Marie John, Denise John, Nicole John, Christine and Martin Van Der Linde; great nieces and nephews: Kristen Moore, Danielle, Christina and Candace Fields, Krista and Kirk Wilson, Anthony Maravee, Nicolas Graham; great great nieces and nephews: Christina, Chelsea, Kirk Jr and Dallas; cousins: Cypriana Fleischer and family and Peter Bethel and family, Earla Bethel and family, Pamela Miller and family; extended family and friends including; Louis (Tanya) Gertha, Mary Annejoy Sinues, Cheryll Reid, Villiere Deveaux, Marjorie Davis, Dorothy Phillips, Betty Cole, Diane Cepero, Jacqueline Bethel, Sir Orville Turnquest, Charles and Toni Lashley, Tommy and Shawn Turnquest, Harold Longley and family, Angel and Imogene Walkine, Ephraim and Sylvia Jones and family, Catherine Brown, Michelle Roberts, The Real Cove Crew, Virgil and Diana Bowe, Esau McKenzie, Michael Kirby, Derreck and Janice Johnson, Arthur and Samantha Evans, Patricia Fountain, Constance Joseph, Brenda Davis Saroque, Rosmon Rolle, Annabel Dean, Jacqueline Bethell; Special thanks to the Nurses of Angels Elite Nursing Services: Khristine Wring, Alerine Miller, Joanne Brooks, Tandra Langley; Dr. Hon. Duane Sands, Dr Agreta Eneas Carey, Dr Govi, Dr Martin Brown and staff of Kennedy Medical Centre, Nurses of the Thompson Ward at Sandilands Hospital, The Roman Catholic Board of Education and Management and Staff of the John Bull Group of Companies.
In lieu of flowers, donations may be made to the Bahamas Girl Guides Association Building Fund, in memory of Irma Sandilands.
Friends may pay their last respects at #44 Bethel Brothers Morticians, Nassau Street on Wednesday from 10:00 a.m.to 6:00 p.m. and at the church on Thursday from 9:30 a.m. until service time.