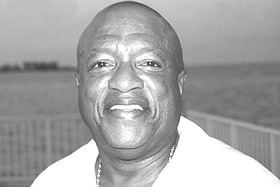 Dr. Cleveland Wilmore Eneas, Jr.
unknown - unknown
Dr. Cleveland Wilmore Eneas, Jr.
Dr. Cleveland Wilmore Eneas, Jr (Fritzi) was born on May 4, 1943 to Dr. Cleveland W. Eneas Sr. and Muriel Frazier Eneas in Nashville, Tennessee. He moved to Nassau at the age of 4 with his parents. He then attended Jamaica College in Kingston, Jamaica at the age of 10. Upon graduation he attended Fisk University in Nashville, Tennessee where he earned his BA in Biology and later attended Meharry Medical College in Nashville, Tennessee graduating in 1969 with his DDS (Doctor of Dental Surgery) degree. Upon his return home he joined his father in his Dental Practice on Cockburn Street until his father's passing. He later commenced a partnership with Dr. Anthony Davis at Star Dental Clinic where he was dedicated so much to his profession that in spite of his advancing illness, he worked up to the day he was admitted to Doctors Hospital for the final time.
Fritzi was very active in the community. He was a member and former President of the Bahamas Dental Association, the Rotary Club (South East Nassau, West Club, Honorary Member of West Club), a member of the Eta Psi Chapter of Omega Psi Phi Fraternity at Fisk University, the Delta Chapter of Omega Psi Phi Fraternity at Meharry Medical College, and a founding member of Pi Xi Chapter of Omega Psi Phi Fraternity in Nassau, Bahamas. In Pi Xi Chapter he served in various offices including Dean of Song, Chaplain, Social Action Chair and member of the Eneas Tribute and Harlequin Ball Committee. He received a Service Award Commemorative Plaque from Grand Basileus Dr. Moses Norman in 1989 on the occasion of the 50-year pinning of his father Dr. Cleveland W. Eneas Sr. He also chaired the Eneas Heritage Book Drive where over 800 books were donated by Omega Psi Phi to the College of the Bahamas library which were the result of gifting brothers throughout the USA. He was also a founding member and subsequently President of THE LUNCH BUNCH. He was a dedicated member and Elder of The Holy Qubtic Church Of The Black Messiah - Nassau, Bahamas Branch of which his son is the Pastor. Fritzi was very popular, charismatic and had a profound love for music, which led him to become one of the lead singers of the band then known as "Still-Birth" now known as "ReBirth". He also frequented Sunday Jazz Afternoons and was an avid music collector.
He is survived by his CHILDREN Pastor: Dr. Cleveland W. Eneas III also known as Ka-Hun: Anku Sa Ra (Tesha) and Leah Beatrice Eneas (Mother - Laurinda Hanna Eneas Saunders), Yasmin Indira Eneas (Mother - Apasra Morley Simmons), his GRANDCHILDREN Atun Ka Ra Anset Eneas, Adisa Ka Ra Hotep Eneas, Amina Nehebka Aset Eneas, and Ayodele Asaru Ka Ra Imsety Eneas, his STEP-CHILDREN T.J. McEwan, Gino McEwan, Deidree McEwan. His BROTHER Dr. Judson Eneas (Marcheta), his SISTER Dr. Agreta Eneas Carey (James) and he is also survived by, his AUNTS Ouida Canice Thompson of Cleveland, Ohio, Wahwee Agreta Scott of Chicago, IL, his NIECES Kemba Tiombe Eneas Walden (Matthew) of Kensington, MD, Jolanda Carey of New York, NY, his NEPHEWS Judson Picot Eneas, Kashta Kandia Eneas (Karen) of San Bernardino, CA, James Audley Carey IV of Washington, DC, his COUSINS Sylvia Todd of South Carolina, Lydia Bell Adderley, Berthamae Ferguson, Marina Theophilus Hagan (Lawrence) of Parkland, Florida, Eneas Theophilus (Ludell), William John Godfrey Eneas (Sandra), Melda Thompson English (Ron) of Cleveland, OH, Thaeon Thompson of Houston, Texas, Keith Thompson (Zenora) of Cleveland, OH, and Kevin Scott of Chicago, IL.
He has an innumerable number of close friends including – The Village: H.O and Christine Nash, Livingstone and Justice Claire Hepburn, Brian and Ellen Serville, Lynn Blake (Dave, deceased), Silbert and Arlene Ferguson, Hubert and Roxanne Chipman, Montgomery and Anne-Marie Braithwaite, Sir Michael and Lady Camille Barnett, Dr. Andree Hanna, Mark Stubbs, Willamae Salkey (Arch, deceased), Campbell Cleare, Diane Walkes and The Village Children; William Wong, Angela Archer and Elbert Ferguson, Stanley and Dennie Burnside, Jerry Tanksley, Errol Johnson, Dr. Theodore Kimbrough, Dr. Clifton Whitworth, Barry Vanderpool, Dr. Cyril Vanderpool, Vincent Ritchie, Vaughn Culmer, Peter Mitchell, Deanne Barrett, Dr. Harry and Maria Ferrere, Peter Bates, Robin Brownrigg, Reverend Bryn and Allie McPhail, Rev Jimmy and Angela Palacious, Henry Dean, Gerald Sawyer, Craig Mitchell, Sir Orville Turnquest, Steve Heastie, David Storr, Dr. Anthony Davis (Ella), Former Senator Mrs. Allison Maynard Gibson (Max), Adrian Williams of Miami, Florida, Peter and Ingrid Carey, Ba Sesh: Rev. Dr. A. J. Varmah and Bibi: Sherice Reddick-Varmah ARNP, Ka-Hun: Horace Wright and the Entire Atonist Ka-Rastian Global Family of the Holy Qubtic Church of the Black Messiah; Journey Home Group International, just to name a few.
Special thanks to the Doctors who cared for him including Dr. John Johnson, Dr. Theodore Turnquest, Dr. DuVaughn Curling, Dr. Michael N'tari Darville and Dr. Paul Ramphal. Special thanks also are extended to the Nurses, especially Nurse Natasha, and other staff members of Doctors Hospital, especially the anesthesiologists Dr. Barrett McCartney and Dr. Reginald Neymour, and the nurses of the IMCU, Med-Surg unit and especially the ICU of Doctors Hospital.