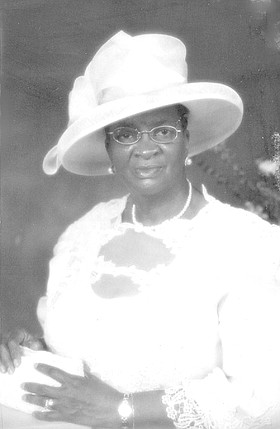 Veronica "Ronnie" Louise Hall-Hamilton
unknown - unknown
Veronica Louise "Ronnie" Hall-Hamilton Age 73 Years of #17-A Fifth Street, Coconut Grove will be held on Saturday, August 10, 2019 at 3:30pm at Bethel Baptist Church, Meeting Street. Pastor Timothy Stewart, assisted by Rev. A. Dewitt Hutcheson and other Ministers of the Gospel will officiate, burial will be in the Church Cemetery, Meeting Street.
Veronica is preceded in death by her:
Husband: Thomas James Alexander Hamilton II;
Father: Charles Carlton Hall;
Mother: Francis Louise Hall;
Grandson: Jimico Traydero Brown;
Brothers: Ronald and Donald Ferguson-Hall
The Radiance of this "Sardonyx of A Gem" will always glow in the hearts of her:
Five Sons: Troy Sr. (Colleen), Trevor Sr. (Stacy), Kevin Sr. (Donnalee) and Jemo Hamilton Sr. (Sophia);
Six Daughters: Karen Nottage (Pastor Randy), Wendy Russell, Marcel Hamilton-Sands (Stanley), Antoinette and Monique Hamilton and Tamika Saunders (Rodney);
Adopted Son: James Humes;
One Adopted Daughter: Joyanne Knowles;
Twelve Grandsons: Petty Officer Rashano Russell Sr. (Tancia), Rashad Sr. (Brenique) and Ramon Nottage, Jamaal Johnson, Sharano Hanna (Kamille), Troy Jr., Ashley, Aspen, Travez, Kevin Jr., Trevor Jr. and Jemo Hamilton Jr.;
Eleven Granddaughters: Shonte Johnson, Toyika Gray, Brenique Brown, Kennisha, Trineka, Teja, Keeannaha, Keva, Kaci, Kattayela and Tyra Hamilton;
Six Great Grandsons: D'kown, Rashano Jr and Rajon Russell, Rashad Nottage Jr, Davario and Traydero Wallace;
Nine Great Granddaughters: Tashan, Tiahna and Trinity Russell, Rashae and Ramiyah Nottage, Davonte Seymour, Jamiyah, Jameyah and Briana Hamilton;
One Sister: Shirley Bonamy;
Seventeen Nephews: Ian (Wandalee), Superintendent of Police Bernard Jr., Lynden, Julian and Jason Bonamy, Reuben Fawkes, Nicholas, Calvin and Julian Morley, Donald, Samuel, Lynden, Vernard, Charles and Kenrick Ferguson, Anton and Ashley Hamilton;
Eight Nieces: Daphne Rodney, Marsha and Shandika Morley, Patrice Edwards (Andrew), Trinity McNair, Bethney Hamilton, Charlene and Deshan Ferguson;
Numerous: Grandnephews and Grandnieces;
Her Good Cousins: The Children of The Late Rev. Nelson and Merlene Forbes, The Children of The Late Campbell Charlotte Rahming, The Children of The Late Tony and Doris Lotmore, The Children of The Late Cheribelle Jones, Evangelist Coralee Wilson, Brenda Capron,, Emerald Lightbourne, Abigail Bethel, Hartley Forbes, Rev. Shirley Smith, Sherlock Hamilton and their families;
Her Other Children: Dr. Zelrona Mackey, Collette Brown, Withfield and Tonya Moss, Peseritta Hicks, Lynn Armbrister, Theresa Williams, Roosevelt Carey and Dwayne Dorsette;
Two Brothers-in-law: Edward (Judy) and Wilka Hamilton of Freeport;
Five Sisters-in-law: Mary Musgrove, Rev. Dottis Stockdale, Minister Inez McNair, Gloria Ferguson and Sharon Gibson;
Other Loving Family and Friends Including: Jenny Hinzey, Albertha Bain, Lenor Ferguson, Panzy Miller, Curley Aranah, Maxine Munroe, Clarice Allen, Marioneta McKinney, Mary Knowles, Maud, Harry and Sidney Sturrup, Doreth C. Campbell (Ronald A. I), Wendell G. II, Dwaling D. A. I (Natasha) and Prisca Dean, Kenva Minnis, Pastor Timothy and Sis. Sharon Stewart, Bishop Neil and Mrs. Patrice Ellis, Reverend A. Dewitt and Mrs. Lurie Hutcheson, Verline, Norma, Dr. Nelson and Mrs. Debbie Clarke, Fancis Richards, Mr. David and Mrs. Emma Johnstone, Hon. Shanendon Cartwright, Hon. Vaughn P. Miller, Pastor Dexter and Karen Duvalier, Pastor Rokeno Moncur, Pastor Kenny Deveaux, Virginia Gray, Magistrate Ancella Williams, Yvonne McFall, Viola Colebrooke, Anna Pitre, Sharanda Larimore, Genivre Adderley, Superintendent of Police Shanta Knowles, Wellington Brown, Delores Pratt, Barbarajane Clarke, Linda Wilson, Maxine Adderley, Mr. Whitfield and Mrs. and Sharon Moss, Mr. Christopher and Mrs. Harriet Wallace, Mr. Gregory Williams, Ms. Sybil Johnson, Mrs. Carolyn Rolle, Lisa Bethel, Dr. Gertrude Holder, Albertha Barlette, Mr. Robert and Mrs. Naomi Sumner, Mrionette Strachan, Mrs. Nancy Ambrose, Sheila Moss, Playdell Newton, Mr. Stephen and Mrs. Lucine Lindsay, Mr. Ronnie and Mrs. Khristi Ferguson, Sadie Wallace, Mrs. Cynthia Duvalier, Jennifer Gardiner, Sharon Clarke, Sandra and Patsy Knowles, Pastor and Mrs. Darren Bethel, Isadora Saunders, Valentine Hemmings, Jackie Hall, Betty Bodie, Nancy Clarke, Delores Scavella, Pandora Ingraham, Clayton, Kyle, Stephanie, Laura and Antonia Sullivan, Nadine Moncur, GWM Stacey Williams, WM Delecia Williams, Kayann O'Brien, Jennifer Miller, Pitony Celestion, Perry Clarke, Philippa Maynard, Darren Ferguson, James and Elifone Jnsimon, Maurice Hutcheson, George Thompson, Willamae Kemp, Nicole Bodie, Joann Creary, Shavana Outten, Sheryl White, Martha Penn, Joycelyn Colebrooke, Denise Rolle, Denise Jones, Shandia Perpall, Gercel Miller, Hirim Hall, Brandon Brown, Garson and their families. The Bannister, Saunders, Joffer and Marshall Families and Fifth Street Coconut Grove Community.
Special Thanks To: Mt. Tabor Sanctuary Choir and Labour of Love, Criminal Detective Unit, Director and Staff Financial Intelligence Unit, Superintendent Craig Stubbs and Traffic Police Division, Royal Bahamas Police Force Choir, Adventist Inspirationals, Word of Faith Ministries, Breath of Life SDA, New Victory Temple, Parliamentary Registration Department and C. C. Sweeting Class of 1978.
Visitation will be at "Curtis Memorial Mortuary" #68-B Robinson Road and Fifth Street on Friday, August 09, 2019 from 12noon to 5pm and at Bethel Baptist Church, Meeting Street on Saturday, August 10, 2019 from 2:30pm to service time.