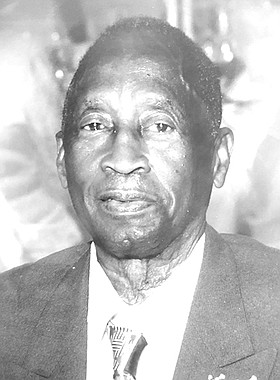 LEROY "ROY" ERROL ARMBRISTER
unknown - unknown
Funeral Service for the late MR. LEROY ERROL ARMBRISTER affectionately called "ROY" age 88 years of Raymond Road will be held on Saturday, February 16th, 2019 at 10:00 a.m. at St. Agnes Anglican Church, Baillou Hill Road. Officiating will be Reverend Father I. Ranfurly Brown assisted Canon Warren Rolle. Interment will follow in St Agnes Church Cemetery, Nassau Street.
Cherished memories will forever remain engraved in the hearts of his Loving a Devoted Wife: Berthamae Eloise Armbrister; Sibling: Eloise Armbrister; Sister-in-law: Dolores Hanna, Florinda Armbrister; Children: Gilbert Leroy Williams BTE (Marva), Retired NO Marcelle Lopez-Mortimer (Keith), Minister Olivia Brown, Sonia Adderley (Michael), Kevin Armbrister (Valencia), RBPF Inspector Yvonne Albury (Dorne), Elder Elizabeth Ellis, Kimberly Strachan (Daniel), (Joan Wallace), (Edward Smith); Grandchildren: Lamont, Shanado and Nikeitha Wallace, Shaquille, Dikembe, Malik, Omri and Sarah Williams, Leslie, Laron and Lavar Lopez, Phillip and Shenicka Brown, Latoya Brown-Pratt (Rudolph), Korell and Takara Smith, Michael Adderley Jr., Tavares Thompson, Michael Jr, Philipa, Latesha, Janice, Michaella and Micheala Johnson, Vashley Armbrister, Indira Moss, DeShan Thompson (Tanaz), Dorne and Dequan Errol Albury, Kdoy, Rumalo and K'Lizz Ellis, Eddina, Eddeja and Edward Jr Smith; Great-grandchildren: Geno Bullard, Daniel and Dallas Strachan, Nikietha, Deshae Robinson, Alicia, Ashley, Zariah, Shanadia, Shanae, Jada and Shanado Keith Jr. Wallace, TéNyah and Talaya Thompson, Latray Minnis, Latavia Smith, Kristaneka Darling, Nathan Allen, Alex and Latrell Brown, Rashawn Pratt, Rain Murphy, Shantice Johnson, Shyreika Rolle, Shakania Thompson, Kshawn Ellis; Nieces and Nephews: Clement O'Brien, Gaye Knowles, Denise O'Brien, Erica Symonette, Henry, and Retired TCN Vanrea Williams, Cyril Rutherford, Retired SNO Majorie Bain-Tucker B.E.M., Beres, Marcia, Edward, Patricia, Derek, Mario, Sheryl, Debbie, Ivan, Gina, Gail, Terry, David, Judy, Perl, Ruth, Ronnie, Brenda, Eleanor, Laverne, Debbie and Harold, Dellamae, Nathan and Pamela, Delores Mounts and Marina Lockhart, Ralph Gooding, Jerry King, and numerous other nieces and nephews; And a host of Other Relatives and Friends: Chavez, Shereece and Michael Thompson, Shenika Davis, Reverend Dr. Roland Hamilton, Chrispin Newbold and Family, Beryl Bastian and Family, Glenroy Aranha, Aloma Richardson, Leslie Lopez Sr., Eleanor Newbold and Family, PC3128 Sweeting, Maxine Rolle, Peggy Goodman of Atlanta Georgia, Brenton Wright, The Claridge Road Family, Dean Street Family, The Clergy, The ACM, The ACW and members of St. Agnes Anglican Church, Bishop and Pastor Letty Rolle The New Oasis of Love Kingdom Ministries Family, Bishop Leroy and Hon. Miriam Emanuel The Good Samaritan Impact and Kingdom Ministries Family. Special Thanks to all his care givers especially Lavar Lopez, hats off to a young man so worthy of praise.
Viewing will be held in the Irenic Suite at Restview Memorial Mortuary and Crematorium Ltd., Robinson and Soldier Roads on Friday from 11:00 a.m. to 6:00 p.m. and at the church on Saturday from 8:30 a.m. until service time.