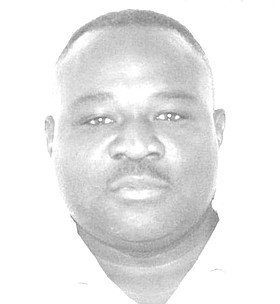 Correctional Prison Officer Sergeant Kevin "Big Man" Miller
unknown - unknown
Funeral Service for Correctional Prison Officer Sergeant Kevin Miller age 52 affectionately called "Big Man" a resident of Danottage Estates and formerly of Green Castle Eleuthera Bahamas, who died at his residence June 3rd, will be held 11:00 a.m. Saturday June 22nd 2019 at St. Michael's And All Angels Anglican Church Green Castle Eleuthera Bahamas. Rev. Chitan Thompson, assisted by Canon Sebastian Campbell, Rev. Fr. Ivan Eldon, Rev. Fr. Steven Davies, Rev. Fr. Berkley Smith and Apostle Leon Wallace(Prison Chaplain) will officiate and interment will follow in The Public cemetery Green Castle Eleuthera Bahamas.
Cherished Memories are held by his:
Mother: Lillian Burrows
Adopted Sons: Travis Flowers and Kevaughn Burrows
Brothers and Sisters: Keith, Dale and Fr. Bradley Miller, Advardo Brown, Lunning, Karen and Tamika Burrows, Lenor Woodside, Glen, Glenroy and Vaughn Miller, M.P.
Step-brothers and Sisters: Kendal, Prince and Joey Burrows, Helen Johnson, Jackie Morris, and Linda Rolle.
Brothers and Sisters in Law: Geneva and Patrice Burrows, Vernalee and Caroline Miller, Jackie Brown, Eddie Morley, Shamal Woodside, Henry Johnson, Charles Rolle.
Uncles and Aunts: Carol Brown, Morris Miller, Anthony Miller, Bertram Rolle Rena Whylly, Elizabeth Butler, Beatrice Brown, Evelyn Rolle, Rachel Miller, Iva Butler, Isabelle Cummings.
Nephews and Nieces: Edric, Caronique, Keishawn, Kyrone, Kayleaser, Konto, Dwight, Cardinal, Darren, Lavardo, Keith Jr. Tamara, Teitus, Dale Jr., Samantha, Charlise, Walter, Lunning Jr., Logan, Kadijah, Moesha, Advardo Jr., Shamal Jr., Bradley Jr., Brianne, Mark, Barcia, Yvette, Sean, Christy, Kenva, Mario, Rakell, Elshieka, Tina, Elizabeth, Janet, Janice and Lateka Whylly.
Grand Nieces and Nephews: Caiah, Serenity, Seriah, Maliah, Zuriah, Aaron, Konto Jr. Darren Jr. Dwight Jr. Jayden, Jaytonya, Kamia, Tierra and Waliyah
God Children: Frankesha Sears and Gilberto Bain.
Cousins: Doreen, Tasha, Dean, Renay, Marva, Dale, Katie, Marvin, Wendal, Ernest, Sandra, Sabrina, Carlton, Ida, Esther, Chantel, Lashan, Franz, Bertram Jr., Indianna, Joel, Whitney, Angela, Betsy, Veona, Francine, Yvonne, Dennis, Tiffany, Pedro, Antoinette, Christopher, Bernadette, Ken, Ricky, Dwight, Brendalee, Mitsi, Teresa, Gregory, Catherine, Stacy, Reynold, Lavardo. David, Brenell, Michelle, Laverne, Sharon and Britney McIntosh.
Special Friends: Alfred Taylor, Bulaah Morley, Monique Brice, Mary Taylor, Danette Pyfrom and Philippa Coleby.
Other Relatives and Friends including: Joycelyn Farrington, Takessa Bain, Chavise Newton, Ronald Stubbs, Ann Thompson, Herman Whylly, Margaret Richards and Family, Leona Whylly and Family, Evelyn Whylly and Family, Cornetta Lee and Family, Marion Butler and Family, Verna Douglas and Family, Theodore Flowers and Family, John Pinder and Family, The Burrows, Butler, Brown, Richards and Miller Families, St. Luke's Anglican Parish Family, All Saints Anglican Church Family, The Bahamas Department of Correctional Services and the entire Green Castle and South Eleuthera Communities.
Relatives and friends may pay their last respects at THE CHAPEL OF MEMORIES THE NEW COMMONWEALTH FUNERAL HOME INDEPENDENCE DRIVE Thursday from12:00(noon)-6:00 p.m. Friday from 10:00-12:00(noon)and at the church in Green Castle Friday from 6:00 p.m. to service time on Saturday.