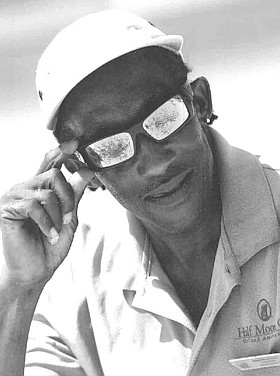 Reginald Johnson
unknown - unknown
Mr. Reginald Johnson, 57
Died at Rock Sound Clinic on 22 February, 2019. Funeral service will be held on Saturday, March 16th, 2019, 11:00am at Voice of Deliverance, Wemyss Bight, Eleuthera. Officiating will be Bishop Ernest Sweeting. Interment will follow in Wemyss Bight Public Cemetery.
He is survived by: His wife: Eulamae Johnson; Mother: Magnola Rolle; Children: Shanell, Stacey, Ted, Gamaine(Teki), Owen (Natasha), David and Tino; Grandchildren: Jasmine, Yasmine, Christian Culmer, Jaylin Brown, Emmanuel, Drexal Jr., Drexneisha, Denardo, Elvis Jr., Gamelia, Natalia, Nathan, Orieanna, Noah, Nikki, O'neil, David Jr., Aaliyah Brown; Sisters: Paulamae (Buster Hall), Marie (Orlando), Lois, Roslyn, AllisonBrothers: Samuel (Olivia), Godfrey (Helen); Nieces: Bianca, Melissa, Azaria, Alexa, Samone, Marion, Audrey, Shaunice, Melva, Raquel, Stacy, Sherrell, Shamara, Nakisha, Gacintha; Nephews: Demetrius (Janet), Brandon, Marvin (Daisy), Sam (Tiffany), Reginald (Elvisca), Donavon, Dominic, Edroy, Dwayne, Antwon, Angelo; Uncles: Wellington (Sharon, Kim, Wellington Jr.), Derell. Other Relatives and Friends: Dr. Sidney Smith and the Rock Sound Clinic Staff, Nelson (Marilyn), Tammy, Sharika, Jackie, Brenda, Beverly, Norma, Clement Thompson, Corey Young, Jeffery Gibson, David Sweeting, Harcourt (Nola), Mary (King), Michelle (Cloyd), Evalina and Family, Michelle (Monkey) and Family, Ann and Wellie and Family, Solomon & Family, Trevor & Family, Kenneth & Family, Monica & Family, Ronica & Family, Ken Brown & Family, Wendell Brown & Family, Morlin, Chim & Family, Roland and Junior, Agnes Sweeting & Family, John Mckinney & Family, Dewitt Mckinney & Family, James Young & Family, Mayfield Young & Family, Patsy & Family, Earnest Sweeting & Family, Millie Culmer & Family, James Delancy & Family, Kevin and Franklin Smith & Family, Gloria Hall & Family, Edris Moncur & Family, Berthamae Maynard & Family, Eleanor Delancy & Family, John Rolle & Family, The staff of Half Moon Cay, Sandy Sands & Family, The Family of the late Marjorie Leary, The community of Wemyss Bight, The Gibson Family, The Rolle Family, The Sweeting Family, Oral Pinder & Family, Jimmy Mckinney & Family, Ms. TC & Family, Hilton & Family, Phil, Wilfred, Joe, Henry Delancy, Lillian Burrows & Family, Audrey, Rosalie & Family, Judith & Family, Kelsey Williams & Family, Roscoe Thompson & Family, Claudia, Alana, Melanie, Dawania, Idena Hall & Family, Hubert Forbes & Family, Greg Collins & Family, Miriam Forbes & Family, Madlin Gibson & Family, The Department of Immigration and other relatives too much to mention.
Viewing will be in the Hope Room at Freedom Memorial Center on Friday, March 15th, 2019 from 9am to 5pm.