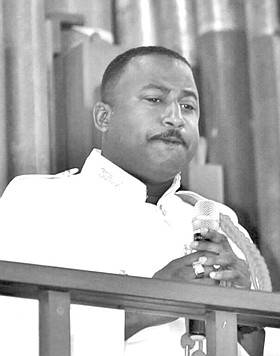 George Gilbert Moncur III
unknown - unknown
Full Military Funeral Service for PC 3742 George Moncur III age 40 of Pride Estates who died on March 4, 2019 will be held on Friday March 29, 2019 at 11:00 a.m. at St. Anselm's Catholic Church, Bernard Road. Officiating will be Fr. Noel Clarke assisted by the Clergy. Interment will follow in Lakeview Memorial Gardens, John F. Kennedy Drive.
Left to cherish his memories:
Mother -R/ASP Delora Ellis-Moncur, daughters: Gee'Kesha Gianna Moncur and Tianna Moncur sons: Trey Moncur & Geordan Moncur; sisters: Desiree Chisholm & Breinnae Williams: brothers & sisters-in-law: Insp. Buchannan Moncur (RBPF) & Marsha Moncur (Freeport), Giovanni Moncur, Gino & Shanell Bowe, Ray & Kim Smith; nieces & nephews: Piajet & Perez Moss, Alejandro & Esperanza Moncur, Justin Stubbs; aunts & uncles: Dedrie & Bursel Woods, Garnett Leroy & Patricia Ellis, Sharon & Kevin Sands (Freeport), Derick & Deborah Gilbert, Tammy Moncur-Anderson (Freeport), Samuel "Mighty" Moncur, Rodney & Gina Moncur, Cecil Moncur, Willamae Kemp, Desiree Rolle, Patricia Ellis (Miami), W/R705 Marilyn & Wayde Thompson, R/Supt. Donald Nouguez; grandfather: John Gilbert; grandaunts/uncles: Joyce Moncur, Flora & David Moncur, Dorothy Moncur, Henderson & Yvonne Smith, Lehenza & Rosie Smith, James Edwards, Mazie & Gordon Brathwaite, Virginia Lightbourne, Judy Saunders , Eunice Johnson, William Johnson, Julius Chisholm, Brenneth & Joanne Chisholm, Lawrence & Ursula Chisholm, Berkley & Rev Patricia Chisholm, Audrey Rigby & Nencher Chisholm; cousins including: Dr. Dellareece Woods-Isaacs & Daryle Isaacs, Dianna & Jermaine Murray, Denise & Garvin Taylor, Kevin Sean & Nave Sands (North Carolina), Ke-Sha Sands, Gennyne & Ron Hepburn, Phiona & Dr. Jason Carey (Texas), Phylicia & Shari Clarke, Shakera Gilbert, Rudolph & Renee Ellis (Miami), Corey & Tamika Ellis (Miami), Shennie & R/ASP Rudy Pratt, Sheria Saunders, Derek Davis, Carla Davis-Bastian, Brenda Ferguson, Lawrence & Antoine Moncur, Monique Williams (Atlanta), Cpl 1009 Rudy Pratt, Cpl 3113 Angelo Pratt, PC 3551 Rashad Pratt, Berlin Pratt, Khadija (KK) Moncur (Miami), Lakeisha Moncur, Krisitan Moncur, NKurmah Moncur, Nkomi Moncur, Adamma Moncur-Carey, Tamara Moncur- Carey, Cara Moncur-Wilson, Gustavius & Derece Moncur, Dwight & Amanda Moncur, Genesta Moncur-Stubbs, Solomon & Gia Robinson, Rodger Robinson (Freeport), Gilbert Whitty & Wendy Robinson, Brian Sands (Freeport), Julian Anderson, Calvin Anderson, Taffari Thompson, Barry Smith, Pamela Gomez, Olga Robinson, Ena Robinson, Giashun Moncur, Kenis Moncur, Samuel Moncur Jr. Kevin & Hercules Moncur, Tiffany Higgs-Moncur, Michael & Nathan Moncur, Anastacia Knowles, Tina Lightbourne, Dr. Janis Rollins, Jessica Edwards, Jammie Smith, Hilary, Barry & Marva Saunders, Rev. Anthony Johnson, George Johnson, R/Cpl 744 Burton Saunders, Sheldon, Tina & Edroy Saunders, Bernadette, Owen, Gilda & Latoya Moss, Dorothy Fox, Patrice LaFleur, Neville Johnson, Sonovia Hilton, Terrance, Antoinette & Andy Chisholm, Tamonia Sands, Patrice Chisholm-Johnson, Pamela Cartwright, Donnie, Kirkie & Stephanie Chisholm, Nichelle Bethel, Lisa, Javon & Gia Chisholm, Dr. Terlika Chisholm-Smith, Lolamae Ingraham, Rev. Rapheth Rigby, Prescola Nails, Khelia, Omar, Layritz & Pandora Chisholm, Denise, Therese & Frederika Chisholm, Dwight Rolle, Dr. Racquel Sears (Freeport), Alexis Sears, Coralee Johnson, Nyoka & Derrick Rigby, godparents: Larry & Marissa Winder (Eleuthera) & Alfred "Ali" Culmer.
Close relatives & Special Friends: The Hon. Marvin Dames, Min. of National Security & Mrs. Stacey Dames, Kai Dames and the entire Ministry of National Security family, the entire Dames family, Insp. Franklyn Dorsett, Cpl. 3666 Tomas MacIntosh, Cpl. 3356 Ashley Ferguson, Mr. Anthony Ferguson, Commissioner of Police and the entire Royal Bahamas Police Force Family, Ms Juanita Colebrooke, Commandant, RBPF Reserve and the entire Reserve Family, Mr. Ellison Greenslade, former Commissioner of Police & Mrs. Greenslade & the entire Greenslade Family, Reserve A Squad 2007 & A & B Squad 2013, PC 3751 Bernard K. Bonamy III, RBPF Mobile Unit, RBPF Choir; W/R ASP Adeltis Bain-Stubbs, W/R Insp. Vernie Newbold, W/R Sgt 1723 Desiree Ferguson, W/R Cpl. 32 Rosemary Brathwaite, W/Sgt. 2754 Jackie Jones, original members of Shades of Black: Ramon "Remy" Duncombe & Santushi Ferguson, Santino Brown (Canada), Antonia Franks-Culmer, Marguerite & Daria Dorsette-Franks, Ynise Hanna, The Hon. Fred Mitchell, Gale Smith, Laurie Dames, Sharon Rolle, R/Supt. Michael & Ruth Ellis, Dale Ellis-Ferguson, Gregory Ellis, Veronica Ellis, Donald Ellis, Ricardo Ellis, Sharon Ellis, Derek Clare, Terry Miller, Raymond & Loretta Chatrie & Pride Estates Family, L.W. Young Jr. High Family, Class of 1995 Aquinas College, Class of 1970 St. Augustine's College; Mr. Anthony Allen & Wayde Christie – Scotiabank (Bah) Ltd. & its Retirees, Eastwood Boys & Eastwood Property Owners Association, Ashton Dillett, Greg Dillett, D/Cpl. 2594 F. Carroll, Sandi Lockhart, Linda Lockhart, Letisha Lockhart, Tedra Nairn-Adderley, Antoinette Bonaby, Milya Yallop, Dr. Magnus Ekedede & Staff Critical Care/ICU at Doctors Hospital, Dr. Ned & Staff at Kendal Regional Hospital, Drs & Attendees at West Gables hospital (Miami), Doctors & ICU Staff at Baptist Hospital (Miami) Air Ambulance personnel – Jason Sweeting, James Frazer & Warren Grant, Bishop Neil Ellis & Mt Tabor Family, Fr. Noel Clarke & St Anslem's Church family, Msgr. Alfred Culmer & St. Joseph's Church Family, Basil Damianos, Grand Master Levi Lodge #543, MECCA, Millie Dorsette, Terilli & Antonia Cornish, Joan (Canada) and other relatives and friends too numerous to mention.
Viewing will be held at the Paul Farqurharson Headquarters, East Street on Thursday (TODAY) from 10:00 a.m. to 5:00 p.m. and on Friday at the Church from 10:00 a.m. until service time.
Arrangements are being handled by Vaughn O. Jones Memorial Center, Mt. Royal Ave. and Talbot St., Nassau, Bahamas.