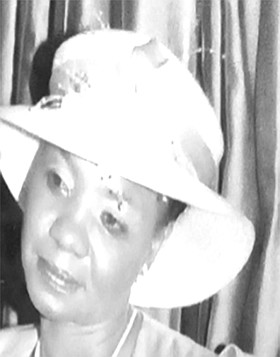 Sherry Mae Lorraine Rolle
unknown - unknown
Funeral Service for Sherry Mae Lorraine Rolle age 56 of Soldier Road will be held on Saturday May 11, 2019 at 10:00 a.m. at Golden Gates World Outreach Ministries, Carmichael Road. Officiating Bishop Ross Davis assisted by other ministries of the Gospel. Cremation will follow.
She is survived by her mother, Lorina "Prudence" Rolle; three (3) children, W/Inspector Lakisia Moss of the Royal Bahamas Police Force, Samantha Beneby and Prince Fernander Jr.; seven (7) grandchildren, Theodesha Moss, Britney Moss, Theodore Moss III, Theon Moss, Antoineisha Strachan, India Strachan and Aaron Clarke; four (4)sisters, Mrs. Maggie Plouffe, Mrs. Maria Nathan-Rolle, Mrs. Deborah Knowles, and Mrs. Nelda Saintil; four (4) brothers, Pastor Emmanuel Rolle Senior, Oswald Jeremiah Rolle, Perry Rolle and Sgt. Benjamin Rolle of the Bahamas Department of Corrections; one son-in-law, Theodore Moss Jr. three (3) brothers-in-law, Guy Plouffe, Tony Isaiah Nathan and John Knowles Sr.; three (3) sisters-in-laws: Mrs. Jerrylee Adams- Rolle, Mrs. Lournette Poitier Rolle, Mrs. Annie Dolce-Rolle; twelve (12) nieces, Shantria Knowles, Diana Nathan, Mrs. Samone Plouffe-Forbes, Romona Nathan, Shantina Rolle, Jeranise Rolle, Mrs. Abigail Joseph, Shiloh Rolle, Alecia Rolle, Amanda Rolle, Johniqua Knowles, Princess Knowles; eleven (11) nephews: Kenneth McKenzie, Dominic Rolle, Deangelo Thompson, John Knowles Jr., Joziah Rolle, Joshua Knowles, Ricardo Nathan, Dencil Nathan, Emmanuel Rolle Jr., Quintone Rolle, Elijah Rolle; five (5) grandnieces: Jamiah Williams, Serenity Nathan, Jasmine, Ariel and Melody Thompson; seven (7) grandnephews: Michael Goodman, Cody Lightbourn, Armani and Ricardo Nathan Jr., Andre Forbes, Kyjun Knowles and Shakyle McCarty; two (2) nieces-in-law, Danaliee Thompson, Kyfeisha Nathan; two (2) nephews- in-law, Wilfred Joseph, Theodore Forbes and a host of other Relatives and Friends including: Jeffrey, Ishmael and Veronica Rolle and The Management and Staff of Poppy's Handbag.
Viewing will be held in the Legacy Suite of Vaughn O. Jones Memorial Center, Mt. Royal Ave. and Talbot Street on Friday from 12:00 noon to 5:00 p.m. and on Saturday at the Church from 9:00 a.m. to service time.