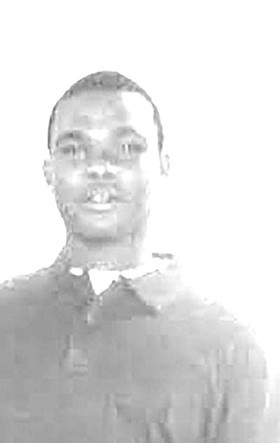 Everette Ramon Pennerman
unknown - unknown
Celebration Service in Recognition, Acknowledgement, Appreciation, of the Legacy and Many Profound Memories of the Late Mr. Everette Ramon Pennerman age 26 of Samson Street, Nassau Village service will be held on Saturday May 18th, 2019 at 11:00am at Living Waters Kingdom Ministries, Warren Street, Oakes Field. Officiating will be Apostle Raymond Wells assisted by other ministers of the Gospel. Interment will follow in The Woodlawn Gardens Cemetery, Solider Road.
Mr. Pennerman is survived by his Mother: Raquel Strachan; Father: Everette Livingston Pennerman; Grand Parents: Princess Pennerman and Lula Strachan; Aunts: Charlene Gibson, Shekera Pennerman, Andrea Bethel (Freeport), Deborah Kelly, Stephanie, StephanyaJudith and Tara Strachan, Anasika Delton & Aeisha Brown; Uncles: Quentin Pennerman, Kaiwan Gibson, Nero Newton, Vincent Gaitor, Antoine, Kenneth, Paul, Damien and Viscount Strachan; Grand Aunts: Veronica Pennerman, Reverend Eula Pennerman of Boca Raton, Florida, PearlineSymonette, Marion Taylor, JP, Carolyn Moss, Barbara Knowles, Rosalee and Karen Moss, Eurice Dames, Eulease Munroe, Yvonne Green and TerricitaDonatien and their families; Grand Uncles: Dr. Kevin Moss, Andrew, Deon, Raymond and Ezekiel Moss, Denver, Cephas and Benjamin Dames and their families; Close Cousins: Thorn, Quentinique, Berneciea, Zeneka, Danjiel, Jahmar, Tristin, Taleeyah, Quiniesha, Meagan, Nevaeh, Quintinae, Liniyah, Demario, Edward, Shirley, Prescola, Joe-Keitha, Shamarie, Sharmaine, Sheniqua, Teoneka, Kamille, JoeRico, Carla, Owen, Robert, Remeko, Anthony, Jamaal, Noel, Kendrick, Vincent, Renwrick, Eltamon, Burchneel, Deon, Tamara, Malik, Rachell, Angel, Kenyon, Troy Jr., Paige, Paris, Parron, Juvi, Dekota, Jade, Eddie, Jr. Lakrista, Taji, Sabbath, Antoine, Simone, Sigmund, Sheena, Vado, Jerome, Elizabeth, Terrance, Cory, Candice, Felicia, Antoiniesha, India, Joshua, Huijay Lowe, Sabrina Forbes, Margo Thompson, Terrance and Torriano McPhee; Other Relatives and Friends Including: Hon. Carl Bethel and Lisa Bethel, Hon. Halson Moultrie,Elrica Collie, Bishop Lockwood Deleveaux, Overseer Randolph Deleveaux, Gelena and Mary Moss, Evelyn Knowles, Walter Dean, Marisol Morley, Vanda Ford, Marcian Bowleg, Terrance Moss, Shamor Thompson, Elrick Collie, Julie, Noey Moss, Audrey Newbold, Allison Hart, Bucks, Consintene, Carl, Monique Armbrister, Loucelle, Leondra Saunders, Lamona Gibson, Tonia Nairn, Adrian, Adriel, Tracey, Imara, Demetrius, Nathaniel, Renardo, Champ, Nado, Mark, Kenny,CarlCulmer, Charlie, Benson, Yvonne, Stacia, Becka, Selaine, Elvina, Latoya, Dashenell, Sheneka, Kishnell, The Fowler Street Crew, The MOJO Crew, Prince Street CREW, City of God, The Truckers,The back road CREW, Taylor Street FAMILIES and the entire community of Nassau Village and a host of other relatives and friends too numerous to mention.
Relatives and friends may pay their last respects at FOR THE BEST….SERENITY FUNERAL HOME AND CREMATORIUM #153 BAILLOU HILL ROAD (DIRECTLY OPPOSITE B.E.C) ON FRIDAY FROM 12:00NOON to 5:00PM AND AT THE CHURCH ON SATURDAY FROM 9:30AM UNTIL SERVICE TIME.
"WHERE THE NAME IS SERVICE AND YOUR LOVED ONE IS OURS."