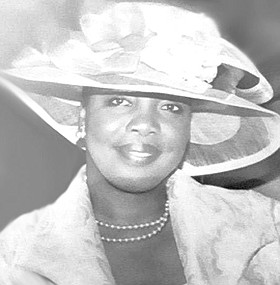 Sandra Vanrea King Johnson
unknown - unknown
Home going service for the late Sandra Vanrea King Johnson age 66 a resident of Rocky Pine Road will be held on Saturday 2nd November 2019 at 11:00am at Church of Christ, Eighth Street and Coconut Grove Avenue. Officiating will be Pastor Donald W. Dorsett and cremation will follow.
Left to cherish her loving memories are: Children: Vanria Greene & Calsey Johnson Daughter-in-law: Zaharvone Johnson Grandchildren: Remon, Kayshla & Savannah Johnson and Broc Glinton Sisters: Brenda Taylor, Margaret Jones, Janet & Dorothy King Caretakers: Anide Christin & Shervone Burrows Nieces & Nephews: Charlene Stuart, Clayton, Dwight & Orson King, Elburt Ferguson, Claramae Storr, Janice Hoyte, Sabrina Rolle, Arlington, Dexter & Titania Bodie, Leotha Sands, Patrice, Robert, Kentrick, Douglas & Hilton Taylor, Kevin, Evadney & Melinda Jones, Lebronya Demeritte, Esther Barry, C. Zammie, Michelle, Antoinette Williams, Cornell & Lakeisha Rahming, Ernestine Rolle, Frederick Sawyer, Gabriel Johnson, James Minns, Geneva Dean, Christine Bridgewater, Vandyke Pearce. Other relatives and friends: Una Williams & Family, William & Judy Delancy & Family, Evans Family, Martin Family, Rollins Family, Stacy McPhee, Alicia Ferguson, Tamika Ingraham, Veronica Rolle & Family, Brian Bain, Nathalie Stubbs & Family, Anita Bernard & Family, Melanie Griffin & Family, Barbie Symonette & Family, Simonye Adderley, Kenria Russell, Norma Thompson & Family, Devincia Rahming & Family, Stephanie Rahming, Shannon Dean & Family, Melony Munnings & Family, Patricia Clarke, Elaine Brice & Family, Kendra Coste-Rojas, Alicia Butler, Rosemary Adderley, Kimberley Bodie, Koren Moxey, Joanne Ferguson & Family, Garnell Johnson, Natasha Smith, Nadia Richardson, Shelly Stubbs, Judy Cargill & Family, Lisa Poitier, Latoya Knowles, Annie Grant, Olga Demeritte, Tommie Barry, Kendal Lewis & Family, Dion Miller, Dwayne & Candace Saunders, Brian & Ellen Serville & Family, Shameka Bosfied & Family, Tierra Lane Family, World Legal Services, YEP Family, Ismae Drive Family, TC Suns Family, J Ballers Basketball Club, A. F. Adderley Class of 87.
Friends may pay their last respects at Vaughn O. Jones Memorial Center on Friday from 10:00am to 5:00pm and at the church on Saturday from 10:00am until service time.