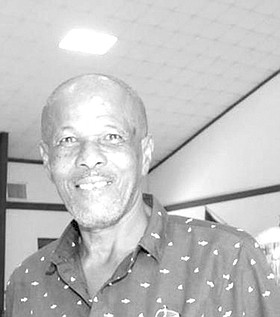 Leonard Bartlett Clarke
unknown - unknown
Memorial service for the late Leonard Bartlett Clarke age 67 years of Fox Hill Road died in the United States of America on Friday, October 11th, 2019, service will be held on Saturday, November 9th, 2019 at 11:00 a.m. at New Goodwill Church of God, Peardale Road. Officiating will be Pastor Denzel Hutchinson.
Left to cherish his memories are his Wife: Charmaine Clarke; Daughters: Derrilen Sturrup, Kerrian, Tyndale, Kadeisha Somers, Shenna Hall and Lenesha Clarke; Adoptive daughter: Emily Darville; Son-in-law: Andrew Tyndale, Nathan Somers, Desi Sturrup and Antonio Pinder;
Sisters: Emmerita Cartwright, Zerline Sayer, Jacquelyn Horton and Estella Pratt; Brother: Thomas Sampson; Brother- in-law: Percy Sawyer and Edwin Horton; Grandkids: Donte, Davien, Devin and Danae Sturrup, Nevaeh Munroe, Diamonique Tyndale, Andrew, Tyndale Jr., Naraeja, Lindo, Taraji Somers and Miah Hall; Nephews: Pedro, Lawrence, Ronald, Anvil, Samuel and Carsean Clarke; Nieces: Erica and Edrica Horton, Tasha Juliann, Patrice, Vanena, Lashan, Angela, Tara, Thomasina; and Fredericka McIntosh; Grandnieces and Nephews and a host of other relatives and friends including, Lorandos Air Conditions, DC Air Conditioning and The Grove and many others too numerous to mention.