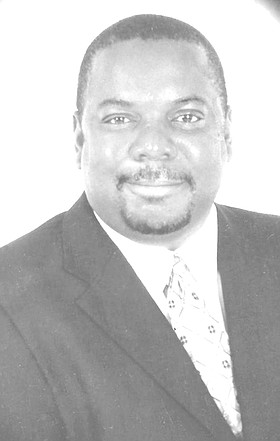 Rev. Dr. Eric Richard Lightbourne
unknown - unknown
Funeral Service for Rev. Dr. Eric Richard Lightbourne, age 54 of #33 Joan's Drive of Joan's Heights East who died on Saturday, September 21st, 2019 will be held on Saturday, October 5th, 2019 at 10 a.m. at St. John's Native Baptist Cathedral, Meeting Street. Officiating will be Bishop Carrington S. Pinder assisted by Bishop Michael C. Symonette, Rev. Dr. Alonzo A. Hinsey and Rev. Dr. Anthony J. Carroll. Interment will follow in Woodlawn Gardens, Soldier Road.
He is survived by his Wife: Christine Lightbourne; Sons: Demerro & Zephaniah (Latheya) Lightbourne and Trevor (Kendra) Bethel; Adopted Son: Demetrie Cleare Daughter: Crystal Ingraham; Grandchildren: Zephaniah Jr. & Zyon Lightbourne, Jairus Williams Jr., Karrington, Kai and Trevor Bethel Jr.; Brothers: Alpheus of London, England, Anthony and Devon Lightbourne; Mother-In-Law: Shirley Brown; Sisters-In-Law: Annie Lightbourne, Denece Mackey, Kim, Sheila and Patrice Brown & Allison Bethell; Brothers-In-Law: Tyrone Dean, Kevin Brown and Keith Mackey; Nieces and Nephews: Sakeithtra, Sakeria, Asharan, Deonardo, Amahal, Ahmad and Anisya Lightbourne and Meoshe Musgrove, Dedrie, Keianise & Deneia Mackey, Arcturia Lewis, Acadia (Ryan) Manning, Yasmin Brown, Taiovanni (Kayla) & Tavarri Dean; Aunts: Ettamae Emmanuel, Marilyn Russell, Gertrude Lightbourne, Florence Wallace, Rose Evans & Maria Brown; Uncles: Cyril Hanna and Rev. Alfred Brown; Cousins: Pastor Edgeburt and Princess Tinker (Abaco), Charmaine, Kathon (Randaneisha) Hanna, Patrick Hanna, Sgt. Zeabulon Hanna, Audrey Curry, Rev. Cyril & LaVaughn Sands, Pastor David and Rev. Deanne Ewers (West Palm Beach, Fl.) Ulamae Cooper, Mark, Marvin, Maresha, Joshua, Lanette, Drexville, Serlina, Arthur, Edna Saunders, Rosemary Jones, Elva Lightbourne, Leslie, Michael, Charles Rose, David Ingraham, Cyril Ferguson, Franklyn Anderson, Margaret, Rueben and Veronica Lightbourne; God Child: Samuel Jr., Sari & Symone Symonette & Celia McKenzie; And a host of other relatives and friends including: Rev. Jerome and Leader Janet Johnson, Rev. Veronica Hamilton, Rev. Persis Cunningham and the entire membership of the St. Margaret Road Native Church, Rev. Dr. Carrington and Dr. Sabrina Pinder, Rev. Dr. Alonzo & Rev. Jessie Hinsey, Rev. Dr. Michael & Dr. Hilda Symonette, Rev. Dr. Anthony & Rev. Cheryl Carroll, Rev. Dr. Richard & Deacon Joy Hanna, Rev. Wellington & Dr. Sherry Collie, Rev. Dr. Willis & Dr. Yvette Johnson, Rev. Dr. Sandra Knowles, Rev. Alonzo Jr. & Minister Hinsey, Rev. Dr. Charles & Deacon Pauline Rolle, Rev. Dr. Reginald & Deacon Dulcita Ferguson and the entire St. John's Native Baptist Society, Rev. Dr. Lloyd & Minister Linda Smith and the National Baptist Missionary And Educational Convention, Rev. Dr. Stanley & Minister Irene Ferguson and New Free Community, Rev. Dr. Kevin & Minister Alice Collie and Temple of Praise, Rev. Franklyn & Sis. Katie Clarke and Vision of Hope, Pastor Vernita Ingraham and Devine Worshippers, Rev. Ranford Patterson and Mrs. Patterson, Rev. Dr. Pedro & Mrs. Basden, Rev. Patrick Smith, Rev. Dr. Sir. Baltron Bethel & Mrs. Bethel, Rev. Howard & Minister Thelma Williamson & the 5:00am prayer group, Rev Melvin Grant, Rev Martin Espinosa, Rev. Trajean Jadorette, Rev. Dr. Philip and Telcine Campbell, Minister Jeffery Lloyd and the Ministry of Education Science and Technology, Principal Eloise Whyms and the entire Faculty, Staff & Students of the Government High School, Principal & Staff of A. F. Adderley Jr. High School, President Belinda Wilson and the Teachers Union, Mrs. Inez Paul, Mrs. Dawnette Ferguson and the B.J.C marking team members, Juliette Reid, Faculty & Staff of The Bahamas Baptist Community College, Doctors Chin, Chea, & the entire Staff the Village Road Professional Suites, The Association of Ministers' Wives & Ministers' Widows, Mrs. Geneva Kelly & family, Mrs. Charlene Kemp & family, The Bethell's, Cartwright's, Thompson's, Armbrister, and Bartlett families, Jairus Williams & Family, Lolita Simmons, Gwendolyn Charlow, Marilyn McKenzie, Vivian Rahming, Paula Clarke, Portia Cartwright, Clement Williams & Family, Alphonso Strachan, Birdie Curtis, Yvette & Peter Turnquest, Norma & Betty Duncombe, Shirlean McKenzie, Randy, Talva Shipp, Dwayne & Dwight Gibson, Michelle, Denise, Evageline, Stephanie, Shaniqua, Everette, Donnalee, Saramae, Patricia, Louise, Margie, Rodney, Sammy, Rosie, Genetta, Whitlean, Florene, Loretta, Andrew, Princess, Gracie, Ellen, Prince Miller, David & Margaret Forbes, Deserene, Patrice, Monique, Cindy, Yvonne and Margaret; Special Thanks: Rev. Dr. Charles Johnson, Dr. Kallenie, Dr. Girgis and the entire staff of the Bahamas Cancer Center, Dr. Dia Servile and Team, Princess Margaret Hospital A & E, Private Surgical, Private Medical and Male Medical I Ward especially Nurses Palmer Carey, Sherry Pinder, Megan Smith, Juliann Smith, Michelle Johnson.
Friends may pay their last respects at East Sunrise Mortuary, Baillou Hill Road & Cordeaux Avenue from 10 a.m. to 6 p.m. on Friday and at the Church from 9:00 a.m. on Saturday until service time.