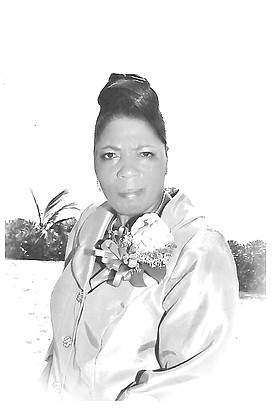 Ivy Storr
unknown - unknown
Funeral Service for Ms. Ivy Storr, age 68 years, of United Estates, San Salvador, will be held at 11:00 a.m., on Saturday September 7th, 2019, at St. Johns Baptist Church, San Salvador. Officiating will be Rev. Johnathan Knowles, assisted by other Ministers of the Gospel. Interment will follow in United Estates Public Cemetery, United Estates, San Salvador.
Left to cherish her memories are her Son: Kendall (Shavonne) Rolle; Grandchildren: Gregvonea, Shavonia, Kobe, Kayanna and Trayvon; Sisters: Eulamae (Patrick) Edwards and Doramae Reckley; Brother: Charles (Lyida) Reckley; Aunts: Clementina, Cathrine and Pamela Storr; Uncle: Anvil Lightfoot, Clifton and Bernard Storr; Sister-in-law: Betty, Georgina and Tomiko; Nieces: Antoinette (Eric)Wilmott, Rochelle, Lithera and Tenisha Reckley; Nephews: Granlin (Ikena) Edwards, Ian (Denisha) Edwards, Zondervan (Amy), Varion (Keva), Jamaal (Tanaz), Dario, Valentino, Charles, Javon, Dolton, Alex, and Sharron Reckley; Grandnieces and Nephews: Eryn, Ethan and Aiden Wilmott, Gabrille, Granlin, Da'Liyah and Nia Edwards, Latario Young, Ciera Sands, Jaiden and Caleb Reckley; godchild: Alphege Butler; Cousins: Freda, Melva, Lorna, Vendella, Maybeline, Jethro, Clea, Lynden, , Anexander, Terrance (Janet), Gregory (Cindy) LoNeal (Neisha), Rennard (Janet) Linal (Tina), Tanya, Anderson, Erica, and Faye Storr, Jill (Cassel) Higgs, Angie (Doral) Miller, Frances Johnson, Tyeice (Tereko) Williams, Fredamae (Charles) Rolle, Michael (Pastor Agnes) and Bethsada Jones, Elva (Pedro) Neely, Nechia (Sidney) McIntosh, Anastasia (Edward) Burrows, Regina (Ricardo) Bonaby, Deadry (Leslie) Rolle, Don (Shanel), and Alexio Stubbs; Other relatives and friends including: Diann Nairn, Mary, Paulette and the Jones family, Maureen Marshall, Desmond Davis, Peter McPhee, Clarise Gibson and family, Lily Knowles and family, Betsy Morris and family, Rosalie (Gigi) Strachan and family, Betty Poitier and family, Velda Knowles and family, Cathy Gerace, Bruce Nerro, Luden Gibson and family, Matilda Williams and family, Kenneth Walkes and family, Angela Larrimore and family, Michelle Williams and family, Michelle Storr and family, Berthel Lightfoot and family, Willamae Thompson and family, Marina and the Benson family, The Walker family, Blossom Black and family, Carriemae Hunt and family, Rosemary Hunt and family, The Smith family, Alworth Rolle and family, Rev. Leo Jones and family, Pastor Alrick Butler and family, Pastor Ivy Butler and family, Pastor Mavis Major and family, Deacon LeeAnna Edgecombe and family, Deacon Sarah Storr and family, Pastor Dennis Sandals and family, Pastor Johnathan Knowles and family, Pastor Gary Hanna and family, and the entire community of San Salvador too numerous to mention; Special thanks to: Bishop Carrington Pinder, Archdeacon Kingsley Knowles and the members of Holy Cross Anglican Church, Dr. Darville and Dr. Bain and the staff of the San Salvador Community Clinic, Nurse Juva McPhee, the staff of PMH and the ICU team.
Relatives and friends may pay their respects at Cedar Crest Funeral Home and Crematorium Ltd, Robinson and Baillou Hill Roads, on Thursday from 12:00 noon to 6:00 p.m., and at the Church in San Salvador from Friday 4:00 p.m. until service time on Saturday.