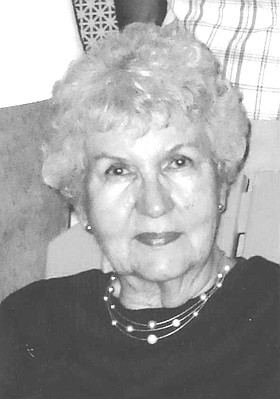 Joanne Maura
unknown - unknown
A Celebration of Life for the late Joanne Maura, age 90 of Vista Marina, Nassau, The Bahamas, will be held at the Chapel of Love, Kemp's Funeral Home Limited, Palmdale Avenue and Bradley Street, Nassau, on Saturday 21st September 2019 at 11:00 a.m.
Reverend James Neilly of Global Village Community Church, will officiate and interment will follow in Woodlawn Gardens Cemetery, Soldier Road.
Joanne was born in Riverdale, Maryland and attended Greenwood School and Baltimore City College, both in Maryland. She came to Nassau on vacation in 1952 and met her future husband, the late Frederic Maura, a government photographer on the first day of her arrival.  They were married in 1954 at Trinity Methodist Church and had two sons, Peter and David.
Joanne was employed by The Bahamas Development Board/Ministry of Tourism/Bahamas News Bureau, for 15 years, and BOAC/British Airways for 21 years. Later on she did private genealogy research at the Department of Archives.
She was predeceased by her husband Fred in 2003, her parents Joel and Abbey Stubbs, a sister Louise Lindenthalor and her niece June Maura.
She is survived by her sons, Peter and his wife Janice, David and his wife Donna . Grandsons Blake and Jonathan Maura, granddaughter Marisa Maura. Her friends from Greenwood School, Sue Haile of Maryland, Barbara Robertson of Palm Beach, FL., the Cartwright & Knowles families; Cathy Moultrie, Kim Carey Barbara and Roland Rose, Roy and Maggie Newbold, Dr. Kimberly Bethel, Helena and Katherine Lightbourne, Shirley Zintel, Rev and Mrs. James Neilly, and friends of the Global Village Church community, and other friends and relatives. Last but not least, her cat Sarah.
Joanne loved animals and had many four-legged friends throughout her lifetime. 
In lieu of flowers, the family request donations be sent to The Bahamas Humane Society, P.O. Box N-242, Nassau, Bahamas in memory of Mrs. Joanne Maura.
It was also Joanne's request that pastel or bright colours be worn at her Celebration of Life service.
Arrangements by Kemp's Funeral Home Limited.